Finest Moments
by Badfinger
compiled by Tom Brennan
last update: July 11, 2014
---
FINEST MOMENTS
August 1968-April 1973
Trident Studios, Abbey Road Studios, IBC Studios, Morgan Studios, Command Studios, Olympic Studios
Tony Visconti, Paul McCartney, Mal Evans, Geoff Emerick, George Harrison, Todd Rundgren, and Chris Thomas
Australian issue in 1989 on Apple Records SAPCOR 28.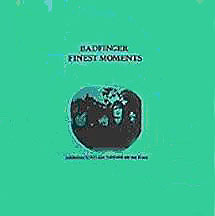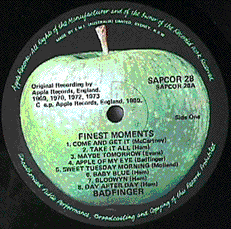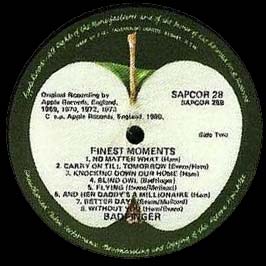 Side One:
Come And Get It
Take It All
Maybe Tomorrow
Apple Of My Eye
Sweet Tuesday Morning
Baby Blue
Blodwyn
Day After Day
Side Two:
No Matter What
Carry On Till Tomorrow
Knocking Down Our Home
Blind Owl
Flying
And Her Daddy's A Millionaire
Better Days
Without You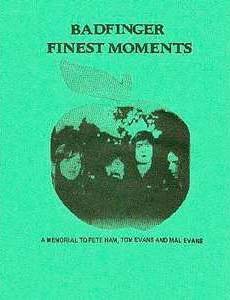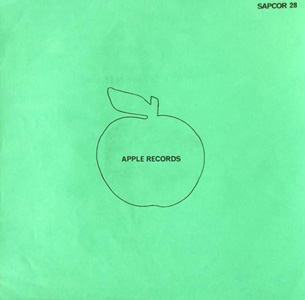 The album was scrapped at the time in 1989 when Apple had legal problems. The cover was never created, only an insert which appears above in green, which states: "A Memorial to Pete Ham, Tom Evans and Mal Evans". Supposedly, less than a dozen copies of this LP exist and/or survived. The value of this rare Australian LP in 2004 was $500+.

from Apple Log (fifth edition book): Assembled by someone from EMI who wanted a "Best of" Badfinger LP. Apparently only 10 copies of this record were pressed. All tracks are from master tapes except "Without You" which was clearly taken from vinyl. "Without You" is incorrectly titled as "I Can't Live (If Living Is Without You)". In 2006, it was valued between $650-$1200.
some background information thanks to Jeff Levy
---
© Copyright 1998-2014 Tom Brennan's Badfinger Library (TBBL). All Rights Reserved.
Reproduction in whole or in part in any form or medium without express written permission is prohibited.
All trademarks used on TBBL are the property of their respective owners.