Head First
compiled by Tom Brennan
last update: February 27, 2015



---
HEAD FIRST
December 1-7, 9-15, 1974
Apple Studios, London
Kenny Kerner & Richie Wise
*4 tracks released in the U.S. on CD (The Best Of Badfinger, Vol. 2) in 1990 on Rhino R2 70978.
released in the U.K. on CD on November 6, 2000 on Artisan Recordings (Snapper Music) SMADD 829.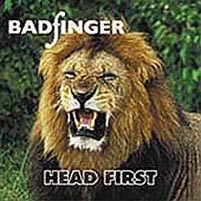 Warner Brothers promo LP Side 1 label

The original track listing from the Apple Studios mixdown tape box (reproduction of tape box thanks to Dan Matovina):
Side One:
*Lay Me Down
Turn Around
*Keep Believing
Rockin' Machine
*Passed Fast
Side Two:
Savile Row
*Moonshine
Rock 'N' Roll Contract
Back Again
Hey, Mr. Manager


Here are Bob Jackson's thoughts on the Head First album (Thanks to Jesper's Badfinger News):

Int: Tell us your overall feelings regarding the music on Head First.

BJ: This album was a whirlwind from start to finish. We weren't given the normal time to routine songs and arrangements - you know, to think things through. Fortunately, we had a great relationship with each other - I felt very comfortable and natural. Things were decided on a very democratic basis. No-one ruled the roost. It was great for me, of course, to be treated as an equal in a band of this quality. I feel we did a good job given the situation. We just needed more time to 'put the icing on the cake.'

Int: What was your awareness at the time of how conflicted the other members were feeling in terms of the management?

BJ: Obviously my understanding of the business side at that time was patchy. I was never given a detailed explanation and besides, our main focus was on creating music. All I knew following our British tour was that our management had stressed an urgency to come up with an album. Tommy and Mike were both very critical of the management's direction and behaviour, whilst Pete still retained optimism that things would work out with them. It later became apparent to me that the management's only concern had been to get further advances as soon as possible, because of the escalating dispute over the Warners Escrow account.

Int: Did their lyrics strike you in any way at the time?

BJ: Badfinger's lyrics had always been very autobiographical and you would have had to be blind not to have picked up on the depth of feeling of 'Rock'n'Roll Contract' or 'Mr Manager.' Pete, of course, could manage to keep a commercial slant with 'Lay Me Down.' Also, Tom did mention that 'Keep Believing' was Pete's message to Joey to wish him 'all the best.'

Int: Did you question the others on them?

BJ: We never asked each other about lyrics. We weren't psychotherapists - besides, you intuitively knew each other's feelings.

Int: 'Turn Around' is a personal favorite of mine. Describe the background, development, and recording of that song.

BJ: I mainly tested my songs on Tommy. I was stopping by with him a lot. Tom liked the rockier side of things and although later he was very complimentary about my other sides, he went straight for 'Turn Around.' The whole thing appealed to him, so I went with that. 'Turn Around' came out of an existing idea. As songwriters would appreciate, you have many half-formed, incomplete ideas, so I rejigged it, and had the general arrangement in my head. Apple Studios had this big old Hammond in there - I went into the back and cranked the pre-amp up and got this real growl - perfect. We rehearsed it in the studio and it came together really quickly. Pete had a really deep love of the blues and his solo was perfect - again only a few takes.

Int: Explain how you came to write parts of 'Passed Fast' and 'Moonshine' and what sections of the song you did come up with?

BJ: 'Passed Fast' was something Tom and I developed together in his attic-room. I don't remember exactly who did what, but broadly, Tom did most of the lyrics and I did most of the musical side. We sang harmony together and the blend was good. 'Moonshine' came from an idea which Mike brought along - I wrote the bit I sang ('Looking at tomorrow...').

Int: How would it impact you to see the album get a new mix and legit release?

BJ: It would be great for the public to hear it properly, cleaned up and re-EQed. I understand that a bootleg version had recently been issued. I've got mixed feelings about this. I haven't heard it, so I can't comment on the quality, but it just can't be up to the quality of the real thing. Also, it wouldn't contain all the bonus tracks. I'm sure fans will find the official remastered version a whole lot more satisfying. Of course, it is the final album with the group intact (Joey had left, of course, but there was nothing we could have done about that). It was Pete's last band effort and a crucial piece of the jigsaw. Obviously, it holds particular importance for me. I only hope that the proper artwork/packaging, distribution and promotion are all put in place.

Int: Does the photo session for the album still exist?

BJ: There's a story! Too long to tell in all its detail, but.... I came across a telegram from Tom in some old boxes I was clearing. It mentioned a time, date and address, and said cryptically: 'Wear dark clothing.' After some thought, I realised that this referred to the 'Head First' photo session. Of course, the occupants had long since gone - it was 25 years ago! Anyway, through Town Hall records/photographers associations, I managed to trace the photographer concerned. Elementary, my dear Watson!! Unfortunately, he no longer had the negs and said he must have returned them to Warner Bros. Frustratingly, after many, many calls, I have still failed to locate the shots. So near and yet so far....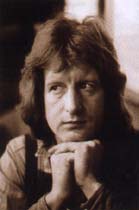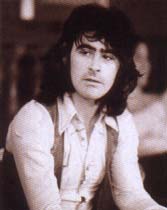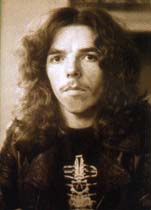 The Snapper Music CD release was originally mixed on December 16, 1974 at Apple Studios by Phil MacDonald
CD track listing:
*Lay Me Down
Hey, Mr. Manager
*Keep Believing
*Passed Fast
Rock 'N' Roll Contract
Savile Row
*Moonshine
Back Again
Turn Around
Rockin' Machine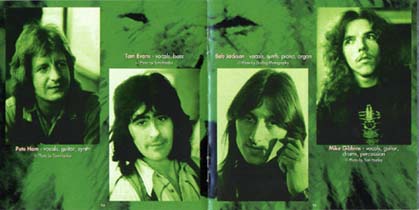 The 2nd mix was done by producers Kenny Kerner & Richie Wise at the Record Plant West in Los Angeles from January 19-24, 1975. Four of the tracks were released by Rhino (see above).


| | | |
| --- | --- | --- |
| song | Mix 1: December 16, 1974 (Apple Studios) | Mix 2: January 19-24, 1975 (Record Plant West) |
| Lay Me Down | 3:35 | 3:19 |
| Turn Around | 4:15 | 4:07 |
| Keep Believing | 4:06 | 4:00 |
| Rockin' Machine | 1:31 | 1:27 |
| Passed Fast | 4:16 | 4:07 |
| Savile Row | 0:32 | 1:08 |
| Moonshine | 3:50 | 3:46 |
| Rock 'N' Roll Contract | 4:40 | 4:19 |
| Back Again | 2:51 | 2:47 |
| Hey, Mr. Manager | 3:31 | 3:26 |

Time differences:
The copy I have of Mix 2 runs slightly fast I think, so that probably accounts for most of those mixes seeming shorter by about 4-9 seconds depending on the length of the track. The major timing differences occur in the following songs:
Lay Me Down: Mix 1 has Pete Ham's count-in as well as a longer fadeout.
Savile Row: Mix 1 has been faded halfway through the track. I don't understand this because the album is so short already; I don't see any reason for this except that this instrumental may have originally been intended to be an introduction to "Moonshine" (like a medley) rather than used as an individual track.
Rock 'N' Roll Contract: Mix 1 has Tommy's count-in and has a longer fadeout.

---
HEAD FIRST NEWS ARCHIVE
HEAD FIRST RELEASE HAS ARRIVED
A company called Snapper Music in the U.K has scheduled November 6, 2000 as their release date for the Head First project as a 2 CD set using the track listing below put together by Dan Matovina. The U.S. release (as an import) will follow the week after on November 14, 2000. Bob Jackson talked to mikegibbins.com on its forthcoming release. According to Frank Pol, the disc is due to be released in The Netherlands on October 23, 2000 on the Artican-label [copies started arriving on November 7]. It's due out in Japan on the Nippon Crown label on October 25, 2000 with a catalog number of CRCL4051/2. Disc 1 will feature the Phil McDonald rough mixes done at Apple Studios of "Head First" taken from Bob Jackson's tape copy and disc 2 will feature demos from the era by Pete, Tom, Mike and Bob compiled by Dan Matovina. This was the same release that was due from Forbidden Records in 1999.

Here is the CD track listing for "Head First". Note that Dan has resequenced the Head First tracks to make it more listenable...Dan has told me that he expects the media to give a lot of attention to the track "Hey, Mr. Manager" because of its controversial lyrics. It's positioning as track 2 is because of that reason and also because of it being a very catchy and strong track. The track's sound quality will also benefit greatly from remastering when compared to bootlegged versions.
DISC 1: Original Head First sessions:
01. Lay Me Down
02. Hey, Mr. Manager [previously track 10]
03. Keep Believing
04. Passed Fast [previously track 5]
05. Rock 'N' Roll Contract [previously track 8]
06. Savile Row
07. Moonshine
08. Back Again [previously track 9]
09. Turn Around [previously track 2]
10. Rockin' Machine [previously track 4]

DISC 2: demos by Pete, Mike, Tom and Bob:
01. Time Is Mine [acoustic guitar demo by Pete, December 1974] (1:43)
02. Smoking Gun [acoustic guitar demo by Pete] (1:21)
03. Old Fashioned Notions [piano demo by Mike] (4:08)
04. Nothing To Show [acoustic guitar demo by Pete, April 1974] (1:00)
05. You Ask Yourself Why [acoustic guitar demo by Mike] (2:16)
06. Keep Your Country Tidy [acoustic guitar demo by Pete] (2:21)
07. To Say Goodbye [acoustic guitar demo by Bob Jackson] (3:46)
08. Queen Of Darkness [acoustic guitar demo by Tom, 1972] (2:11)
09. I Can't Believe In [acoustic guitar demo by Pete, April 1975?] (2:06)
10. Thanks To You All [acoustic guitar demo by Mike] (2:40)
11. Lay Me Down [acoustic guitar cassette demo by Pete, 1974] (2:55)
news thanks to Dan Matovina, updated, October 28, 2000



back to The Iveys & Badfinger releases
---
© Copyright 1998-2015 Tom Brennan's Badfinger Library. All Rights Reserved.
Reproduction in whole or in part in any form or medium without permission is prohibited.
All trademarks used are the property of their respective owners.