Perfection: The Songs of Badfinger's
Pete Ham & Tom Evans
compiled by Tom Brennan
last update: October 20, 2013
---
PERFECTION: THE SONGS OF BADFINGER'S PETE HAM & TOM EVANS
August 9, 1968-July, 1974
Trident Studios, Abbey Road Studios, IBC Studios, Morgan Studios, Command Studios, Olympic Studios, Caribou Ranch, and AIR Studios, London
Tony Visconti, Paul McCartney, Mal Evans, Geoff Emerick, George Harrison, Todd Rundgren, and Chris Thomas
U.S. release on August 14, 2006 on bugmusic PRCD14.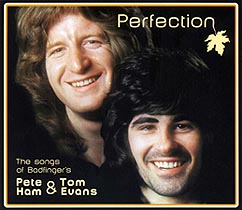 [notes part 1 & tray | notes part 2]

Background history (written in 2006):
Bug Music, who now administers the U.S. copyrights of songs written by Badfinger's Pete Ham & Tom Evans, has released a promotional CD in August of 2006 of songs to promote the use of their songs in films, TV and cover versions by other artists. The disc has been manufactured with the cooperation of the Ham & Evans Estates, Apple Corps., Capitol Records, EMI, Warner Chappell, Warner Bros., WMG and Sony/BMG. The disc is intended to highlight the most commerical sounding songs written & recorded for Badfinger, and the excellent songwriting talents of Pete & Tom, both individually and collectively. The disc is a limited pressing of 1000 copies and is NOT intended for the general public; its target audience is music supervisors, artist producers & agents and film producers.

As far as the content of the disc goes, all the tracks have been cleaned up & enhanced sonically by Dan Matovina, who has removed much of the muddiness from a lot of the tracks. All the songs have a sonic clarity to them now and sound more "punchy". There are no outtakes included (except the previously released outtake I'll Be The One), since this disc is intended to promote the more commercial sounding songs, however there is a newly created edit of Dennis (track 19) from the "Wish You Were Here" album intended to simulate what an AM Radio single version of the track may have sounded like had it ever been released to the general public (if history had run its course in a more favorable direction for the band). The disc also includes Harry Nilsson's smash hit cover version of Without You from 1972 at the end of the disc, which is the most famous & popular cover version of a Badfinger (or Pete Ham & Tom Evans) song in music history. All the "Straight Up" songs that are included are the standard versions; none of the alternate "early versions" are utilised. Unfortunately, some other great songs like Shine On wouldn't fit on the CD and had to be left out. In short, this disc contains the best sounding copies of all of the best songs written by Pete Ham & Tom Evans from the period 1969-1974 released to date. This will hopefully encourage the reissuing of the Badfinger CD catalog and take advantage of the latest audio & computer technology.

Update (2013):
Bug Music was acquired by BMG in 2012 and became part of BMG Chrysalis. On October 1, 2013, the estates of Pete Ham & Tom Evans left BMG Chrysalis and signed a new publishing deal with Kobalt.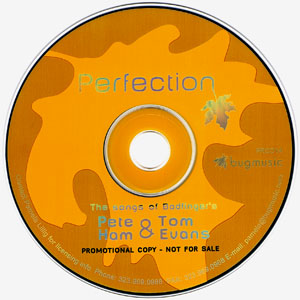 Track listing:
01. Day After Day (3:09)
02. No Matter What (2:58)
03. Baby Blue [album mix] (3:36)
04. Without You [by Badfinger] (4:41)
05. I'll Be The One (2:52)
06. Name Of The Game (5:16)
07. When I Say (3:05)
08. Blodwyn (3:24)
09. It's Over (3:24)
10. Carry On Till Tomorrow [album version] (4:44)
11. Lonely You (3:41)
12. Perfection (5:05)
13. I Can't Take It (2:52)
14. We're For The Dark (3:53)
15. Maybe Tomorrow ["Magic Christian Music" album mix] (2:50)
16. Just A Chance (2:57)
17. Believe Me (2:58)
18. Know One Knows (3:13)
19. Dennis [edited version] (3:47)
20. Midnight Caller (2:50)
21. Apple Of My Eye (3:05)
22. Without You [by Harry Nilsson] (3:08)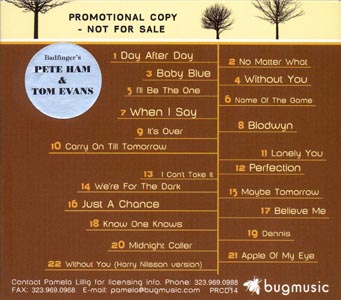 Thanks to:
Dan Matovina, Petera Ham, Stephen Evans, Anne Herriot, Tony Herriot, Marianne Evans, Neil Aspinall, Steve Tenenbaum, Lee Blackman, Janet Sears, David Lessoff, John Ray, Tarik Bradford, Aldo Davalos, Steve Poltorak, David Schmidt, Traci Werbel, Greg Young, Julie Chen, Ernie Petito, Ed Pierson

Front cover photo taken by Richard DiLello © Apple Corps Ltd. - Used by permission.

CD Preparation/Remastering by Dan Matovina
Penin Recording, Menlo Park, CA 94025

© Copyright 2006-2014 Tom Brennan's Badfinger Library (TBBL). All Rights Reserved.
Reproduction in whole or in part in any form or medium without express written permission is prohibited.
All trademarks used on TBBL are the property of their respective owners.