Say No More
compiled by Tom Brennan
last update: October 05, 2014
---
Special thanks to Paul Ottaway for the scans of the Say No More LP cover.
SAY NO MORE
October-November, 1980
International Sound, Miami, Florida, U.S.A.
Jack Richardson and Steve Wittmack
U.S. release on January 17, 1981 on Radio Records. [radio promo LP cover]
U.S. CD release on March 13, 2000 and September 12, 2000 from Real Music.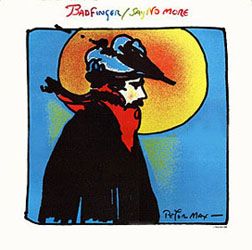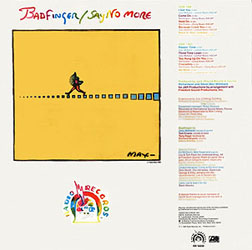 Side One:
I Got You
Come On
Hold On
Joe Tansin: "I remember playing the piano in rehearsals at Sur on Sunset. Tom & Joey had gone to lunch. Tom came back early and heard me singing the chorus to Hold On. He said, 'I have some verses.' Well, the rest as they say is history."
Because I Love You
Rock N' Roll Contract
Side Two:
Passin' Time
Three Time Loser
Too Hung Up On You
Crocadillo
No More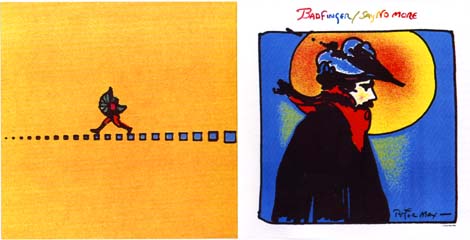 Badfinger:
Joey Molland: vocals and guitar
Tom Evans: vocals and bass
Tony Kaye: keyboards
Glenn Sherba: guitar
Richard Bryans: drums

Album reviews:
Hartford Courant: March 22, 1981 thanks to Kenneth Tomasi
Seventeen magazine: June 1981:



thanks to Dan Matovina for this scan
---
SAY NO MORE News History
The 2nd pressing of this same CD with a correct running order and some typo fixes has been reissued on September 13, 2000. There are still a few minor typos in the credits and Glenn Sherba's name is still missing (it appears that his name ran off the bottom of the page). Also, the song titles don't appear anywhere on the outside of the packaging. The sound of the CD is excellent.
updated, October 15, 2000

Background on the CD release:
The first copies of the CD bought directly from Joe Tansin started reaching buyers as of March 13. For some reason, though, the last 2 tracks of the CD were switched. The song order problem on the 1st pressing was due to the fact that the song order came that way on the masters.

Joe Tansin has purchased the exclusive license to the original masters of the "Say No More" LP from the former owner of Radio Records who now owns Pyramid Records in Miami. The original tapes were destroyed, but fortunately before they were, they were transferred to DAT and then to CDR, which is the norm for all record company archives. Tape has an expiration date and cannot last more than a decade or two without starting to fall apart. The original masters are preserved on CD. Say No More has been digitally remastered from the original MASTERS, and is available at amazon.com, and via direct sales offered at a 10% discount from Real Music. For this reissue, the songwriting credits for the song Hold On will be corrected for the first time ever to read "Evans/Tansin". No bonus tracks will be included, although Tansin did review some potential demos/outtakes, but deemed them too inferior sounding to include on the CD reissue. "I did not feel any of them were worth the pain in the ass it would have been to acquire them!"

Joey Molland owns a 1/2 inch master with a completely different mix of the same songs which were not put out on Say No More. Joey also has many other out takes and unreleased songs not yet made public from this same era. Lastly, the highly regarded John Ryan produced demos are also very close to release as well, which is welcome news since they were dropped during the reissue of Airwaves on CD.
story courtesy of Randy Justesen, November 26, 1999
---
© Copyright 1998-2015 Tom Brennan's Badfinger Library. All Rights Reserved.
Reproduction in whole or in part in any form or medium without permission is prohibited.
All trademarks used are the property of their respective owners.