Shine On
compiled by Tom Brennan
last update: September 6, 2004

---
SHINE ON
1973-1974
Olympic Studios, Caribou Ranch, AIR Studios (London)
Badfinger, Chris Thomas
U.S. release in 1989 on Edsel Records.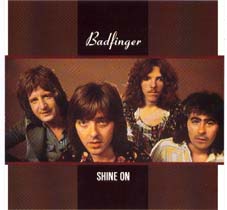 I Miss You
Shine On
Love Is Easy
Song For A Lost Friend
Why Don't We Talk?
Island
Lonely You
Andy Norris
In The Meantime
Some Other Time
Just A Chance
Know One Knows
Dennis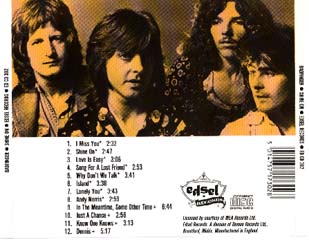 © Copyright 1998-2004 Tom Brennan's Badfinger Library (TBBL). All Rights Reserved.
Reproduction in whole or in part in any form or medium without express written permission is prohibited.
All trademarks used on TBBL are the property of their respective owners.