The Very Best of Badfinger
compiled by Tom Brennan
last update: October 20, 2013
---
THE VERY BEST OF BADFINGER
August 9, 1968-July, 1974
Trident Studios, Abbey Road Studios, IBC Studios, Morgan Studios, Command Studios, Olympic Studios, Caribou Ranch, and AIR Studios, London
Tony Visconti, Paul McCartney, Mal Evans, Geoff Emerick, George Harrison, Todd Rundgren, and Chris Thomas
U.S. release on September 12, 2000 on Apple 72435-26974-2-7.

Store display: front | back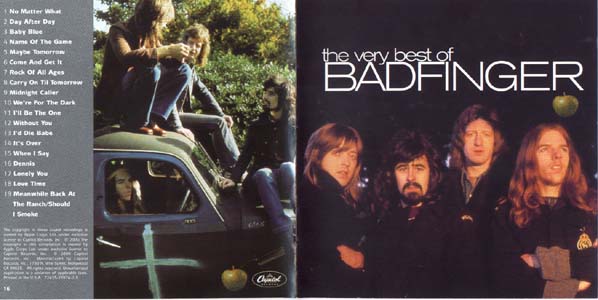 Clocking in at 67:47, this compilation falls just short of being the perfect Badfinger best of package. Because of the politics involved with selecting the "very best" tracks and the time restrictions in trying to get this package out in time for the airing of the VH1 "Behind The Music" special, this disc is missing such excellent tracks as: "Take It All", "Icicles", "Blind Owl", "Shine On", and "You're So Fine". For more information, visit Jesper's Badfinger News for the complete story behind the making of this CD. In my opinion, the medley "Meanwhile Back At The Ranch/Should I Smoke" doesn't belong here; a stronger track such as "Know One Knows" should have been included in its place. Also, "Blind Owl" would have been a stronger choice than "It's Over", but those are only minor complaints. The rest of the disc contains no duds whatsoever. The packaging and sound quality is top notch throughout, except for maybe the Warners tracks which sound a little flat in comparison to the Apple tracks. The booklet is full of all kinds of previously unseen photos of the band from the Apple archives, including two when there were The Iveys, taken from the photo session for the Maybe Tomorrow LP cover; Ron Griffiths also gets his long overdue credit for his contribution to the two Magic Christian tracks he played & sang on. The acoustic guitars on tracks such as "Day After Day", "Baby Blue", "Name Of The Game", "Carry On 'Til Tomorrow", "We're For The Dark" and "When I Say" never sounded crisper and cleaner than they are here. I would have to say the most improved sounding track would have to be "Name Of The Game". You can now hear all the subtleties of the orchestral parts, Pete Ham's lead vocal is more prominent in the mix, and the sound level has been corrected. While listening to the remastered "Carry On 'Til Tomorrow" for the first time, I almost thought Tom Evans was in the room with me! It's just too bad that an opportunity was missed here to include the single mixes of both "Rock Of All Ages" and "Carry On 'Til Tomorrow", as they have yet to become available on CD. Overall, this is an excellent first disc for new fans of the band because of the excellent song selection, as well as being a "must buy" CD for the long time original fans of the group because of its improved sound quality and excellent packaging.

Here's the track listing I would have used for "The Very Best of Badfinger" (clocking in at about 78:30)...
1. No Matter What 2:57
2. Day After Day 3:09
3. Baby Blue [album mix] 3:35
4. Maybe Tomorrow 2:50
5. Come And Get It 2:21
6. Carry On 'Til Tomorrow [single version] 3:49
7. Rock Of All Ages [single mix] 3:25
8. Without You 4:39
9. We're For The Dark 3:50
10. Midnight Caller 2:46
11. I'll Be The One 2:49
12. Name Of The Game [version 1, Emerick mix] 4:23
13. I'd Die Babe 2:34
14. Take It All 4:27
15. When I Say 3:04
16. Blind Owl 3:00
17. Icicles 2:32
18. Lonely You 3:44
19. Shine On 2:49
20. Love Time 2:17
21. You're So Fine 3:01
22. Know One Knows 3:14
23. Dennis 5:14




Here's the actual track listing that was released by Apple/Capitol on September 12, 2000 for "The Very Best of Badfinger"...
No Matter What
Pete Ham: lead vocal, guitar
Joey Molland: lap guitar, backing vocal
Tom Evans: bass guitar, backing vocal
Mike Gibbins: drums
Day After Day
Pete Ham: lead vocal, backing vocal, guitars
Joey Molland: guitar, backing vocal
Tom Evans: bass guitar, backing vocal
Mike Gibbins: drums
George Harrison: slide guitar
Leon Russell: piano
Baby Blue [album mix]
Pete Ham: lead vocal, guitar
Joey Molland: lead guitar
Tom Evans: bass guitar, backing vocal
Mike Gibbins: drums
Name Of The Game [version 1, Geoff Emerick mix]
Pete Ham: lead vocal, guitar
Joey Molland: guitar, backing vocal
Tom Evans: bass guitar, backing vocal
Mike Gibbins: drums
orchestral arrangement by Harry Robinson
Maybe Tomorrow [Magic Christian Music mix]
Tom Evans: lead vocal, guitar
Pete Ham: guitar, backing vocal
Ron Griffiths: bass guitar, backing vocal
Mike Gibbins: drums
string arrangement by Tony Visconti
Come And Get It
Tom Evans: lead vocal
Pete Ham: piano, backing vocal
Ron Griffiths: bass guitar, backing vocal
Mike Gibbins: drums
Paul McCartney: tambourine
Rock Of All Ages [album mix]
Tom Evans: lead vocals, bass guitar
Pete Ham: guitar
Mike Gibbins: drums
Paul McCartney: piano, screams
Carry On Till Tomorrow [album version]
Tom Evans: lead vocal, guitar
Pete Ham: lead guitar, acoustic guitar, backing vocal
Ron Griffiths: bass guitar, backing vocal
Mike Gibbins: drums
string arrangement by George Martin
Midnight Caller
Pete Ham: lead vocal, piano
Joey Molland: guitar, backing vocal
Tom Evans: bass guitar, backing vocal
Mike Gibbins: drums
We're For The Dark
Pete Ham: lead vocals, guitar
Joey Molland: guitar
Tom Evans: bass guitar, backing vocal
Mike Gibbins: drums
I'll Be The One
Tom Evans: lead vocal, bass guitar
Joey Molland: lead vocal, guitar
Pete Ham: guitar, backing vocal
Mike Gibbins: drums
Without You
Pete Ham: vocal, piano, guitar
Tom Evans: vocal, bass guitar
Joey Molland: guitar
Mike Gibbins: drums
Bill Collins: organ
I'd Die Babe
Joey Molland: lead vocal, guitar
Tom Evans: bass guitar, backing vocal
Pete Ham: guitar, backing vocal
Mike Gibbins: drums
George Harrison: guitar
It's Over
Tom Evans: lead vocal, bass guitar
Joey Molland: guitar
Pete Ham: piano, guitar, backing vocal
Mike Gibbins: drums
When I Say
Tom Evans: lead vocals, guitar, bass guitar
Joey Molland: guitar
Pete Ham: guitar
Mike Gibbins: drums
Dennis
Pete Ham: lead vocal, piano, guitar
Tom Evans: bass guitar, backing vocal
Joey Molland: guitar, backing vocal
Mike Gibbins: drums
Lonely You
Pete Ham: lead vocal, guitar
Tom Evans: bass guitar, backing vocal
Joey Molland: guitar, backing vocal
Mike Gibbins: drums
Love Time
Joey Molland: lead vocal, guitar
Pete Ham: guitar
Tom Evans: bass guitar
Mike Gibbins: drums
Meanwhile Back At The Ranch
Pete Ham: lead vocal, piano, guitar
Tom Evans: bass guitar
Joey Molland: guitar, backing vocal
Mike Gibbins: drums
Should I Smoke
Joey Molland: lead vocal, guitar
Pete Ham: piano, guitar, backing vocal
Tom Evans: bass guitar
Mike Gibbins: drums
horn arrangement by Roger Ball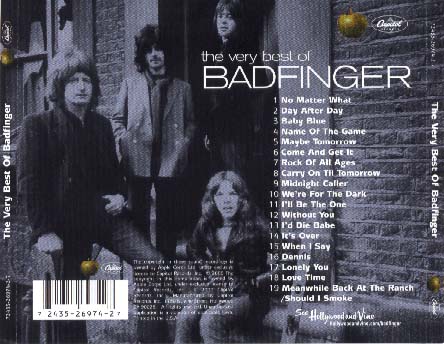 digitally remastered by Ron McMaster at Capitol Mastering
art direction by Phil Smee
photographs courtesy of Apple Records archives
liner notes by Andy Davis
creative consultant: Dan Matovina
executive producer: Paul Atkinson
special thanks to: Neil Aspinall, Mike Heatley, Jeremy Neech, Cheryl Pawelski, Herb Agner, Bill Inglot, Adam Varon, Sam Gay, Michel Etchart, Joseph McElmeel

Apple released "The Very Best Of Badfinger" on September 12, 2000. All the tracks have been remastered with the Straight Up tracks sounding the most improved. See Jesper's Badfinger News page for the full details on the evolution of this project. The CD booklet contains many previously unseen photos and a biography of the group by Andy Davis.

© Copyright 1998-2014 Tom Brennan's Badfinger Library (TBBL). All Rights Reserved.
Reproduction in whole or in part in any form or medium without express written permission is prohibited.
All trademarks used on TBBL are the property of their respective owners.