July 22, 1972
Concert Hall, John F. Kennedy Center for the Performing Arts
Washington D.C., U.S.A.

These photographs are from backstage at the Kennedy Center in Washington, D.C. taken July 22, 1972.
photos and captions by Reneé Anne Edman
thanks to Dan Matovina for photo caption identification corrections

Note: Tom Evans was not present when these photos were taken, neither was Rob Stawinski who had replaced drummer Mike Gibbins during the summer of 1972.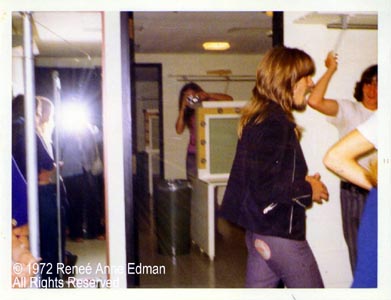 1)"Joey Molland Entrance": There were seven fans awaiting the arrival of Badfinger backstage before their performance at the Kennedy Center on the night of July 22, 1972. I was one of the seven, and the only person with a camera at hand. There was a professional photographer backstage, in a room adjacent to their dressing room. Joey Molland entered through the same door as the fans. He rushed in, much to everyone's surprise. I took a photo of him on his way to the seating area to the back of the dressing room, and in the process, also captured the pro photographer (name unknown to me) in my picture, not to mention myself - as reflected in the mirror on the back of the door.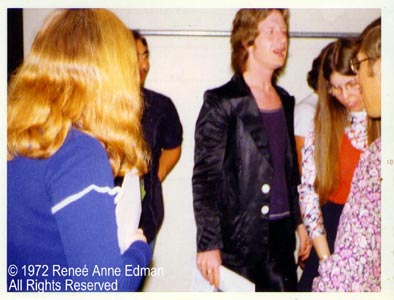 2) "Pete Ham Entrance with Fans": When Pete Ham came in, he was surrounded by us. We were all delighted to finally meet him. We had listened to Badfinger's music on 8-track tape in an old beat-up blue station wagon in the hour's drive to get to the Kennedy Center from Southern Maryland. To us, he was the star of the group. We might as well have been meeting the King of England. He wasn't polished in his black silk outfit with a t-shirt underneath, but we didn't care. We wanted to mix and merge with our idol. And he was just as happy to find admirers backstage.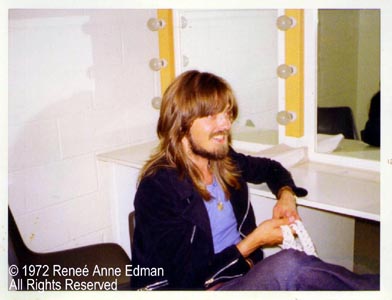 3)"Joey Molland with Macramé": One of us (Pat Grace) gave Joey Molland a white macramé belt (or some other item - I've long since forgotten its exact nature) that she had handcrafted especially for him. He was pleased, and thanked her for his gift. As you can see in this photograph, he smiled and chatted with her.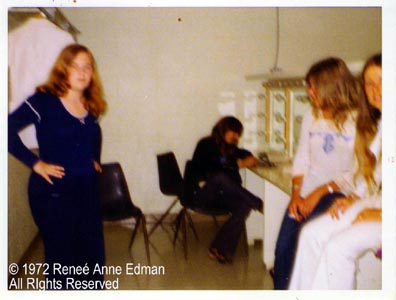 4)"Joey Molland Signing Autographs": Unfortunately, this photo is not in focus. A female fan in blue is on the left, Joey is in the background of the dressing room, with Tom Evans' future wife, Marianne, to the right of Joey in the foreground, and Joey Molland's wife Kathie on the far right.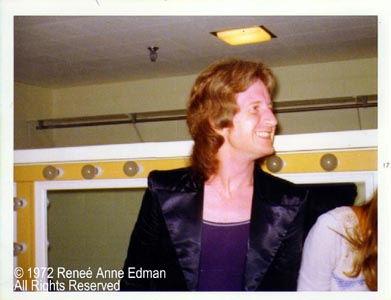 5)"Smiling Pete Ham": Someone had asked him to smile, and he did. A huge grin, and we all got a big kick out of that!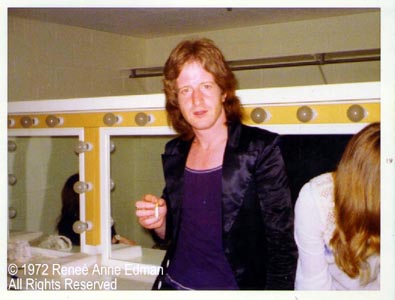 6)"Pete Ham Close Up": Pete was paying attention to a news tabloid that had Badfinger's picture on the cover. I wasn't paying attention to my camera - I had a habit of replacing the lens cap after most every picture. I had asked Pete for a nice pose, and he accommodated me. Only afterwards, I realized the lens cap had still been on. I told him what had happened, and he posed again. This time I succeeded without too much embarrassment to myself. He was very forgiving!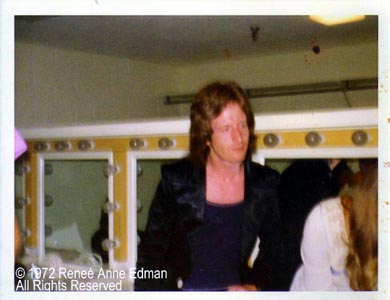 7)"Pete Ham Profile": Pete Ham looking over Marianne's shoulder, trying to get a good look at the Phonograph magazine with the article "Badfinger At The Crossroads" and Badfinger on the cover.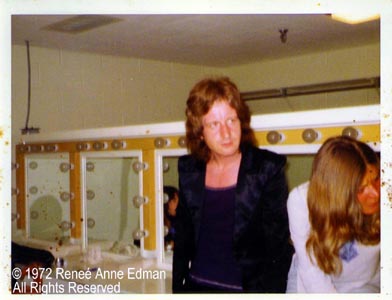 8)"Pete Ham with Marianne": Here Pete is distracted by the fans towards the front of the dressing room. He seems annoyed at this point.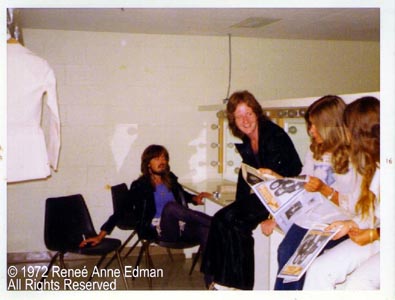 9)"Joey Molland, Pete Ham, Marianne and Kathie": Joey, Pete, Marianne, and Kathie reading the Phonograph magazine. They were enjoying our attention and Pete, especially, was having a good laugh over something that was mentioned in the text of the magazine.

These are only part of my collection. The rest are negatives that have yet to be processed. Now, you may ask, where was the rest of the Band? I have no idea! I can identify three of the seven fans appearing backstage, not including myself. Two still reside in Maryland, one now lives in Georgia. The Kennedy Center dressing room was all newly built, without much decor. It was simply very plain. Then again, the Kennedy Center itself was new in 1972. This was a disappointment to us, as we had no means of acquiring soft drinks while we waited. The seven of us traveled to the Kennedy Center as a group. Hope you enjoy these, and my trip down memory lane! There are more photos to come, and more about Badfinger.
Reneé Anne Edman, September 28, 2002

©1972 by Reneé Anne Edman. All Rights Reserved.
---
© Copyright 2002-2006 Tom Brennan's Badfinger Library (TBBL). All Rights Reserved.
Reproduction in whole or in part in any form or medium without express written permission is prohibited.
All trademarks used on TBBL are the property of their respective owners.