Rob Stawinski interview
by Tom Brennan
October-November, 2004

Rob Stawinski was the fill-in drummer for Badfinger (replacing Mike Gibbins) in the summer of 1972 for the group's American tour [for more info, see Badfinger In Concert, 1972]. Rob now plays drums for Bobby Lewis and the CrackerJack Bandin the Michigan area. In this exclusive interview, Rob dug deep (more than 30 years) into his memory to answer some questions via e-mail about his first band, "Sky", and about the summer of 1972 he spent touring with Badfinger...

interview sections: Sky | Badfinger | since Badfinger
---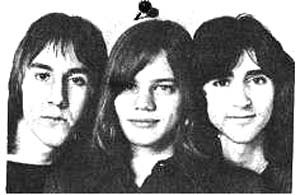 Robbie Stawinski (center)

TB: Who started the band and thought of the name "Sky"? Was it "The Sky" or "Sky"?
Rob: It was "Sky", and it was put together by Doug Fieger* and John Coury. I'm not sure who thought of the name, but my guess would be Doug.
(*later of The Knack)

TB: On the first Sky album "Don't Hold Back", there's another drummer listed, Bob Greenfield, and also "thanks to Alan White". Did you join late in the album sessions or something? What happened?
Rob: I was contacted by the band about a week or so after they finished "Don't Hold Back", so I didn't play on it at all, but my name and picture are on the album cover because that was the band that was going to promote the album and record the next one. They didn't want any confusion over who was in the band. I think Alan White got a credit because he played some percussion on that first record.

TB: Were Doug Fieger and John Coury English or American?
Rob: John and Doug were both from the suburban Detroit area.

TB: Why were Sky's LPs recorded in England?
Rob: We were signed to Jimmy Miller's production company and he was producing us, the Rolling Stones, and a few other groups. On the first album, he had a scheduling conflict, so Gary Wright produced most of the sessions. Gary had other things going on in England, so Sky went to London to record. On the second album, Jimmy had a conflict again, so part of the album was recorded in L.A., because that's where we were living at the time; those sessions were produced by the band and Andy & Glyn Johns, then we met up with Jimmy at Mick Jagger's castle in Stargroves, England and finished it. [Note: The Who recorded "Won't Get Fooled Again" in Stargroves] I was about seventeen and was pretty floored by the whole thing.

TB: What other bands influenced Sky's music the most?
Rob: I can only speak for myself, and at the time Elton John's first American release had just come out and I loved it. I was also a huge Beatles and Led Zeppelin fan.

TB: Why is there a note on the "Don't Hold Back" LP that says "certain portions of this album may not be suitable for broadcast purposes."?
Rob: There's a song on that record called "How's That Treatin' Your Mouth Babe?" and in the early '70s, RCA was kind of concerned about the lyrics. Today, no one would care.

TB: I noticed some session players on the Sky albums (Jim Price, Bobby Keys, Doris Troy and Gary Wright) also played with George Harrison. Did you ever meet any of The Beatles or work with them?
Rob: I think George Harrison was at one of Badfinger's shows in England in the spring of '72 and I met John & Yoko at a benefit concert in Ann Arbor, Michigan [December 10, 1971].

TB: Which Sky album is your favorite (Don't Hold Back or Sailor's Delight)?
Rob: Since I didn't play on "Don't Hold Back", I'd have to say "Sailor's Delight". I'm kidding. There are quite a few songs I like off of "Don't Hold Back" but they're totally different albums.

TB: Which Sky song is your favorite?
Rob: I don't have one. There are quite a few that I really like.

TB: Did Sky only record 2 LPs for RCA?
Rob: Yeah, that was it.

TB: When, how and why did Sky break-up?
Rob: It was the summer of 1971 and we had just finished mixing "Sailor's Delight". Sales for the first record weren't going that well and Doug & John weren't getting along that well. Plus, we were all very young; I was just 17, Doug was 18 and John was 19. We couldn't handle the pressure and we needed a break. So we split up, which I think was a mistake. There was still some interest in the group; I think if we could have held it together for another one or two records, we would have had a chance at being very successful. We tried a to reform a few years later, but it never worked out.

---
Badfinger:

TB: When you were asked to play drums for Badfinger, was Sky still together?
Rob: No. Sky broke up in the summer of '71 and I did the Badfinger audition in the spring of '72 [June].

TB: How did you find out Badfinger needed a drummer? How was the situation explained to you?
Rob: I'd met Bob Adcock (Jack Bruce's road manager) in London when I was there with Sky. Bob found out that Badfinger was auditioning drummers. He called me in Detroit and said if I flew over there he could get me in, so I did. They were holding the auditions in a small room on the second floor of a pub somewhere in London [on Denmark Street]. I went up there and played with them for about two hours. The next day, they called and said I had the gig.

TB: How much time were you given to rehearse with them before performing onstage?
Rob: As I recall, very little. I spent a lot of time listening to their records.

TB: How did your drumming style differ from Mike Gibbins'?
Rob: I liked the way Mike played on those songs. I might have approached them a little differently, but what I tried to do was learn the parts Mike had played. I wanted those songs to sound like the records. On the covers we were doing, I played pretty much what I wanted to.

TB: Was June 10, 1972 (Saturday) in Whitchurch, England the first concert you played with them? Was Mike Gibbins playing with them the day before in Birmingham on June 9 or did they use a substitute drummer until you were ready?
Rob: I think Mike played on both of those dates and I went along as an observer. I was getting a crash course in Badfinger.

TB: Did you ever meet Mike Gibbins?
Rob: I really don't remember. I remember seeing him backstage at those concerts in England, but I'm not sure if we were ever actually introduced and I remember thinking that there was some tension between Mike and the rest of the guys because of the situation. A weird thing is, during the late '80s or early '90s, Mike moved to Michigan and for a couple of years he lived within a few miles of my house, but we never got together.

TB: What are your memories of the first U.S. concert in Central Park on June 19, 1972?
Rob: It was raining or drizzling and we walked from our hotel on Central Park South to the stage. Somebody said the crowd wasn't that big because of the weather, but it was the biggest crowd I'd ever played for. We had a lot of energy that night and even though it was our first performance together I remember it being one of the best shows we did.

TB: Did Badfinger fans know that you weren't Mike Gibbins? How was fans' reaction to you?
Rob: The fans I met I'm sure knew I wasn't Mike, because I was obviously not English, but everyone was just great to me. A few people also noticed that Mike plays left-handed and I play right-handed.

TB: How did the press explain the line-up change (of Badfinger drummer)?
Rob: I don't know. Stan Poses and Bill Collins handled it and I never read anything about it at the time.

TB: Any memories of touring with Rod Stewart & The Faces?
Rob: I've never read about the fact that that tour was known as the circus tour; we were literally traveling with a small circus. Between bands, as the roadies were changing the stage gear, a group of high wire artists, midgets and other oddities would entertain the audience. You can imagine the insanity this caused backstage and onstage. Everyone realized after a few shows that it wasn't a great idea, so they sent the circus home. I also remember the first time we checked into a hotel with The Faces, the hotel wanted a damage deposit, in cash. I think it was around $10,000. I'm thinking, "What's this all about?" After the show that night, I end up in a suite with The Faces, about a couple dozen other people, and a guy in a kilt playing the bagpipes. Well, by the end of the night, that room was trashed! Broken windows, broken plumbing; Ron Wood tried to rip the sink off the wall in the bathroom. A lot of the stories you hear about bands in the '70s are true.

TB: Any other interesting Badfinger tour stories you can recall?
Rob: A couple of things come to mind right away. We were doing a show in Ann Arbor, Michigan [July 5, 1972] with the Faces and my parents who lived about 45 minutes from there asked the entire band, I mean everybody, including: Nicky [Bell], Fergie, Bill [Collins] and Danny [Aharoni], Kathie [Molland] and Marianne [Evans], to come for dinner. This was the first home-cooked meal we'd had in months and the only time during the tour that we were invited into someone's home. It was great. I remember that Pete was especially touched by that dinner and he was very charming, and I remember Bill flirting with my mom. It's one of my best memories of the tour.

Now, the other thing that stands out in my mind happened in New Mexico. We were in Taos; we weren't playing there. I think we were driving to a gig [around July 18, 1972] somewhere else in the state and we stopped to eat. We started talking to a Native American who was living on a reservation outside of Taos and he asked us if we wanted to go with him and see the reservation. I think he was intrigued by the fact that everybody besides Danny and me were English. He had us follow him down some back roads to get to his place, which is not legal. We should have gone through the main entrance and signed in with a guard at the gate and he wouldn't have let us go in and see how these people were living. This guy and his family lived in a one-room hut, about the size of a small bedroom and the oven they cooked their food in was outside of the hut. The hut also had electricity, but the only things hooked up to it were a lamp and a black & white TV, which I thought was pretty ironic. We were all shocked by the situation; I mean, this was the early '70s in the United States of America. I think everybody was really affected by what they saw that day.

TB: What do you remember about Badfinger roadie Nicky Bell injuring Joey Molland's thumb? Did you witness it happening in the hotel room? Do you recall what town that happened in (or prior to which gig)?
Rob: I missed that one. I just remember seeing Joey the morning after it happened with a cast; I'm not even sure what city we were in. I know it was an accident, but I can't recall the circumstances. Joey had to spend the rest of the tour sitting on a chair on stage.

TB: How did you get along with Pete, Tom and Joey? Who did you get on with the best?
Rob: Pete was the first guy in the band that I felt comfortable with. A week or so after I started working with them, he asked me if I wanted to go shopping with him for clothes for the tour. That was the day he bought that black satin suit that he wore at most of the concerts. We had lunch that day and he made me feel like I was part of the band. As the tour went on, Tommy and I became good friends and we spent a lot of time together. We ended up getting along really well; maybe it's a drummer, bass player thing, but I really liked Tommy and I thought Marianne was great. Joey and I never developed much of a relationship. He spent a lot of time with Kathie.

TB: What memories do you have of playing on the Steel Pier (Boardwalk) in Atlantic City, NJ for a whole week?
Rob: Probably the same memory everyone else does - the diving horse. We were doing two half-hour shows a day, a matinee and an early evening show, and the horse went on either just before or just after us, I can't remember which. From backstage, we could see the area were they would force the horse up a ramp, through an archway, and then it would slide down another ramp and dive into the Atlantic Ocean. Believe me, the horse didn't want to do this. It was surreal, sad, and hilarious all at the same time.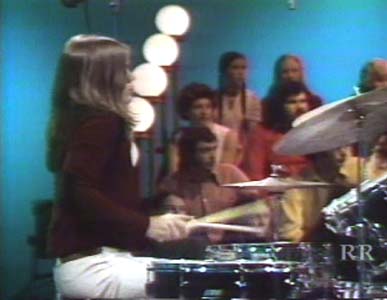 Robbie on drums during the "Rollin' On The River" TV appearance, performing "Baby Blue"

TB: What do you remember about performing on TV with Badfinger on the "Rollin' On The River" show hosted by Kenny Rogers? Badfinger played "Baby Blue" and "Day After Day".
Rob: The thing I remember most about that was what happened the night before. We were doing the last show of the tour with Kindred. During our encore, Nicky, Fergie, and Kindred thought it would be a good idea to douse us with beer and then cover us with flour (not very funny). That happened a lot back then; it was kind of like a football team soaking their coach with ice water after the last game of the season. I ended up driving myself back to the hotel in a rental car. On the way, I got lost, ran a stop sign, and was pulled over by the police. I smelled like beer and looked like a ghost, 'cause I was covered in flour. The cop took one look at me and said, "I want you to follow me, and don't even think about not doing it." Nowadays, he would have pulled his gun, but this was over thirty years ago. Three blocks later, we pulled into the back of a police station. Once they realized I wasn't drunk and I explained who I was, they weren't sure what to do. There were other cops coming into the station that had been working security at the concert, so they had seen the whole thing onstage. But because I was leaving the country the next day, to go to Toronto, and there was the stop sign problem, they had to call the local magistrate. He fined me about $25.00 over the phone and told them (at the police station) that if I paid the fine, they could let me go. By the time I got back to the hotel, Danny was ready to have a coronary. I think it was the next day that we got to the studio in Toronto to shoot the TV show. I was just relieved to be there.

TB: After the last concert in Toronto on August 9, 1972, what were you told about future work with Badfinger?
Rob: We flew back to New York City and I was there for about two or three days while the rest of the band went to these long meetings everyday with Bill, Stan Poses and I believe, Stan Polley. This was the first time I began to get a feel for how bad things were going for the band from a business standpoint. It became apparent to me that the band was in bad shape. The guys came out of those meetings in a bad mood and complained about how screwed-up everything was. They felt they were getting screwed by Stan Polley and they didn't trust anyone anymore. They told me that they weren't sure if the band was going to make it and they'd call me if they needed me in the future. I could tell that things were going downhill for them. I flew back to Detroit and that was the last time I heard from them until Stan Poses called me about another gig.

TB: Are you a Badfinger fan?
Rob: Yes, I've always liked their music.

TB: What is your favorite Badfinger song?
Rob: I have a few, but I'd have to say "Day After Day". The first time I heard that song on the radio I loved it. It's a great song. It was when it came out and it still is today. "No Matter What" and "Without You" are classics, too.

TB: Do you own any Badfinger CDs? If yes, what is your favorite album?
Rob: I still have a few of their records on vinyl, but I don't own a turntable any more. They still get a lot of airplay in Detroit, so I hear their music quite often.

TB: Have you seen or read the Badfinger biography, "Without You, The Tragic Story of Badfinger" by Dan Matovina?
Rob: No, I'm not familiar with it.

TB: What was your reaction when you heard about Pete Ham's (1975) and Tom Evans' (1983) suicides?
Rob: I was shocked. As I said, I knew at time I left the band that things were not going well and Pete was very upset with the situation. But in my wildest dreams, I never would have guessed that it would affect him to the point that he would commit suicide. I only knew Pete for a short time, but during that period, I was with him every day for hours. I never felt the kind of depression from him that he must have been feeling to decide to kill himself. The fact Tommy's suicide was so many years later was confusing to me until I saw the "Behind The Music" (VH1) show.

TB: So you have seen the VH1 "Behind The Music" Badfinger special?
Rob: I was watching it with my wife and son, and I said "I wonder if I'll be in this?" and then about two minutes in they started using clips from the TV show we did. I also remember thinking how sad the whole thing was. I hadn't known the specifics surrounding Tommy's and Pete's suicides and I felt so bad for Marianne.

TB: Have you seen the only Badfinger DVD release (so far) that was produced by Gary Katz? The DVD has the TV performance of "Baby Blue".
Rob: Yes. I'd never heard of it and then a friend of mine, Robert Bruce who I have done a lot of recording with, sent me the DVD.

TB: Do you have any interesting items that you've saved from your time with Badfinger?
Rob: Only a few pictures and one carousel of slides.
---
since Badfinger:

TB: Have you ever stopped drumming to switch careers since the '70s?
Rob: For about a year, around 1975, I was the head chef at Studio 1 in Hollywood, but that's a long story.

TB: What bands have you been in since Badfinger in 1972?
Rob: This is another long story. A few months after I left Badfinger, Stan Poses called me and asked if I'd like to audition for "Natural Juice", a band that was being managed by Gee Aucion (his next project was "Kiss"). I flew out to New York, got that gig, and worked with them for about a year. After that was when we tried to reform Sky. When that didn't work out, I did a project in Boston with John Coury, called "Blackbird". Next, I moved to L.A. and played with a group called "Mammoth" and a bunch of other different groups. In 1976, I moved back to Detroit and started working with Robert Bruce. He and I were writing and producing songs for our own project called "The Raggs", as well as producing demos for some other local artists. Later, in 1979, I joined Bobby Lewis and the CrackerJack Band and I started a production company with my brother Rick, writing and producing corporate soundtracks and jingles. I'm still doing that, although my brother moved back to California 4 or 5 years ago.

TB: Where do you call home now?
Rob: I live with my wife Cathy, in Royal Oak, Michigan and my son Brett just moved to Ann Arbor to attend the University of Michigan.
TB: What band are you in currently?
Rob: I'm still playing with Bobby. It's been 25 years, but he's retiring at the end of January after 45 years in the business. The bass player, David Eversole, and I are going to revamp the band and continue on as the CrackerJack Band.

TB: Are you performing in any live shows?
Rob: We do about 100 shows a year.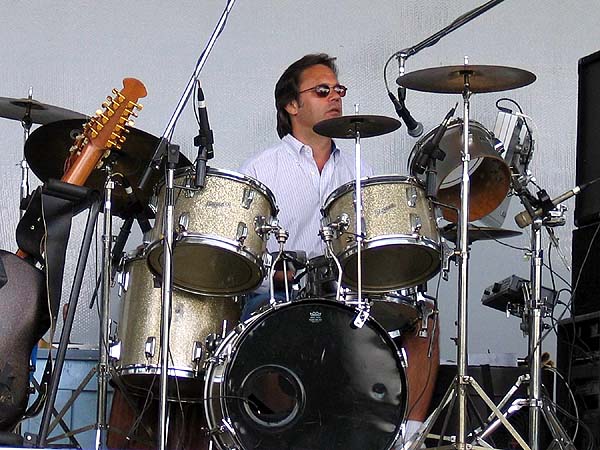 Robbie in 2004 performing with the CrackerJack Band
interview sections: Sky | Badfinger | since Badfinger
©2004 by Tom Brennan
Any portion of this interview may not be used or reproduced without permission.
---
© Copyright 2004-2010 Tom Brennan's Badfinger Library (TBBL). All Rights Reserved.
Reproduction in whole or in part in any form or medium without express written permission is prohibited.
All trademarks used on TBBL are the property of their respective owners.