Badfinger news & features:
BADFINGER ELECTED TO THE PEOPLE'S HALL OF ROCK 'N' ROLL LEGENDS
On December 6, 2011, Badfinger was elected by the fans to the People's Hall of Rock 'N' Roll Legends. Along with Badfinger, The People's Hall Class of 2012 also includes Neil Diamond and Bob Seger & The Silver Bullet Band. Badfinger led all nominees with 60 votes, Diamond finished second with 48, and Seger & the SBB finished third with 46. A minimum of 44 votes were need for induction. This class brings the total number of artists and groups inducted into The People's Hall to an even 200, with 51 of those, including Badfinger, names who have to date been snubbed by the Rock 'N' Roll Hall Of Fame in Cleveland.
http://thepeopleshall.blogspot.com/
posted, December 18, 2011


CONCERTS FOR BANGLADESH 40TH ANNIVERSARY
Badfinger & Bangladesh by Tom Brennan posted July 27, 2011, updated August 14, 2011
Concert For Bangladesh album now for sale on iTunes (press release in MS Word format)
George Harrison was an inspiration to (me and) musicians across the world. In 1971, his friend Ravi Shankar asked him to help the children of Bangladesh. George took action by hosting the Concerts for Bangladesh in support of UNICEF. I am proud to join the anniversary celebration and honor George's legacy by supporting the George Harrison Fund for UNICEF.
August is the Month of Giving. Please watch the video and join me in supporting this great cause.


RON GRIFFITHS IS FEELING BETTER



UPDATE:
Thank you to everyone for all the good wishes and prayers for Ron. Looks like they worked! Here's an update that Ron asked me to pass along to everyone that is interested...

"Dear All.
I was given some good news on Friday last..my blood-test gave a PSA score of 0.04. I appreciate that these figures mean zilch to many of you, but it could be said that I am in remission from the tumour - the treatment in January/February was a success. I will of course be monitored from now on - next check-up is at the end of January. Needless to say I am as pleased as punch!!

with love and best wishes
Ron
updated September 28, 2010



STAN POLLEY IS DEAD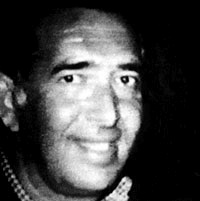 Dan Matovina reports:
When Pete Ham committed suicide in 1975, he left a note. The final sentences read:"Stan Polley is a soulless bastard. I will take him with me." Early in 1970, after Badfinger's "Come And Get It" single on The Beatles' Apple label had established itself as a worldwide hit, their British manager, Bill Collins, had set off to America in hopes of lining up touring in the States. He was introduced to a business manager, Stanley Polley, by Lou Christie's British music agent, Barrie Marshall, who also booked Badfinger in the U.K. Within six months, Polley (who also managed other prominent and upcoming artists, writers, producers such as Al Kooper, Hank Medress, Sandy Linzer, Charlie Calello, Irwin Levine, Russell Brown) had signed the Badfinger members to a business management contract.

Down the road, with success coming in droves, Polley locked the band into numerous additional contracts and other schemes in which he lined up Badfinger's income to be directed to him first, always with a huge contractual cut off the top for himself. It eventually came into the open that Polley was a nefarious crook who set up "ponzi schemes" on his clients, laundered their money, embezzled their funds and that he had an earlier background as a Mafia "bagman"!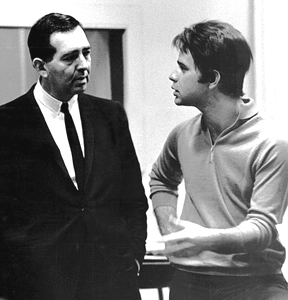 Stan Polley with Lou Christie
When Pete Ham realized he absolutely was crippled by Polley (with no income, a stagnated record contract, and his trust in humankind forever disillusioned), he drank a lot one night and sadly made a rash choice - to take his own life by hanging. Also written in Ham's note: "I will not be allowed to love and trust everybody. This is better."

Ham had been expressing his deepest concerns in many songs, leaving behind such then-unheard demos as "Ringside" and "No More." These were finally released on the Rykodisc CD 7 Park Avenue in 1997. Bandmate Tom Evans, who later killed himself (having been totally broken by Ham's suicide), also had laid out his feelings about Polley with his song "Rock'n'Roll Contract." This was written in 1974 for the Head First album, and was also unreleased until 1983, with a version on the album Say No More.

When Ham died, Polley's reputation had already been starting on the downward slope to ruin in the music industry, yet he escaped any legal prosecution throughout the years. When prompted, he had often bragged that anyone under his wing would be so broken emotionally and financially that if they challenged him, they'd never even attempt to sue him. And he wasn't averse to flashing a gun or joking about taking out someone's eyeballs.

In 1988, Polley was sued for embezzling the funds of one, Peter Brock, a brilliant inventor with an automotive background. Brock had been conned, much as Badfinger and others were. Although Brock eventually won a lawsuit in 1991, Polley quickly claimed he was on death's door to the courts. Brock received little to nothing of the judgment. Eighteen years later, Stan Polley has only recently died, in Rancho Mirage, CA on July 20, 2009. The home he had been living in was in nearby Palm Desert, so possibly he was at a nursing home when he passed on, but that is only a guess.

His second wife, Connie Polley, did not put out an obituary for him and it is only months later that his death has been revealed through the Social Security Death Index. Connie has run a beauty supply store in Palm Desert for years and Polley was comfortably situated at their home. Over the years, Polley had continually sold loads of Badfinger memorabilia (using a proxy), including contracts involving Badfinger with signed cancelled checks and cash receipts, clearly to leak every drop of blood money off their bones as he could.

And here we are today, November 19, 2009, the 26th anniversary of Tom Evans' suicide, with some of Polley's items (which had very recently sold through a major auction house by his proxy) matriculated out further with an eBay seller having an auction up with one particularly notorious Badfinger contract with Warners Brothers. Additionally, this framed item features original signatures of the band and cut out pictures from my book on Badfinger, "Without You: The Tragic Story Of Badfinger." Similar items had been sold in the past.

When Polley was approached by VH-1 for their television documentary on Badfinger, he declined an interview, as he did for my book. So who can judge if justice was ever paid for what he did in life. I do know his since-deceased earlier wife, Ardith Polley, despised him in her last years, fearing his retaliations; and rumors are that their son and daughter had disowned him (which I can't fully verify). But if this means anything to anyone, I do know of a Badfinger fan who contacted Polley at his home one time and screamed into the telephone, "I just want you to know you killed a beautiful person in Pete Ham - YOU BASTARD!"

Let's hope he had at least one sleepless night...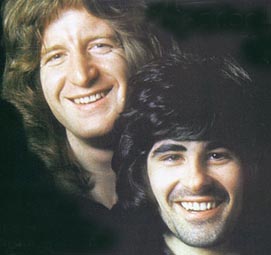 Pete Ham and Tom Evans
To leave comments, sign on to the Badfinger Library Message Board
posted November 19, 2009

LOCK MY FEELINGS IN A JAR BY JEFF ALAN ROSS (A.K.A. ELLIOT JOFFREY)

Jeff Alan Ross, also known as Elliot Joffrey to Badfinger fans who were lucky enough to see the band live in 1986-1987 with Joey Molland and Mike Gibbins, has released his first CD of new material since 1989's "View From A Leaf". Jeff covers Badfinger's "Name Of The Game" in addition to 11 new, original songs. On the Badfinger Library website is an EXCLUSIVE INTERVIEW conducted by Dan Matovina in January of 2009 and a review of his new CD by Tom Brennan. You can purchase his new CD on his website at: jeffalanross.com or on CD Baby. He also has a MySpace page at: http://www.myspace.com/jeffalanross where you can preview complete songs, including "Name Of The Game". On Jeff's website, there is also a link to his BBC interview recorded in December of 2008 where Jeff performs a solo acoustic version of Badfinger's "Baby Blue" in addition to two songs from his new CD.
Track listing:
01. Love Is Raining Down
02. A Sailor's Shanty
03. Grace Under Pressure
04. Harmony's Song
05. It Was Always You
06. Walk Into The Fire
07. Love That's Lost Inside Of Me
08. The Gift
09. Carrier Of The Dream
10. Angels In Disguise
11. Sun Ain't Gonna Shine Today
12. Name Of The Game
13. Love Is Raining Down [acoustic version]
CD Review by Tom Brennan
posted March 8, 2009


IVEYS SESSION OUTTAKES SURFACE FOR THE FIRST TIME

Part of The Iveys first session for Apple Records has surfaced on a Beatles bootleg that includes an early, alternate version of Revolution 1. It is a 2-CD set entitled, "Revolution take... your knickers off!". The entire 2nd disc of the set includes all Iveys session outtakes. The first half includes a rough mono mix down of takes 1-26 of "Come And Get It" recorded at Abbey Road Studios on August 2, 1969 with Paul McCartney producing. The second half of the CD includes a rough mono mixdown of the entire session of "No Escaping Your Love" (takes 1-11) recorded at Trident Studios on July 23, 1968 with Tony Visconti producing. The most interesting takes are take 1 of "Come And Get It" which has Paul McCartney singing a scratch vocal, take 21 of "Come And Get It", which has Ron Grifiths auditioning as lead vocalist, and take 11 of "No Escaping Your Love" which is a rough mono mixdown of the master take with no fade out. It is not known whether or not any other session tapes will surface.
Note that in the booklet for the bootleg, the recording dates for "Carry On Till Tomorrow" are erroneously listed.
[analysis of sessions: Come And Get It | No Escaping Your Love]
posted February 26, 2009, updated March 1, 2009
THE IVEYS & THE BEATLES WHITE ALBUM
The Beatles White Album is 40 today, so I've put together my version of what I think a single album should have been if the double album release had been cut down. Also, an article about The Iveys hearing "Hey Jude" when Paul came to visit them at Trident Studios in July of 1968, and the songs from the White Album that The Iveys played live in concert.
Double article about the White Album and The Iveys posted November 22, 2008


TREACLE TOFFEE WORLD (APPLE PUBLISHING, VOLUME 3)

"Treacle Toffee World - Further Adventures Into The Pop Psych Sounds From The Apple Era 1967-1969" completes the exploration of the catalogue of the Beatles' Apple Music Publishing Company that began with RPM's release of "94 Baker Street" In 2004 and continued with "An Apple A Day" in 2006. Eighteen new and very rare tracks appear on this CD. George Alexander of Grapefruit, Pete Ham, Tom Evans and Ron Griffiths of The Iveys/Badfinger, Dave Lambert of Fire/The Strawbs and Gallagher & Lyle were but a few of the impressive stable of songwriters under contract to Apple Music, and these are all represented here. Release dates are October 27, 2008 in the U.K. and November 18, 2008 in the U.S. (as an import).
Track listing:
01. Father's Name Is Dad by Fire
02. Listen To the Sky by Sands
03. Trying To Make It To Monday by Grapefruit
04. Forgive And Forget by Peter Huckstep
05. Goodbye Mozart by Gallagher & Lyle
06. Spare A Copper by Fire
07. Even The Sun Shines Cold by Peter Huckstep
08. Bittersweet Adieu by The Iveys
09. Tea And Toast Mr. Watson by Denis Couldry
10. Treacle Toffee World by Fire
11. Fall Of The Castle by Grapefruit
12. Penny For The Wind by Denis Couldry
13. Vincent Van Gough by 23rd Turnoff
14. Thinking Pictures by Peter Huckstep
15. How Does It Feel by The Iveys
16. Will I Find Love by Fire
17. Fantastic Story Of The Steam Driven Banana by Legay
18. This Little Man by Grapefruit
CD Review by Tom Brennan
posted October 9, 2008, updated November 18, 2008


BADFINGER & IVEYS VIDEOS ON YOUTUBE
Brando has compiled a table of links to the best Iveys & Badfinger videos that are available on YouTube, which he will periodically update as new videos become available. Among them are Bob Jackson singing "Won't Forget You" live from the 1984 British Invasion Tour, "Shine On" from the 1973 Japanese documentary, "Take It All" from the never aired "Set of Six" first episode, various versions of The Iveys lip-synching to "Maybe Tomorrow", The Dodgers performing "Down" live on TV in 1976, and many others.
posted September 4, 2008


NEW MYSPACE PAGES
Badfinger and Pete Ham now have their own MySpace pages. They include audio samples and YouTube videos.
Tom Evans has two pages: Tom Evans Badfinger and Tom Evans Badfinger Rocker with audio and video.
posted July 4, 2008, updated November 23, 2008


STATEMENTS FROM BOB JACKSON & TOM EVANS' WIDOW, MARIANNE
Bob Jackson has forwarded me two statements to publish, which I am doing here per his request. The statements are related to a blog posting made by a woman named Cheryl. In this blog posting, she alleges she talked to Pete Ham & Tom Evans when they were at Tom's house the night Pete died. She claims that Pete got on the phone with Cheryl and told her he didn't want a new baby and that he was unhappy with Anne, right before he hanged himself. Marianne Evans disputes Cheryl's claim and questions her motives.
posted June 10, 2008


NBA USES ORIGINAL BADFINGER VERSION OF "DAY AFTER DAY" IN NEW AD CAMPAIGN


Update: Congratulations to the Boston Celtics for winning the NBA championship by defeating the Los Angeles Lakers in 6 games! Also, thank you to Kevin Garnett - you brought home the championship, baby, and you made it soon!
updated June 18, 2008

To begin airing on November 30, 2007 on ESPN during the Boston Celtics @ Miami Heat game after 8:00PM EST will be the first ever television commercial to feature an original recording from The Beatles' Apple Records label and that features an original Badfinger recording*. 'Day After Day' will be used in the NBA's "Where Amazing Happens" campaign ("Where I Remember Happens").

The 60 second version of the Kevin Garnett NBA ad is debuting December 25, 2007 on ESPN and ABC-TV televised games, however, it has already surfaced on the internet.

* Note for those of you who are interested in purchasing Badfinger's 'Day After Day' and 'Baby Blue' online from iTunes... All listings for these two songs are Re-Recordings whether they have been labeled as such or not - they are not the original Apple Records Badfinger recordings with the exception of 'Baby Blue' from "The Departed" soundtrack album. 'Baby Blue' cannot be purchased individually, only as part of the purchase of the entire soundtrack album due to the licensing agreement that was made with Apple.
posted November 16, 2007, 5:00 P.M., updated December 19, 2007


MIDNIGHT SPECIAL DVD RELEASE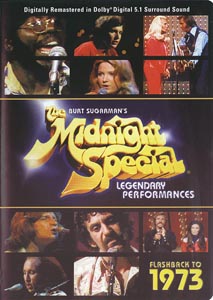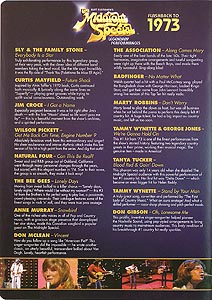 Badfinger's 1973 live performance of No Matter What has been released as part of a DVD subscription series of "Burt Sugarman's The Midnight Special Legendary Performances." The Badfinger appearance was originally broadcast on March 2, 1973. It appears on the volume called, "Flashback To 1973". It also includes Anne Murray's introduction. This DVD is not available in stores, only by mail order subscription. The other performance by Badfinger from this show of Suitcase was previously released on video in 1997 as part of a Badfinger documentary.
posted November 27, 2007



BRAND NEW BADFINGER RADIO DOCUMENTARY TO AIR ON NEW YEAR'S DAY


A brand new BBC Radio Wales documentary titled "Without You: The Story Of Badfinger" will air on the radio and internet on New Year's Day, January 1, 2008. The documentary, narrated by James Dean Bradfield of Manic Street Preachers, has a running time of approximately 56 minutes. It includes interview material from Paul McCartney, Ron Griffiths, Deke Leonard, Bev Tucker, Bob Jackson, Marianne Evans, Mike Gibbins, Bill Collins, Tony Visconti, Pete Ham, Tom Evans, Dan Matovina, Harry Nilsson, Lou Christie, Ellie Gibbins, and Petera Ham. The website address is http://www.bbc.co.uk/wales/radiowales/. The initial airing will be on January 1st at 11:30 am in the U.K., 6:30 am EST in the U.S. (3:30am PST). On the BBC Radio Wales site, at airing time, you will see the programme title in the upper right corner under where it shows "listen live!" next to a speaker cone. Click on the "Without You: The Story Of Badfinger" link and the BBC iPlayer will load the programme and play. I recommend you test this on your computer well before January 1.
After the initial airing, the show will be available by internet stream for one week on the BBC Radio Wales website. The website address is http://www.bbc.co.uk/wales/radiowales/. Click on "listen again!" with the speaker cone on the same page. The player window should open. Scroll down for the programme title "Without You: The Story Of Badfinger" and click on the title to play it. THE SHOW IS NO LONGER AVAILABLE TO LISTEN.


NEW BADFINGER WEB PAGES LAUNCHED
I am pleased to announce that in partnership with Badfinger Library is a brand new website, called badfinger-iveys.com, founded by Dan Matovina and Peggy Burneka, which includes web pages for both Pete Ham (peteham.net) and Tom Evans (tomevans.info).

To launch the new site are major reports with plenty of photos of the 2006 British Badfinger Convention held in Swansea, South Wales, written by Dan Matovina, Keith James and Mark Perkins. In addition, there are song excerpts from the solo concert performed by former Badfinger keyboardist/guitarist, Bob Jackson, as well as clips from the tribute to the Badfinger & Iveys members given by Dan Matovina.

Also included on badfinger-iveys.com are new web pages compiled and designed by Dan Matovina which are promoting the musical offerings of what is referred to as "Apple Seedlings," which are the children of Badfinger members, Beatles members and "Friends of Badfinger". Included so far are pages dedicated to the music of Owen, Adam, and David Gibbins (sons of Mike Gibbins), Emily Jackson (daughter of Bob Jackson), Sean Lennon (son of John Lennon), Dhani Harrison (son of George Harrison), Sean & Tyler Perkins (sons of Mark Perkins, artist of the Pete Ham and Tom Evans lithographs), and Jesper Vindberg (son of Morten Vindberg, webmaster of Badfinger, Wish You Were Here web page).

Not a new web page, but including major upgrades and additions is the Gary Walker & The Rain Library webpage. On February 28, 2007, the first official CD release of their one & only album, "Gary Walker & The Rain Album No. 1" came out as a limited edition in Japan only. This CD is very hard to come by, as it seems that most of the available copies have been bought up by collectors so they can be sold on eBay at inflated prices, at around $20 more per copy. A U.K. release for the CD is due in May 2008 and should be more affordable and easier to get.

Also, being launched at the same time is the Badfinger Library Message Board at: http://badfingertbbl.proboards84.com/. The new web pages listed above and the music related to them can be discussed on the message board. There are also poll questions where you can vote on various Badfinger related topics. To join, a valid e-mail address is required and a verification code sent to the valid e-mail address must be entered the first time a new user logs in to the message board.
posted June 5, 2007


COLLECTORS' CHOICE MUSIC RELEASES WB ALBUMS IN U.S. FOR THE FIRST TIME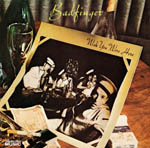 On September 18, 2007, Collectors' Choice Music reissued the two albums Badfinger made for Warner Brothers Records in 1974, their self-titled LP and "Wish You Were Here". The CDs are most likely copies of the German CD reissues, and are low budget releases selling for a list price of $12.98.
PR-inside.com article


NEW MOVIE, "THE DEPARTED" FEATURES BADFINGER'S "BABY BLUE"

The soundtrack CD includes the following tracks:
01. Comfortably Numb [Roger Waters and Van Morrison]
02. Sail On, Sailor [The Beach Boys]
03. Let It Loose [The Rolling Stones]
04. Sweet Dreams [Roy Buchanan]
05. One Way Out [The Allman Brothers Band]
06. Baby Blue [Badfinger]
07. I'm Shipping Up To Boston [Dropkick Murphys]
08. Nobody But Me [The Human Beinz]
09. Tweedle Dee [ LaVern Baker]
10. Sweet Dreams (Of You) [Patsy Cline]
11. The Departed Tango [Howard Shore,
featuring Marc Ribot & Larry Saltzman]
12. Beacon Hill [Howard Shore, performed by Sharon Isbin]

2-Disc DVD released February 13, 2007

UPDATE (March 1, 2007):
"The Departed" took home four awards (Oscars), including best picture and best director.

On Friday, October 6, 2006, a new film from Warner Brothers Pictures, called "The Departed" was released to theaters featuring the Badfinger recording of Baby Blue from the "Straight Up" album. It is also included on the soundtrack album. The film was produced by Martin Scorsese and stars Leonardo DiCaprio, Jack Nicholson, Matt Damon, and Mark Wahlber. The trailer does not included Baby Blue, but does include some other songs in the film like Gimme Shelter by The Rolling Stones and a cover version by Roger Waters & Van Morrison of Pink Floyd's Comfortably Numb. The soundtrack album was released on November 7, 2006.
LATINO SINGING GROUP, IL DIVO COVERS "WITHOUT YOU"
Track listing
01. Nights In White Satin
02. Caruso
03. Without You (Desde El Dia Que Te Fuiste)
04. Come Primavera
05. Un Regalo Que Te Dio La Vida
06. La Vida Sin Amor
07. Una Noche
08. Amor Venme A Buscar
09. Musica
10. Somewhere

Note: all tracks are sung in Spanish

On November 21, 2006, Latino singing sensations, Il Divo, released a new CD titled, "Siempre". Track 3 is a Spanish cover of "Without You". The sub-title of Il Divo's interpretation translates to: "From The Day That You Were Yourself". The literal Spanish translation of "Without You" is "Sin Ti".
ROD STEWART COVERS "DAY AFTER DAY"
Track listing
01. Have You Ever Seen The Rain?
02. Fooled Around And Fell In Love
03. I'll Stand By You
04. Still The Same
05. It's A Heartache
06. Day After Day
07. Missing You
08. Father & Son
09. The Best If My Love
10. If Not For You
11. Love Hurts
12. Everything I Own
13. Crazy Love
On October 10, 2006, Rod Stewart released a new CD titled, "Still The Same...Great Rock Classics Of Our Time". Track 6 is a cover of Badfinger's only gold single record, "Day After Day". It's interesting to note the other (sort of) Badfinger connections on some of the other tracks: Mike Gibbins played drums on Bonnie Tyler's original recording of "It's a Heartache" in 1977 and Badfinger played acoustic guitars on George Harrison's 1970 version of Bob Dylan's "If Not For You".
CLAY AIKEN COVERS "WITHOUT YOU"
Track listing
01. Right Here Waiting
02. Lonely No More
03. Without You
04. Every Time You Go Away
05. Sorry Seems To Be The Hardest Word
06. When I See You Smile
07. A Thousand Days
08. (Everything I Do) I Do It For You
09. Because You Loved Me
10. I Want To Know What Love Is
11. These Open Arms
12. Here You Come Again
13. Everything I Have
14. Broken Wings
UPDATE (October 6, 2006):
Clay's cover of "Without You" has debuted on the Billboard charts at #2!

Former American idol runner-up Clay Aiken has just released a new CD of cover tunes, among them is the classic Ham/Evans composition, Without You which is track 3 on the CD. The release date was September 19, 2006. Clay's new CD is titled, "A Thousand Different Ways".

2006 BADFINGER CONVENTION IN SWANSEA
Keith James hosted the 2006 Badfinger Convention at The Dragon Hotel in Swansea, South Wales on May 13-14, 2006. On the evening of the 13th, Bob Jackson performed a 12-song solo set which included Ron Griffiths joining in on the final song "Come And Get It".
2006 Convention report by Tom Brennan
post-Convention FAQ by Keith James posted June 17, 2006



AN APPLE A DAY (APPLE PUBLISHING DEMOS, VOLUME 2)

Track listing
01. An Apple A Day [The U (Don't) No Who]
02. A Great Idea [Jigsaw]
03. Ivy Unrehearsed [Gallagher & Lyle]
04. I Am Nearly There [Denis Couldry]
05. Black & White Rainbows [The Iveys]
06. Girl Next Door In The Miniskirt [The Iveys]
07. Soldier [Lace]
08. Technicolour Dream [Gallagher & Lyle]
09. In Your Wonderful Way [Gallagher & Lyle]
10. People Who Are Different
(demo version) [Mortimer]

11. Tomorrow's Today [The Iveys]
12. James In The Basement [Denis Couldry]
13. Strange People [The U (Don't) No Who]
14. Charlotte Rose [Majority One]
15. Somebody's Turning On The People [Goldrush]
16. Fairytale [Second Hand]
17. Sister Saxophone [Turquoise]
18. Now And Again Rebecca [The U (Don't) No Who]
19. Mr. Strangeways [The Iveys]
20. Good As Gold [The Cups (Gallagher & Lyle)]
21. Woodstock (alt. version) [Turquoise]
22. Evil Loving Woman [Peter Cooper]



On April 10, 2006 in the U.K. and April 27 in the U.S., RPM released the sequel to 2003's "94 Baker Street", called An Apple A Day: More Pop Psych sounds from the Apple era: 1967-1969, catalog# RPM 312. 94 Baker Street , the Pop Psych Sounds from the Apple Era 1967-1969 has been one of the RPM catalogue's strongest sellers in recent years. Thus with the assistance of the author of "Those Were The Days, an unofficial history of The Beatles Apple organization 1967-2002" book, we have constructed a highly valuable second volume.



The Apple Music publishing company was first into battle for the new Apple organisation, making its initial signings in mid-1967, in fact before the company even got to 94 Baker St. Over the next two years they demo'd many writers and placed recordings where possible. Inevitably, given the amount recorded, much remained unissued and we are happy to be able to give many of those songs a well deserved airing. The Publishing division of Apple came to an abrupt close in the summer of 1969 when Allen Klein took over control of the company.

Highlights include previously unissued pop psych gems from the mainstay writers such as Pete Ham, Tom Evans and Ron Griffiths of The Iveys, George Alexander of Grapefruit, plus Benny Gallagher &


Graham Lyle, an unissued recording by Turquoise, and the cult group Bachdenkel who provide the title track. Mary Hopkin fans will recognize Gallagher & Lyle as being the composers of the folk-flavoured songs "Sparrow", "Heritage", The Fields Of St. Etienne", "Jefferson", and "International". Mortimer is most known among fans of Apple Records for having recorded an unreleased cover version of The Beatles song "Two Of Us" under its working title of "On Our Way Home".

The sleeve notes are a lovingly documented essay by Stefan Granados including many rare pics and memorabilia.
---
© Copyright 1998-2012 Tom Brennan's Badfinger Library (TBBL). All Rights Reserved.
Reproduction in whole or in part in any form or medium without express written permission is prohibited.
All trademarks used on TBBL are the property of their respective owners.