Brainwashed
CD review by Tom Brennan
last updated: January 1, 2003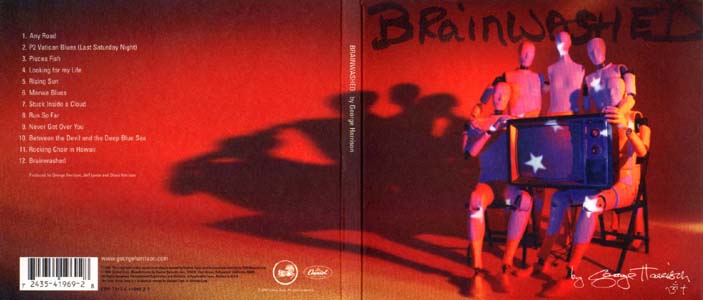 Total Time: 47:47
Track Listing:
01. Any Road [3:51]
This song was first heard by the public just after Harrison's death when VH1 aired outtakes from his 1997 appearance with Ravi Shankar. It was written around 1988 during the making of the promo video for "This Is Love". This is a great ukulele/guitar foot stomper with very clever lyrics.
02. P2 Vatican Blues (Last Saturday Night) [2:38]
This is a blues-rocker poking fun at the Catholic Church, in the same kind of style as "Devil's Radio" from "Cloud Nine".
03. Pisces Fish [4:50]
A slow acoustic number about Harrison's philosophy of life.
04. Looking For My Life [3:49]
One of the most catchy tracks on the CD, featuring classic Jim Keltner drumming. This is about trying to get closer to God.
05. Rising Sun [5:26]
A medium-tempo number about the search for the meaning of life, featuring classic Harrison slide guitar with orchestration written by Harrison and translated by Jeff Lynne. This song was written after the 1991 Japanese tour but not recorded until the late 1990s.
06. Marwa Blues [3:40]
An instrumental spotlighting Harrison's brilliant slide guitar playing. The melody comes from an ancient Indian raga. This song was mixed from 4 or 5 separately recorded slide guitar tracks played by Harrison.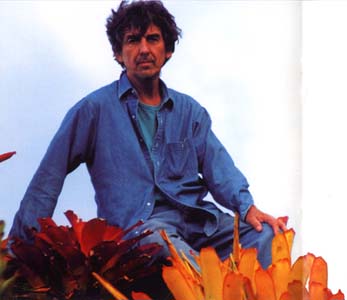 07. Stuck Inside A Cloud [4:03]
George and Dhani Harrison's favorite track on the CD. Selected as the leadoff single for the album. This sounds like a more recently composed song, possibly about his battle with cancer.
08. (Can Only) Run So Far [4:05]
This song was previously heard on Eric Clapton's 1989 "Journeyman" CD, which also featured Harrison and drummer Jim Keltner. It works better here with Harrison singing, since the key is too high for Clapton to sing.
09. Never Get Over You [3:25]
A slow song in the same style as "Writing's On The Wall" from 1981's "Somewhere in England" album.
10. Between The Devil And The Deep Blue Sea [2:34]
This is the only track on the CD not written by Harrison. This song is an old George Formby track that was popularized by Cab Calloway in 1931. This was recorded in 1991 for a TV appearance on the U.K. programme "Mr. Roadrunner". The video version features a longer intro, while this one features a false start, but no instrumental introduction. It features a different lineup than the rest of the album, featuring Jools Holland on piano, Joe Brown on guitar and Ray Cooper on percussion.
11. Rocking Chair In Hawaii [3:07]
Believe it or not, this blues song dates all the way back to 1970's "All Things Must Pass" sessions where George had only the first verse written and improvised the rest with yodeling. On bootlegs, this is known as "Down To The River". The melody line actually comes from an old Hank Williams song, Long Gone Lonesome Blues.
12. Brainwashed [6:07]
An obvious social comment song about how people are brainwashed by too much TV, news, etc. To leave the listeners of the song thinking about something more positive rather than the fact that everyone is being brainwashed, the Harrisons ended the track with an Indian prayer.

CD review:
George Harrison: "Gimme that...plenty of that guitar." Thus begins the first completely new CD of George Harrison material since 1987's masterpiece "Cloud Nine". Was it worth waiting 15 years for? I'd have to say yes, although it is bittersweet, since its release is posthumous. Even more frustrating will be its lack of promotion & commercial success, although it is sure to be a critical success. The guitar work and production by Jeff Lynne and Harrison's son Dhani is top notch. Lynne's production touch and Keltner's drumming give the disc that Wilburys sound. It's great that Harrison's career end on a high note, with an excellent collection of music. I think history will end up referring to this CD as Harrison's "ukulele" album. His passion for playing the ukulele throughout the 90's has been well documented in such works as The Beatles Anthology and during Paul McCartney's tribute during his 2002 tours. Don't get me wrong, Harrison's trademark slide guitar sound and his excellent acoustic guitar playing is plentiful throughout the disc as well, as is his clever lyric writing. If I had to sum up this CD in one word I would have to say "uplifting". That's the feeling you get after listening, even after the first time. This is not an album you would expect to hear from someone dying of cancer, rather it is by someone who always celebrated life every day to the fullest and was looking forward to being with God. After playing the entire CD nonstop for the first time, I have to say that I can't find a bad song anywhere on this disc. Harrison has got to be considered (with a few rare exceptions) among all the ex-Beatles to be the most consistent as far as releasing quality solo material.
If I had to pick a single off of this CD, I would have a very hard time. After first listening, my favorite track was "Looking For My Life". The obvious single choices might be "Any Road" or Harrison's personal favorite, "Stuck Inside A Cloud". "Rising Sun" is another great, commercial sounding track and has grown to be one of my favorites after repeated listenings. "P2 Vatican Blues" and the title track are interesting as well, but would probably be too controversial to get any airplay. "Pisces Fish" is one of the weaker tracks. This disc is definitely a must-have and will be rated up there with "All Things Must Pass", 1979's "George Harrison" and "Cloud Nine" as being among Harrison's best work, if not, THE BEST work.

Tom Brennan, December 7, 2002, updated January 1, 2003

Deluxe edition includes:
the album
2-sided poster: photo of George standing by a tree (on the other side of the poster is the album cover uncropped without the title & credits)
autographed guitar pick


round sticker of Dark Horse logo (in purple)
bonus DVD (deluxe edition only) Electronic Press Kit (7:15):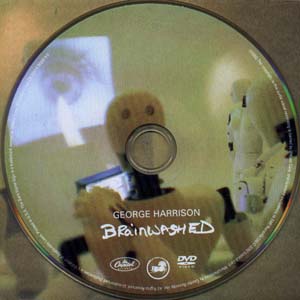 DVD review:
This video was compiled as a way to promote the new album in George's absence. It features his son, Dhani, producer, friend, and musician Jeff Lynne, drummer Jim Keltner, George Harrison himself, other friends, and an excerpt from the TV performance of "Between The Devil And The Deep Blue Sea". It also feature clips from the album and what appears to be possible promo video clips for some of the songs. Here we learn from Dhani that George's favorite number was 7 and that is where he puts his favorite track on the album. Harrison talks about why he prefers to stay at home and about his beliefs and philosophy. Son Dhani discusses how his father left specific instructions about how to finish the album in his absence and how much George loved the ukulele and the music of Hoagy Carmichael. Jeff Lynne discusses how he managed to produce the album without George for the first time with Dhani's assistance. Jim Keltner discusses how good a timekeeper George was while playing the guitar and how much easier it was to play music with him because of it. Notably absent though from the video is George's wife, Olivia.

http://www.georgeharrison.com

© Copyright 1998-2003 Tom Brennan's Important Beatles News (TBIBN). All Rights Reserved.
If you copy something, please credit this page and put a link.
All trademarks used on TBIBN are the property of their respective owners.