94 Baker Street
The Pop-Psych Sounds of the Apple Era 1967-1969
by Various Artists including The Iveys
compiled by Tom Brennan
last update: October 20, 2008
---
94 Baker Street
recorded 1967-1968
at 7 Park Avenue, London
produced by The Iveys



A new 18-track CD from the vaults of Apple Publishing featuring 5 previously unreleased rare recordings by The Iveys was released on October 6, 2003 on the RPM (Cherry Red) label (RPM270) and on November 4, 2003 in the U.S.A.

Complete track listing:
FOCAL POINT:
01. Love You Forever [A-side]
02. Sycamore Sid [B-side]
03. Never Never [previously unreleased]
04. Girl On The Corner [previously unreleased]
05. 'Cept Me [demo]
GRAPEFRUIT:
06. Dear Delilah [A-side]
07. Ain't It Good [B-side of C'mon Marianne]
08. Lullaby [original version, previously unreleased]
09. Another Game [original version, previously unreleased]
WAYS AND MEANS:
10. Breaking Up A Dream
IVEYS:
11. I'm Too Shy [demo]
12. Maybe Tomorrow [demo version]
13. Tube Train [demo]
14. She Came Out Of The Cold [demo, long version]
15. I've Been There Once Before [demo]
PAINTBOX:
16. Getting Ready For Love
JOHN FITCH & ASSOCIATES:
17. Romantic Attitude
18. Stoned Out Of It


Review by Tom Brennan:
Focal Point sound like a very talented pop group and it's a shame that Apple dropped them and focused their attentions on Grapefruit. Their lead vocalist had a very pleasant voice. I tend to agree with Stefan's accessment of their unreleased tracks being better than their released tracks. Out of this group of 5 songs, "Never Never" is by far the best track, especially with its "Strawberry Fields Forever" sounding mellotron. "Girl On The Corner" is another great track. Definitely classic psychedelic pop here. Even their bare bones guitar demo of "'Cept Me" is excellent. It shows off the great sense of melody in Focal Point's songwriting. According to Granados, this demo really got the attention of John Lennon. Unfortunately, after releasing one single on Deram, Focal Point faded into obscurity in the wake of all the new artists being signed to the young Apple Records label.
Grapefruit had a similar sound to Focal Point, but was slightly more successful. They had an excellent songwriter, George Alexander, writing all their material. Their sound was a little more progressive sounding than Focal Point's, which may be why Apple switched their attention to Grapefruit. This is just a guess on my part, but Focal Point's sound may have been considered too dated for the time, especially in the late 60s when music trends were changing quickly. All the Grapefruit songs in this collection are excellent, but the most interesting track here is the McCartney-produced version of "Lullaby". In hindsight, it appears that a poor business decision was made by issuing an inferior recording (the one with string overdubs) as a single instead of the one included on this CD.
Ways And Means were not involved with Apple, but they released a George Alexander (Grapefruit) composition, "Breaking Up A Dream", which Grapefruit only recorded on a BBC session. This is good power pop.
The Iveys were actually signed to Apple Records BEFORE they were signed to Apple Publishing. "I'm Too Shy" is the smash hit that should have been. Unfortunately, most of The Iveys' career was full of "could ofs" and "should ofs" because of a lot of bad decision making. With its soaring harmonies, distorted guitar, and incredible drum fills, it's amazing that "I'm Too Shy" was never considered for a single release. This song is just so damn catchy and never gets boring to listen to. This would have been more successful than "Maybe Tomorrow" as a debut single release, or at least a stronger follow-up. Let's just be grateful that it has finally seen the light of day and can hopefully start to change many people's opinions of the quality of The Iveys' abilities. 1968 seems to be the most prolific period for Tom Evans as a songwriter. He composed most of the major Iveys releases on Apple Records and "I'm Too Shy" is just further proof of his abilities. The demo recording of the first Iveys single, "Maybe Tomorrow" pretty much follows the same arrangement as the single, except for the bridge section, which originally contained a piano solo. While recording the single, the climactic vocal section to the bridge was created to replace the piano solo. This turned out to contain the best line of the song in my opinion, "Let the light of your love shine through the window of my heart". It's always great to hear a new Ron Griffiths composition, and "Tube Train" is no exception. This is one incredible demo recording with its sound effects of voices, trains whizzing by, and guitar parts & drumming that sound like a train going down a track. Even John Lennon himself couldn't believe this was only a demo recording! The only bad thing here is that it's difficult to understand a lot of the lyrics because of the way the demo was mixed & recorded. "She Came Out Of The Cold" has been heard before by Badfinger fans who purchased the 2nd edition of the book "Without You, The Tragic Story of Badfinger". That book included a bonus CD which included an alternate version of this demo that had one less verse than the version included on "94 Baker Street". The song is fairly sophisticated in its lyric writing with Tom & Pete writing a story of a guy who falls in love with the ghost of a girl who appears on the one-year anniversary of her death in the cold. The effective use of pixiephone on this demo gives it that "cold" feeling. If that song isn't scary enough for you, the final Iveys demo, "I've Been There Once Before" will scare you. Written by Pete Ham about an actual dream he had about an air show accident, the events in the dream allegedly really happened not too long after Ham's dream. With Ham's spooky vocal and Jimi Hendrix-like guitar playing to simulate an airplane diving, The Iveys come up with another amazing demo recording. This song reminds me a lot of The Who's song, "Glow Girl", which was also about a plane crash.
Paintbox was a group that included songwriter George Alexander from Grapefruit. Their track, "Getting Ready For Love" sounds like typical 70s soul music.
John Fitch And Associates had a one single deal with Apple Publishing that also included Milton Music which was associated with Beacon Records. These songs are the least interesting in the collection, but are still worthwhile. This group also sounds like 70s soul music.

This CD compilation is a must-have for any fan of sixties pop music or any fan of Badfinger. It also includes an excellent essay by "Those Were The Days" author Stefan Granados, as well as rare photos and memorabilia from the days of Apple Publishing in 1967-1968.
Tom Brennan, December 5, 2003, revised January 19, 2004 (research information thanks to Stefan Granados and Dan Matovina

preliminary cover art...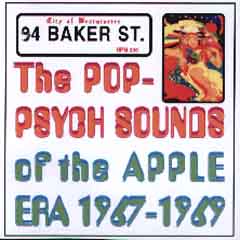 Focal Point update from Paul Tennant:
"I was the founder member of Focal Point and lead vocalist. I have been actively involved in the business ever since 1974 when Focal Point split for the last time. After the Apple days, we went back to Liverpool and played all over the north of England and then signed a deal with State Music, however again no big hits.
I then went and played all over the world with various people, did a bit with duos, trios, bands, etc etc. I have recently returned from the USA where I was in a great band playing all Virginia, West Virginia, Maryland, called "Something Else", mainly country as most of the members were from Memphis. Also cruised on the QE2 working with Roger Dean, who was lead guitarist with John Mayall prior to Clapton joining.
At the moment, I am working back in the UK gigging home counties, and London. So, you see, out of sight, but definitely not out of mind.
Oh, by the way, we do have a full album of Focal Point material planned for the Fall of 2004, containing a lot of Apple demos, and State Music tracks.
Take Care,
Paul
posted December 24, 2003

Update: January 4, 2004:
Due to contractual reasons, the Misunderstood tracks had to be removed from the CD. A few copies of the new CD appear to have gone out with the original liners, which have since been corrected. Also, the order of the first 2 tracks has been corrected. Please pass on our sincere apologies for the creation of a rather confusing situation. We will check the supply of spare corrected inlays so people who want to can substitute one for the other.
RPM Records
---
© Copyright 2005-2008 Tom Brennan's Badfinger Library (TBBL). All Rights Reserved.
Reproduction in whole or in part in any form or medium without express written permission is prohibited.
All trademarks used on TBBL are the property of their respective owners.