Maybe Tomorrow
album
by The Iveys
compiled by Tom Brennan
last update: December 20, 2014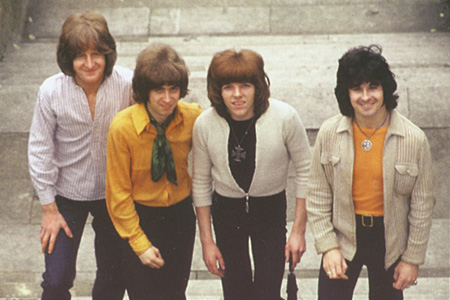 ---
MAYBE TOMORROW
recorded July 23, 1968-April ?, 1969
at Trident, Olympic and Morgan Studios, London
produced by Tony Visconti and Mal Evans

An early test pressing (acetate) in stereo of the album had a different running order, as follows...
Side One:
Beautiful And Blue [version 1]
See-Saw, Granpa
Dear Angie
Think About The Good Times
Yesterday Ain't Coming Back
Fisherman [version 1]
Side Two:
I'm In Love [version 1]
Angelique [version 1]
Sali Bloo
Maybe Tomorrow
They're Knocking Down Our Home
I've Been Waiting

The final running order...
Side One:
See-Saw, Granpa
Beautiful And Blue [version 1]
Dear Angie
Think About The Good Times
Yesterday Ain't Coming Back
Fisherman [version 1]
Side Two:
Maybe Tomorrow
Sali Bloo
Angelique [version 1]
I'm In Love [version 1]
They're Knocking Down Our Home
I've Been Waiting

EUROPE & JAPAN



The cover had the title printed in white letters except for Italy which was in red.

Germany: July 4, 1969 on Apple 1C 062-90 150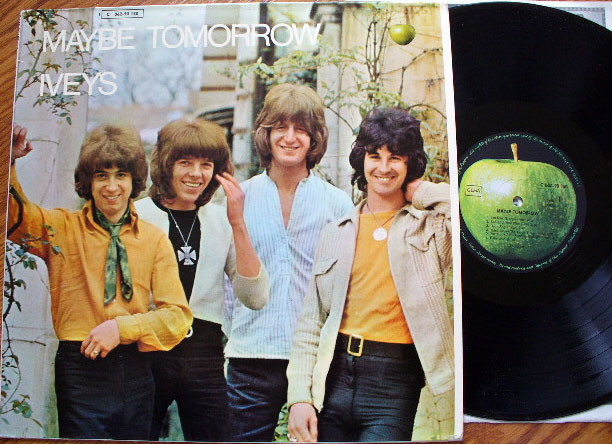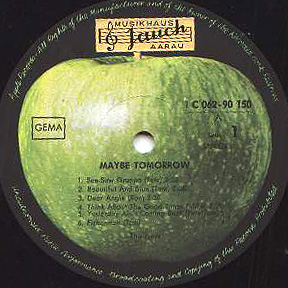 Italy, release on July 4, 1969 on Apple 3C 062-90 150

Japan
LP release on September 10, 1969 on Apple AP-8719 [red vinyl insert song titles]
cassette release: Apple TOCP-7099

U.K.
LP release on July 4, 1969 withdrawn (a few copies were pressed) on Apple SAPCOR 8
Note: Ron Kass, the head of Apple Records in the U.K. had just been fired by Klein. Kass was a big supporter of The Iveys.
CD release on SAPCOR8
cassette reissue release on TC SAPCOR8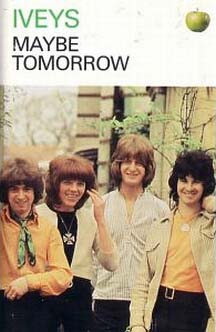 U.S.A.
release intended for May 19, 1969 then July 14, 1969 on Apple ST-3355.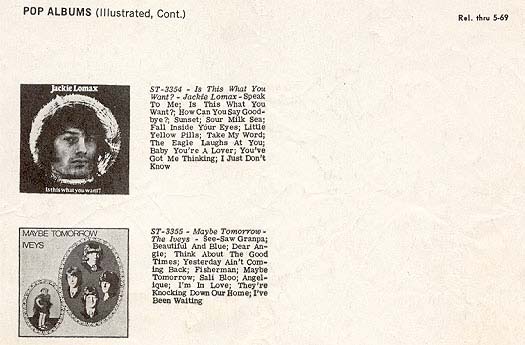 A page from Apple's catalog thru May, 1969. Note that the Lomax track listing was changed from this one at the last minute to include his new single, "New Day", replacing "How Can You Say Goodbye", thus no longer matching the British line-up. Had the Iveys LP been released at the same time as Jackie's, the release date would have been May 19, 1969. Note also that the Iveys cover shown here appears to be the one with the light green background that is shown below, rather than the final, dark green version. This catalog page was probably prepared in April, 1969 based on this information.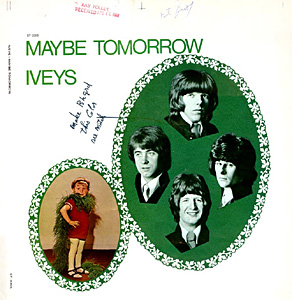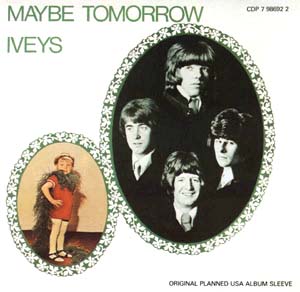 Different album cover art for the U.S. version of the Maybe Tomorrow LP was prepared in April 1969. The U.S. release was scheduled for May, then delayed until July, and then eventually withdrawn because of the disappointing sales and chart position of the single. Also, Allen Klein had just taken over Apple, and multiple record releases were postponed while Klein tried to straighten out the company's financial situation. Shown here is one of the proofs for the front cover. Note that the original background was light green. A handwritten note to see someone named Mitch is written on the proof to get the background color changed to dark green to blend in with the color of the Iveys' suits as seen on the final version (CD cover shown).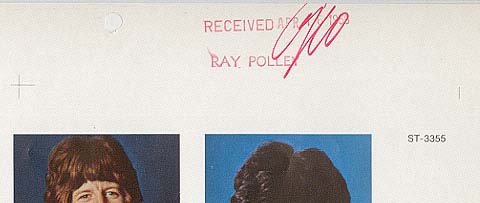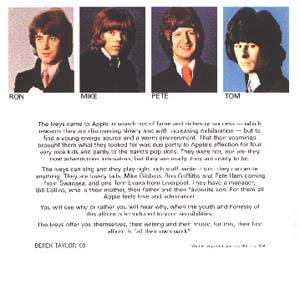 Shown here is the upper right corner of the American LP back cover proof with U.S. Apple catalog number ST-3355.

Atmospheric pictures of the Swansea rock scene were also taken but left out.

U.S. CD release on June 30, 1992 on Apple SAPCOR 8 (CDP 7 98692 2) [CD label]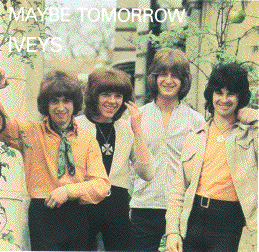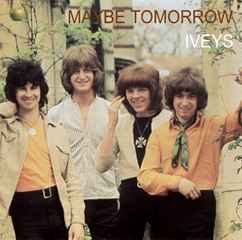 Did anyone notice that Apple reversed the negative of this album cover? The second picture has the photo oriented correctly.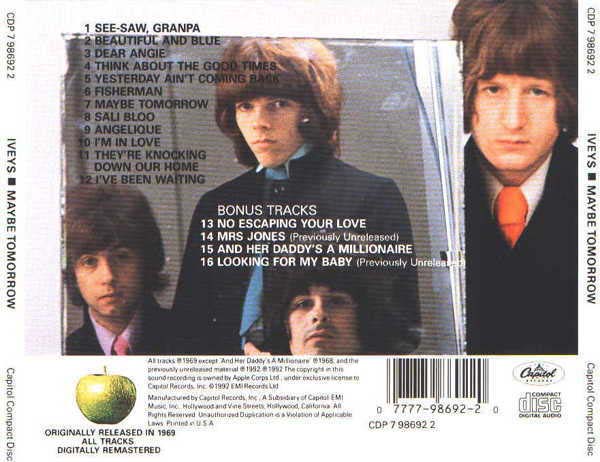 CD track listing...
See-Saw, Granpa produced by Mal Evans
Beautiful And Blue [version 1] produced by Mal Evans
Dear Angie produced by Tony Visconti
Think About The Good Times produced by Tony Visconti
Yesterday Ain't Coming Back produced by Tony Visconti
Fisherman [version 1] produced by Mal Evans
Maybe Tomorrow produced by Tony Visconti
Sali Bloo [CD remix] produced by Tony Visconti
Angelique [version 1] produced by Tony Visconti
I'm In Love [version 1] produced by Tony Visconti
They're Knocking Down Our Home produced by Mal Evans
I've Been Waiting produced by Glyn Johns
CD Bonus Tracks:
No Escaping Your Love produced by Tony Visconti
Mrs. Jones produced by Tony Visconti
And Her Daddy's A Millionaire produced by Tony Visconti
Looking For My Baby (aka Hi-Fi Piddly Po) [demo] produced by The Iveys

digitally remastered at Abbey Road Studios, London, England, October 1991, from the original 2-track stereo master mix tapes and 8-track master session tapes (bonus tracks), except for "Looking For My Baby" which is mono.
bonus tracks (except for "Looking For My Baby") remixed for stereo by Ron Furmanek & Mike Jarratt
engineered by Mike Jarratt
research by Ron Furmanek
CD liner notes by Steve Kolanjian
---
Reissues and pirate copies: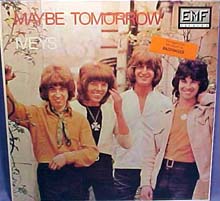 This was a reissue on the EMF label from the 1980s. It was mastered from an original vinyl copy of the LP, not from the master. The EMF logo replaces the original Apple label on the front cover.

This is a very common pirate copy of the Italian issue of the LP, also from the 1980s. It has a black label instead of the green apple. The cover photo is not as sharp as an original.
back to The Iveys & Badfinger releases
---
© Copyright 2004-2015 Tom Brennan's Badfinger Library. All Rights Reserved.
Reproduction in whole or in part in any form or medium without permission is prohibited.
All trademarks used are the property of their respective owners.