The Iveys
(as The Pleasure Garden)
The lost recording of Permissive Paradise
compiled by Tom Brennan
research by Simon Cox, Paul Nyman, and Bryan Waller; with special thanks to Ron Griffiths for the scans of the picture sleeve and flexidisc labels.
last revised: February 21, 2018
---


The lyrics - Permissive Paradise


Most likely recorded in April or May of 1969 following their album sessions for "Maybe Tomorrow," The Iveys recorded a song under a pseudonym for a flexdisc promoting a photo book documenting Swinging London in the 60's. This dating seems the most likely after consulting with Dan Matovina, as Bill Collins's diary seems to missing the entries for those two months and no mention of this project is mentioned elsewhere. Because of this pseudonym (The Pleasure Garden) and the obscurity of the disc, as well as it not appearing on an Apple Records release, the recording would never be associated with The Iveys (or Badfinger) and go undocumented in all Badfinger reference material for 33 years until being rediscovered in 2002 by Badfinger fans Simon Cox, Paul Nyman, and Bryan Waller.

promotional statement:
"The Pleasure Garden: This London band's "Permissive Paradise," was originally issued as a flexidisc to help promote a book called 'Young London', which was a pictorial account of Carnaby Street era London by photographer Frank Habicht. It really is rather good, with quite a catchy guitar riff and an appealing vocal arrangement."

Ron Griffiths - bass/lead vocals
Tommy Evans - rhythm guitar/harmony & background vocals
Pete Ham - electric piano and lead guitar/background vocals
Mike Gibbins - drums

The performance is very similar in sound to their studio recordings "I've Been Waiting" and "Give It A Try" and especially their BBC recordings which is why I've identified it as being recorded in early 1969.

Ron Griffiths' comments:
"We were asked to do a song that we were presented with to accompany the book. We recorded it, I think, at Trident studios and I took the tape to Apple Studios and with the resident engineer "produced" the version which was pressed onto a 'flexidisc' [in mono].
"With regard to how we came by the song/writers etc. We did need the money and it was a paid gig for us."
"I must admit I am not in the least bit embarrassed by the lead vocal... considering it was done slightly tongue-in-cheek. It was done with soul, baby!!!"
---
Okay, just where do I find this undocumented, re-discovered, recorded Iveys song???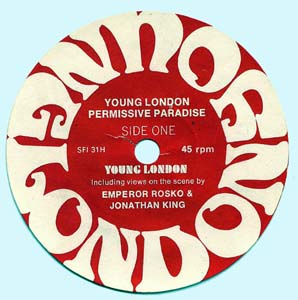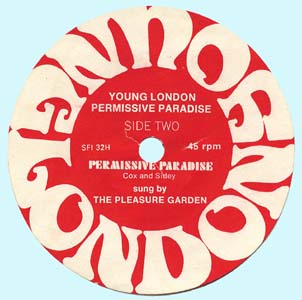 The song is available on at least two different CDs, but not identified on the CDs as an Iveys song!!!

"Permissive Paradise" is available on "Syde Tryps One", a 1995 compilation CD of British psychedelia on Wooden Hill. "Syde Tryps One" credits the flexidisc and dates it as 1968, but the book was published in 1969.
It is also included in "The Best of the Rubble Collection, Vol. 3", a 1999 CD compilation on Bam Caruso. This CD compilation is generic. The artwork is colorful, but there are no details on any of the groups represented here.

Both CDs are sourced from the flexidisc, but the "Rubble" copy has a lot more noise and distortion, so the better source is the "Syde Tryps" CD.

Links:
Syde Tryps, Vol. 1
https://www.discogs.com/Various-Syde-Tryps-One/release/1890490

The Best Of Rubble Collection, Vol. 3
https://www.discogs.com/Various-The-Best-Of-The-Rubble-Collection-Vol-3/release/4096674

For the collector, this recording is a MUST! Good luck finding the actual flexidisc, as they seem to be very rare. Of course, almost nobody knows that the recording, listed as "The Pleasure Garden," is really the Iveys - so good luck! You might find it at a 'bargain' price.
Bryan Waller: "I imagine there must be a few copies of the "Pleasure Garden" flexidisc out there, but they're probably in the hands of people who do not even know what they have. I think we'll be lucky to see even a picture of the flexidisc. Of course, you never know what might pop up on eBay."
---
The book - Young London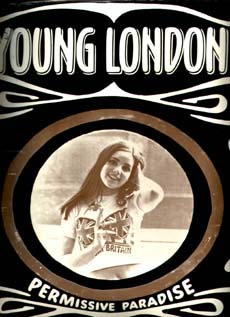 About the book/flexidisc - from the Library of Congress

Main Title: Young London: Permissive Paradise; photographs, Frank Habicht; views on the scene, Heather Cremonesi [and] Robert Bruce.
Published/Created: London, Toronto [etc.] Harrap, 1969.
Description: xv, p. 96 plates, illus. 31 cm.
ISBN: 0245596305
Notes: Illus. on lining papers.
Subjects: Photography of youth.
Youth--England--London--Pictorial works.
LC Classification: TR654 .H3
Dewey Class No.: 779/.9/301431509421
National Bib. No.: B69-14622

Photographer Frank Habicht published "Young London: Permissive Paradise" in 1969; it is a collection of mostly black and white photos of London in the "swinging sixties" era, with the emphasis on outrageous fashion statements including near nudity. The evocative photos (by Habicht) that capture the essence of 60s London, taking 7 months and 250 rolls of film to shoot.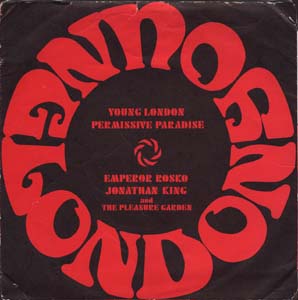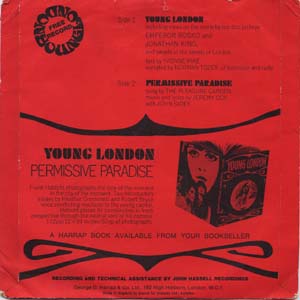 Comments from Bryan Waller:
"Today, the book can sell for as much as $700 (US). The book was promoted by the song, "Permissive Paradise", which was pressed on a flexidisc. One rare-book seller has told me that his copy came with no record, and another told me that none of his three copies showed any sign of ever having included a record. For this reason, I believe that the flexidisc must have been a separate promotional item."

---
© Copyright 2002-2018 Tom Brennan's Badfinger Library. All Rights Reserved.
Reproduction in whole or in part in any form or medium without permission is prohibited.
All trademarks used are the property of their respective owners.