August 31, 2001
Joey Molland's Badfinger
Hopkinton State Fair,
Contoocook, New Hampshire

review, September 1, 2001 by Tom Brennan
The threat of thunderstorms was there all day so I brought my umbrella for insurance figuring if I didn't bring it, it would rain; so I brought it and it stayed dry. I arrived early to get a good bleacher seat facing the center of the stage, which was on top of a muddy track where livestock exhibitions are normally held, the area around the track being fenced in. The turnout for the concert was disappointing with only between about 100-200, consisting mostly of diehard original Badfinger fans in their 40's. The majority of the bleachers remained empty. I met a nice local guy named Chris who was telling me how he saw Badfinger 3 times back in 1972 in Massachusetts and New Hampshire and once in 1974 during their final tour supporting Man in England.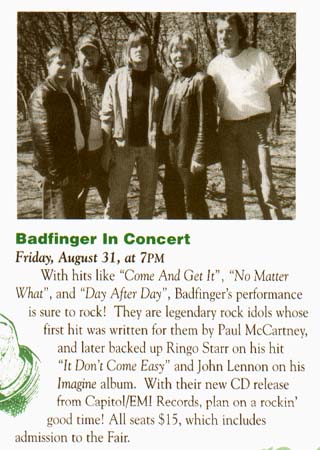 The show was 30 minutes late starting due to Badfinger's late arrival because of scattered thunderstorms in most of the Eastern part of the U.S. which delayed their flight into Boston. I finally got to meet BarbAlan Atkinson in person when he arrived with guitarist Billy Davis and walked into the bleacher area where I recognized him from his pictures, and made eye contact with him & waved him over to take a seat, where I promptly shook his hand. He told me about how keyboardist Steve Wozny was stuck in the airport in Boston where he failed to find the limo driver who was supposed to drive him to the gig! This resulted in him missing the concert (which was almost canceled). He ended up staying at a hotel in Boston. The people operating the fair decided to offer refunds to all the people who had bought a ticket and declared the concert FREE because of the late start and because of the one missing member of the band. I was one of the few (or maybe the only one) who didn't get a refund (so I could show the ticket stub here).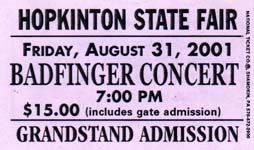 The band arrived onto the fairgrounds near the stage area in a white limo at about 6:45 PM. The concert began at 7:35 PM and lasted about an hour. The set-list was as follows with a 4-piece band line-up (no keyboards):
Joe Molland-guitar, vocal
Billy Davis-guitar, vocal
Mark Healey-bass, vocal
John Richardson-drums

1. Come And Get It (minus ending)
2. I Don't Mind
(nice 3-part harmonies)
3. Suitcase
4. Baby Blue
5. Meanwhile Back At The Ranch/Should I Smoke
(Billy sang lead on "Meanwhile Back At The Ranch" and harmonies on "Should I Smoke"; Joe mistakenly introduced this as being from Straight Up and then corrected himself by saying Wish You Were Here)
6. Midnight Caller
(Mark sang lead with harmonies by Joey and Billy; piano part missing because of Steve's absence)
7. Midnight Sun
(Mark sang lead, with Joey joking that "Mark sings all the songs with Midnight in the title")
8. The Dreamer
9. Money/Flying
(piano part on Flying missing normally played by Steve)
10. Day After Day
(Billy sang lead)
11. Moolah Rey
(they really jammed on this one!)
12. Without You ("No Dice" Badfinger arrangement)
(Billy sang lead, very nice version except piano missing once again because of Steve's absence)
13.Vampire Wedding
14. No More
(these 2 segue into each other and were the loudest songs of the concert)
15. No Matter What
16. Mean Jemima
17. Come And Get It (ending)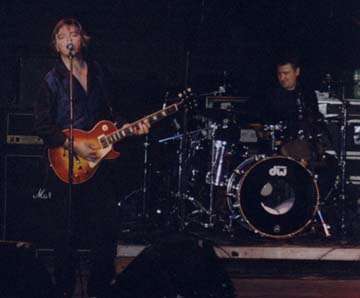 After the show, Barb and I helped Joe by selling a handful of his new CD, "This Way Up" to some fans that were still hanging around waiting to see Joe and get his autograph. Joe didn't mention anything during the concert about his new CD. We tried to give him advice by telling him he should announce that he has a new CD available for sale because most fans don't know it exists yet. We also tried to convince him to add new songs into the set like "A Way To Be" and "Three Minute Warning" from the new CD. Let's cross our fingers and see what happens at future concerts! Barb has more photos in his Badfinger Boogie Club...

© Copyright 2001-2005 Tom Brennan's Badfinger Library (TBBL). All Rights Reserved.
Reproduction in whole or in part in any form or medium without express written permission is prohibited.
All trademarks used on TBBL are the property of their respective owners.