Timeless EP (Joey Molland)
page compiled by Tom Brennan
last updated: October 27, 2014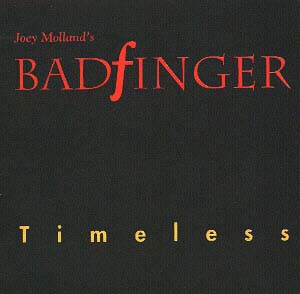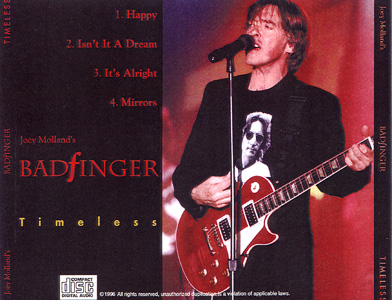 Track listing:
1. Happy (3:21)
2. Isn't It A Dream (4:23)
3. It's Alright (3:50)
4. Mirrors (3:43)

Musicians:
Joey Molland - vocals, electric & acoustic guitars
Bruce Hastell - electric & acoustic guitars
Howard Leese - keyboards & slide guitar solos
Jason Boyleston - bass guitar
Ben Smith - drums

All songs written by Joey Molland
Executive Producer: Bruce Hastell
Associate Producers: Joey Molland & Howard Leese
Engineered by Marino Correia and Richard Lush
Mastered by Disc Maker, Ross Nyberg
Recorded at Mountain Tracks, Seattle, WA
Management by Crosstown Management & Artist Relations
P.O. Box 580, Milton, WA 98354
Howard Leese appears courtesy of Capitol Records
All songs published by Joe Kat Music

Special thanks to all our families, Richard Lush, Marino Correia, Tina for the great food and support, Ken Sharp, and all of the Badfinger fans everywhere!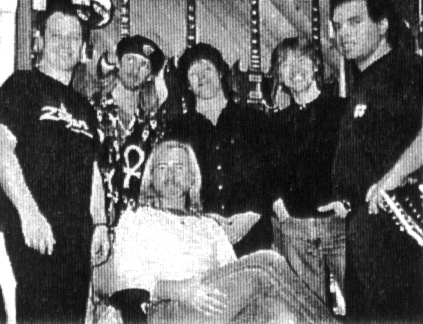 photos by Gary Katz
CD design by Rob Repass

In your hands is Joey Molland's future. This CD opens an exciting new chapter in the Joey Molland story with four magnificent songs, boasting a fresh and invigorating Nineties sound guaranteed to please his legion of followers and win over new fans too. These four new original songs were recorded for the sole purpose of providing the record company with rough demos of new material Joey was seeking to release. Recorded outside Seattle at Badfinger manager Bruce Hastell's "Mountain Tracks" recording studio, these four new songs were finished in one week (talk about productive!) The record was expertly produced by Hastell, Molland and Howard Leese of Heart, who also played keyboards. Beatle recording engineer Richard Lush, who previously worked with Badfinger on the classic "Straight Up" album, also assisted in the production. Listen to it loud and enjoy!
Ken Sharp, July 1996

From: dave amara <daveamara@webtv.net>
Date: Thursday, February 04, 1999 5:50 PM
Who does the count-in's at the beginning of 'Happy' from the 4 song EP of Joe's?

Joey said it probably was him. It was while he was ill and he's not too sure. We don't have a good copy of it. Bruce made sure we didn't get them. We've since given them away. He kept all the profits from that illegal release called Badfinger. Those were only Joey's solo demos to get a deal with. Bruce put himself in the picture and called the non-existent band, Badfinger and sold everything in sight, including guitars supposedly signed by Joey or others for thousands of dollars and ripped off the public yet again. He (along with others like him) played shows or did appearances as former Badfinger members. It never seems to stop, does it? I'm sorry Dave...I just had to explain that release while I had the chance. Hope to see you again some day. Thanks for all your support.
Kathie Molland
letter from Randy Justesen's Badfinger News
---
© Copyright 1998-2005 Tom Brennan's Badfinger Library (TBBL). All Rights Reserved.
Reproduction in whole or in part in any form or medium without express written permission is prohibited.
All trademarks used on TBBL are the property of their respective owners.