NO, DON'T LET IT GO
limited edition vinyl single
by Pete Ham
webpage compiled by Tom Brennan
last revised: October 05, 2014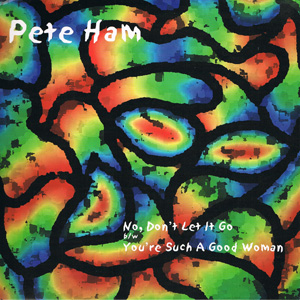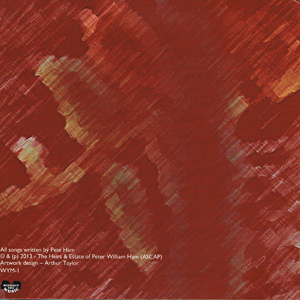 Catalog#: Without You Music WYM-1
This is a limited edition of 500 copies pressed on thick vinyl, released in April, 2013


Track Listings:
A. No, Don't Let It Go (Ham) [3:52]
Pete Ham - vocals, rhythm guitar
Additional musicians: Nelson Bragg - drums; Probyn Gregory - bass; Pete Fox - organ; Michael Romanowski - organ
B. You're Such A Good Woman (Ham) [5:09]
Pete Ham - vocals, rhythm guitar
Additional musicians: Bruce Kaphan - pedal steel; Chris von Sneidern - acoustic guitars, organ; Derek Ritchie - drums; Michael Romanowski - organ

Track Descriptions:
01. This is alternate version of the song "No More" from 1975 which was previously released on the 7 Park Avenue collection. In this version, the lyrics are aimed at another person rather than being written in the first person.
02. This is a slow guitar ballad written in 1972.


Credits:
Produced by: Dan Matovina
Artwork design: Arthur Taylor
Copyright & Publishing 2013 - The Heirs & Estate of Peter William Ham (ASCAP)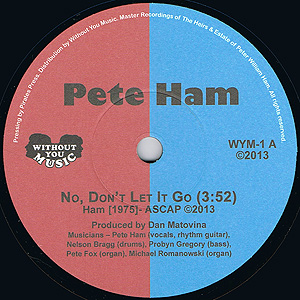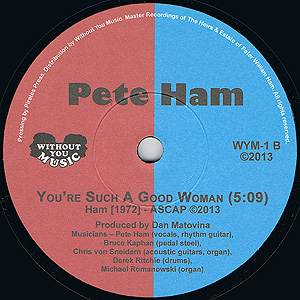 © Copyright 2013-2015 Tom Brennan's Badfinger Library. All Rights Reserved.
Reproduction in whole or in part in any form or medium without permission is prohibited.
All trademarks used are the property of their respective owners.