Tommy Evans solo chronology
by Tom Brennan
last updated: November 13, 2008
Autumn, 1979: Tom and Rod meet in the White Hart pub in New Haw, Surrey, England
Late, 1979-1980: Tom and Rod record commercials for toothpaste, orange juice, Hovercraft, wine (Crocadillo) and jingles for radio.
October, 1980: Rod Roach rehearses with Tommy, Joey and the new Badfinger for the upcoming "Say No More" sessions in Key Biscayne, Florida. After being ignored by Joey, Rod decides to leave before the recording sessions begin. Two Evans/Roach songs are recorded at the sessions: "Crocadillo" (reworked from the commercial) and "Too Hung Up On You".
Early, 1981: Tom & Rod write more new material, and meet drummers, Tom Compton and John Robinson.
Early, 1982: Rod gets Tom to quit drinking for 3 months, and he ends up writing more new songs.
January, 1983: Tom writes more new material at his home in Surrey.
Late January, 1983: Tom is interviewed at his home by Australian journalist, Glenn A. Baker. This interview is eventually released on CD, under the title, "Apple Daze".
February, 1983: Tom, along with Bob Jackson and 3 other musicians, record "You And I" and "Lay Down" in Minneapolis, as part of a project called "Goodfinger".
Spring, 1983: Tommy turns down a solo deal with Earthtone Records, who gave Joey a solo deal for his first LP, "After The Pearl".
Summer, 1983: Tom occasionally writes more new songs.
August 28, 1983: Tom writes the ballad, "Over You" for his wife, Marianne.
September, 1983: Tommy performs with Rod Roach for the last time, along with Paul Foss on drums, and Mike Read & Ray Phillips from The Nashville Teens (Rod's old band) [see photo below].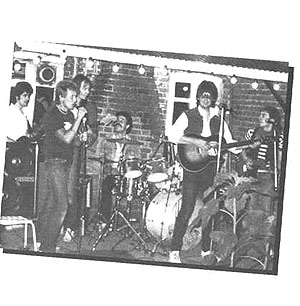 September 30, 1983: Tom performs at his last concert at the N.C.O. Club in Pensacola, Florida.
November 19, 1983: Tom is found dead at 8:45 A.M., hanging from a tree in his garden.
information from the CD, "Over You" (notes by Rod Roach), and Dan Matovina's biography, "Without You, The Tragic Story of Badfinger".
---
© Copyright 1998-2008 Tom Brennan's Badfinger Library (TBBL). All Rights Reserved.
Reproduction in whole or in part in any form or medium without express written permission is prohibited.
All trademarks used on TBBL are the property of their respective owners.