If Somewhere And Somehow/Gandhara
by Splinter

Japan
Columbia YK-129-AX
released: November 1979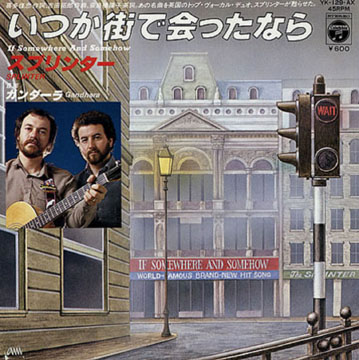 Both songs are Japanese local hits. Side A is a hit song in 1975 by Masatoshi Nakamura (中村雅俊), male vocalist and actor.
Nakamura translated the lyrics of their single Lonely Man to Japanese in 1976.
The title of If Somewhere And Somehow in Japanese is Ituka Matide Attanara, composed by Takuro Yoshida and Makoto Kitajou.

Side B, Gandhara is Splinter's excellent cover version of the song from the Japanese TV series "Monkey."
Gandhara was originally released in Japan on October 1, 1978.
Godiego (Nippon Columbia recording artists) are one of the leading bands in Japan.
They reached #56 in the U.K. charts in early 1980 with their original version.


---
© Copyright 2002-2017 Tom Brennan's Splinter Library (TBSL). All Rights Reserved.
Reproduction in whole or in part in any form or medium without express written permission of Tom Brennan's Splinter Library, is prohibited.
All trademarks used on TBSL are the property of their respective owners.