Splinter in Paris
November 11, 1977 photos and memories by Jean Helfer
edited by Tom Brennan
updated: April 10, 2009
Background:
In 1974, I was the secretary for the French Beatles Fan club and we made a special magazine about the Dark Horse Label George had just created. In 1975, we received with surprise a letter from George thanking us for the special Dark Horse magazine, asking for more copies, and offering all the help we could need from his office. That is how I met Billy and Bobby in the Dark Horse office of Berkeley Square in the Chelsea area of London in July, 1975. The meeting was warm; they were so nice. They signed me a copy of my magazine and offered me the acoustic vinyl LP they said was meant to be sent to radio stations.

Paris (1977):
The second time and last time I met them was during the Gregg Allman/Cher tour where they opened for them at The Theatre Des Champs Elysees. I spent nearly 24 hours with them. I picked them up at their hotel in Pigalle called Hotel Gisambre Rue Gisambre. They were with their agent and a keyboardist, Alan Clarke, later playing keyboards for Dire Straits. We spent all day doing the tourist stuff (visiting Paris, etc...)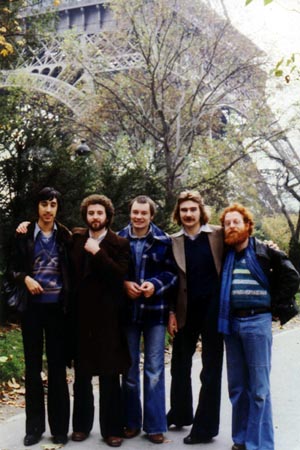 Jean Helfer, Bill Elliott, Bob Purvis, Splinter's agent, Gilles Volcouve (photo taken by Alan Clarke) thanks to Jacques Volcouve for identifying his brother, Gilles
more sightseeing photos

Then we went to the Theatre des Champs Elysees for the soundcheck and I spent plenty of time backstage with them in their dressing room where Bobby played guitar next to me (the guitar he was playing on was given to him by George; it is the white guitar he used in the Madison Square Garden for the Concert For Bangla Desh. [Later, Bobby was angry after George wrote me that he sold the guitar]. I have a memory of Cher coming half-dressed into the room for a chat; she seemed nice.


more backstage photos

The concert was great. I had a backstage pass on my arm, and I took so many pictures. I was the only photographer interested in them. They kept smiling at me from time to time during the show. They played: China Light/Costafine Town/Domingo Bay/White Shoe Weather...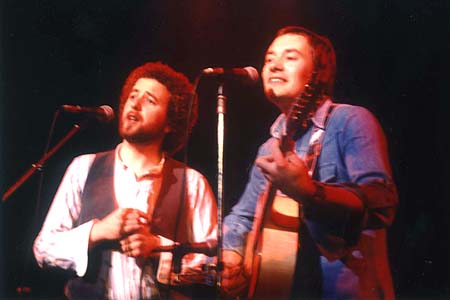 more concert photos

I made copies of all the slides and sent them to their address in Durham (England). I received a warm letter thanking me and inside were lots of polaroid pictures of them with George during the recording of "The Place I Love" album. Polaroid meant they didn't have negatives and that no other copies existed. I wrote to them from time to time without any answers. The end of Dark Horse Records made them bitter and despite a success in Japan, there was no future for them. They still mean something to me. Such talent wasted. It was not the time nor the place; 1974 was Glam Rock, then Disco came and the world did not need harmony vocals and melodies.
© Copyright 2004-2008 Tom Brennan's Splinter Library (TBSL). All Rights Reserved.
Reproduction in whole or in part in any form or medium without express written permission is prohibited.
All trademarks used on TBSL are the property of their respective owners.