STREETS AT NIGHT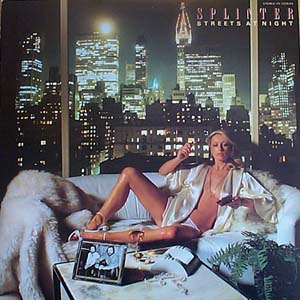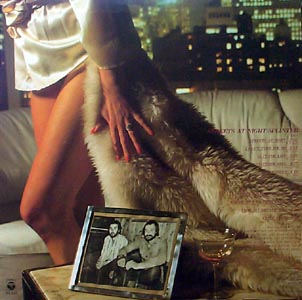 This was the first Splinter LP after leaving Dark Horse Records, and their 4th overall. It was released by Columbia Records in Japan. The album features Dire Straits keyboard player, Alan Clark. In the U.K., Splinter also released a single in the U.K. of "Danger Zone" with a non-LP b-side called "Swear To God".
Catalog #: Columbia YX-7228-AX, released February 1979 (Japan)
SIDE 1:
1. Streets At Night [Robert J. Purvis]
2. I Can't Turn You On [Robert J. Purvis]
3. Is It For Life? [Robert J. Purvis]
4. Stateside Girl [Robert J. Purvis/William Elliott]
Bob Purvis: "This song was Billy's idea and most of the lyrics. I did the middle leading into the solo. I believe Billy wrote it fictionally. We modulated the end."
5. Evergreen [Robert J. Purvis]
Bob Purvis: "I remember George listening to us and jamming along to Evergreen, but Evergreen wasn't written 'til I was in Denver on the American tour. He said to me: 'Not many people writing songs about trees, Bob.' When I think about it, we did a few sessions like that; it must have been very early on."

SIDE 2:
1. Danger Zone [Robert J. Purvis]
2. When Will You Let Go? [Robert J. Purvis]
3. Where Do I Go From Here? [Robert J. Purvis]
4. Took My Breath Away [Robert J. Purvis]
5. Flyin' Blind [Robert J. Purvis/William Elliott]

Produced & arranged by Bob Purvis & Bill Elliott
Recorded at Guardian Music Studios, Durham, England, 1978

Bob Purvis - vocals and acoustic guitars
Bill Elliott - vocals
Terry Gavagham - lead guitar, bass guitar, banjo, acoustic guitar
Alan Clark - keyboards
Barry Black - drums and percussion

Bob Purvis: "The album was recorded in a studio called Guardian Music and Billy & I produced it ourselves. It was in the city of Durham. We had Barry Black from the John Miles Band on drums and other northeast (England) session players. I played guitar on every track along with Terry Gavagham (who played with me later on my solo track, Cry From The Heart). The songs were written the way I wanted them produced. I personally thought they were the best we'd done but the quality of the sound wasn't 100 percent. I guess I'd moved into Disco mode. I'm not sure if Billy was completely happy about it. For his lead vocals (I Can't Turn You On, When Will You Let Go, Evergreen), he was in fine voice. I loved Streets At Night and Danger Zone. I wrote the tune for Flyin' Blind; Billy wrote all the lyrics. We wrote Stateside Girl together, but it was mostly Billy's tune and lyrics; I did the middle and end. If the album had been professionally produced and we'd had a few more musicians and better equipment, it could have been our 2nd best album."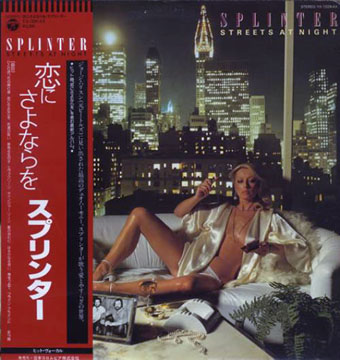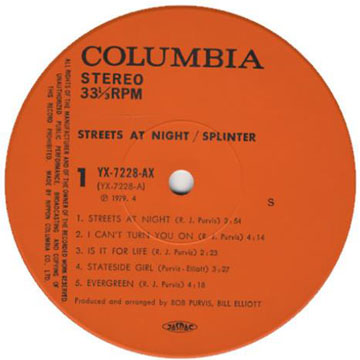 LP insert thanks to Simon Leng
---
© Copyright 2002-2017 Tom Brennan's Splinter Library. All Rights Reserved.
Reproduction in whole or in part in any form or medium without permission is prohibited.
All trademarks used are the property of their respective owners.