WITHOUT YOU (THE TRAGIC STORY OF BADFINGER)
Bonus CD review (2nd edition)
by Tom Brennan
last revised: March 02, 2018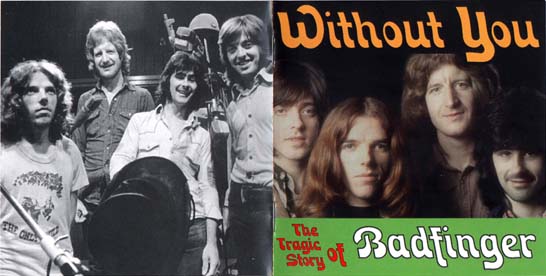 CD booklet: cover (click on image above) | pages 1-2 | pages 3-4 | pages 5-6
Track Listings:
01. Man Without A Heart (Ham) [2:30]
02. Taxi (Ham) [1:52]
03. Take Good Care Of My Baby (Ham) [4:20]
04. She Came Out Of The Cold (Evans/Ham) [2:14]
05. Knocking Down Our Home (Ham) [3:16]
06. Clown Of The Party (Ham) [3:50]
07. Maybe Tomorrow [Radio One session] (Evans) [3:00]
08. Midnight Sun [Jimmy Saville Speakeasy Show, Radio One broadcast] (Ham) [2:30]
09. Take It All (Ham) [2:44]
10. CHUM radio (Toronto) interview excerpts with Pete Ham [2:16]/O'Keefe Center backstage interview with Pete Ham, June 25, 1972 [4:11]; total [6:27]

11. Blind Owl (Evans) [2:27]
12. Hotel interview with Pete Ham and Tom Evans, March 29, 1974 [19:04]

13. Pete Ham/Steve Craiter phone call, October 27, 1974 [1:39]

14. Hey, Mr. Manager [Apple Studios mix, December 15, 1974] (Evans) [3:31]
15. Ringside [1st acoustic guitar demo] (Ham) [1:04]
16. I Believe In You [Dodgers 4-track demo] (Evans) [2:08]
17. Tom Evans/Steve Craiter phone call, May, 1983 [1:45]

18. Tom Evans/Steve Craiter phone call, August 19, 1983 [3:07]

19. Over You (Evans/Roach) [3:50]

The CD booklet also includes reproductions of the Pete Ham and Tom Evans lithographs, as well as the original handwritten lyric sheets for "Shine On" and "Ringside".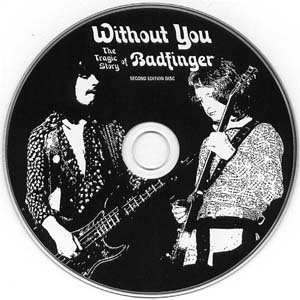 Track Descriptions:
01. A rudimentary piano demo by Pete, although vocally, he pours his guts out. One of his earliest songs from August 1966.
02. An Iveys track sung by Ron and written by Pete. A love song about a couple taking a taxi ride to the girfriend's home. One of three Ray Davies produced demos from January 15, 1967.
03. One of the Iveys' publishing demos from early 1968 submitted to various record companies, including Apple. The last verse which appears here did not appear on the publishing acetate. The track was engineered by Pete Ham. The band plays with their standard guitars, including some excellent lead guitar playing from Pete.
04. One of Tom & Pete's first attempts at writing together which shows remarkable maturity lyrically. Another strong unreleased Iveys track that was submitted to music publishers on acetate. The track features a "pixiephone" during the breaks.
05. An electric guitar demo by Pete with double-tracked vocals. This version is missing the introduction later used on the Iveys' LP track. This demo shows a lot of potential (which Paul McCartney recognized on the Iveys' demo tape), but unfortunately was ruined by a corny arrangement when recorded for their "Maybe Tomorrow" LP.
06. Another Iveys demo of an intriguing Pete Ham composition about a sad clown. Pete Ham plays some smokin' distorted lead guitar on his Stratocaster, and Ron plays a nice bass part as well.
07. An Iveys' Radio One take with Pete Ham and Tom Evans playing all the string parts on guitars, taken from the BBC session tape, recorded sometime between February and April of 1969. This performance is different than the two that have previously been bootlegged which were recorded offline from the radio.
08. An early live Badfinger Radio One performance of Pete's "Midnight Sun" taped off of BBC radio from the Jimmy Saville Speakeasy Radio Show broadcast on February 20, 1970.
09. A rough Pete Ham demo of this "Straight Up" track from 1971, featuring electric piano [the same one used to record the demo for "If It's Love" ("Without You")] and the Fender Stratocaster guitar. Here, Pete has yet to complete the chorus and the final verse.
10. At CHUM Radio, Peter discusses songwriting. Backstage in Toronto, Pete is asked about playing "Here Comes The Sun" with George Harrison at the Concert For Bangladesh, performing onstage to please an audience, the possibility of doing a live album, inspiration for writing songs, and more. Pete's reference to the new drummer is Rob Stawinsky who was replacing Mike Gibbins after he quit prior to the U.S. summer tour.
11. Tommy demonstrates his new song on acoustic guitar with what sounds like Pete Ham talking in the background. At this point, Tommy has an extra verse (2nd one here) that he would eventually drop because it sounded weak ("Bread, bed, fourteen carat head...").
12. An excerpt of a hotel interview with Tom & Pete, giving a rundown of Badfinger's career highlights up to March 29, 1974, including plans for their upcoming sessions at Caribou Ranch in Colorado.

13. Pete Ham discusses some of the band's legal problems with Steve Craiter and the progress (or lack thereof) of the "Wish You Were Here" LP.

14. A sample from the forthcoming "Head First" CD in excellent sound quality. This is the first mix done by engineer Phil McDonald at Apple Studios on December 15, 1974.

15. Pete's first demo of the song on acoustic guitar from 1975 with only one verse and chorus at this point. This is the 3rd version made available to the public and shows Pete at his most angry moment thus far in his songwriting career.

16. One of 3 songs Tommy wrote of 13 four-track demos recorded by The Dodgers. It sounds as if he lifted the first line here from Ham's "Baby Blue".

17. Part of a phone call between Tommy and Steve Craiter discussing his relationship with Pete, Joey and his knowledge of Badfinger history.

18. Excerpts of another Steve Craiter phone call where an extremely distraught Tommy expresses his frustrations with Joey allegedly sabotaging his gigs & career, and his desire to sue Tommy for "Without You" royalties. Also, it includes some controversial remarks from Tommy about why Peter died.

19. The Rod Roach produced version from 1995 lifted from the "Over You" CD.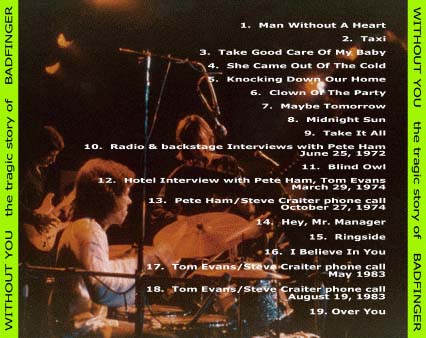 © Copyright 2000-2018 Tom Brennan's Badfinger Library. All Rights Reserved.
Reproduction in whole or in part in any form or medium without permission is prohibited.
All trademarks used are the property of their respective owners.