Wish You Were Here
album
by Badfinger
compiled by Tom Brennan
last update: November 18, 2017
---
WISH YOU WERE HERE
April 7-July 27, 1974
Caribou Ranch Studios, Colorado, U.S.A. and AIR Studios, London
Chris Thomas
U.S. release on October 14, 1974 on WB BS 2827 [Test pressing information for U.S.: August 1, 1974]
Billboard chart positions: #173 (Nov. 9, 1974), #162 (Nov. 16, 1974), #151 (Nov. 23, 1974), #148 (Nov. 30, 1974), #172 (Dec. 7, 1974), #165 (Dec. 14, 1974).
U.K. release in October, 1974 on WB K56076 [side 1 label]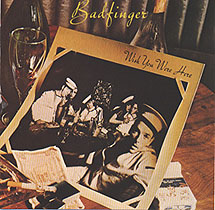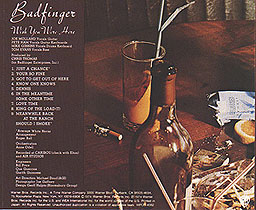 Side One:
Just A Chance
Your So Fine
Got To Get Out Of Here
Know One Knows
Dennis
Side Two:
In The Meantime
Some Other Time
Love Time
King Of The Load
Meanwhile Back At The Ranch
Should I Smoke

Tom Evans story thanks to Lee Shafer (Kingston, PA):
Tom said a funny thing happened. During the cover shoot, it took a long time to make the table look messy like a long drinking session had been going on, and it took SO long that they all had been drinking all day and Tom said "I Spewed" so they had to set the table up again! (He HAD to have been kidding-no?)


CDs
Japanese release on July 25, 1991 on Warner Brothers WPCP-4082
German release on January 17, 1997 on 7599-26540-2 (WE 835)
release on July 1, 1997 on WEA 265402
release on March 18, 1998 on Warner Brothers 7599265402
U.S.? release on April 25, 2000 on Warner Brothers 26540
release on September 23, 2003 on WEA 7599265402
U.S. release on November 30, 2004 on Rhino/Warner Brothers
U.K. release on July 23, 2007 on Collector's Choice CCM-810
U.S. release on September 18, 2007 on Collector's Choice CCM-810
U.K. release on October 28, 2013 on Rhino/Edsel EDSK 7036
U.S. release on November 5, 2013 on Rhino/Edsel EDSK 7036 (U.K. import)


Cassette tape
WB MS-2827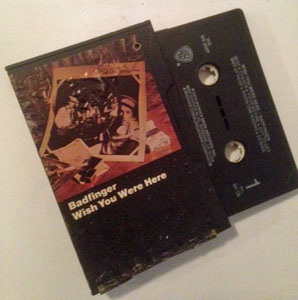 8-track tapes
WB M-82827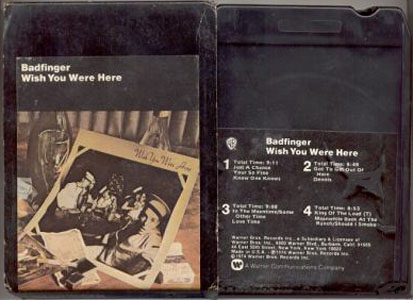 Program 1:
Just A Chance
Your So Fine
Know One Knows
Program 2:
Got To Get Out Of Here
Dennis
Program 3:
In The Meantime/Some Other Time
Love Time
Program 4:
King Of The Load (T)
Meanwhile Back At The Ranch/Should I Smoke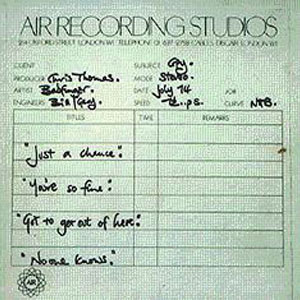 AIR Studios stereo mix tape copy from July, 1974:
Just A Chance
You're So Fine
Got To Get Out Of Here
No One Knows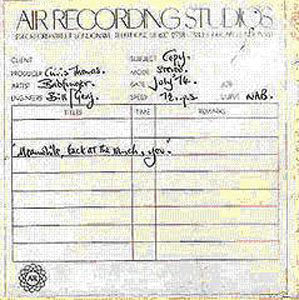 AIR Studios stereo mix tape copy from July, 1974:
Meanwhile, Back At The Ranch, You

Badfinger in AIR Studios, London: July, 1974 thanks to Brooke from Richmond, VA


Album reviews:
Phonograph: November, 1974
MuziekKrant: November, 1974 (Germany)
Rolling Stone: January 2, 1975 (U.S.)
Creem: February, 1975
Let It Rock: November/December, 1975 (U.K.)


News:
Badfinger Hit by WB Demand - Billboard: January 11, 1975
---
PROMOTIONAL MATERIALS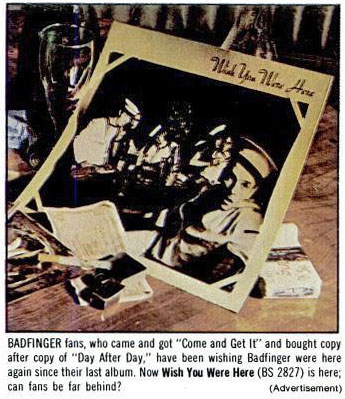 above: October 19, 1974 ad from Billboard magazine



One Badfinger can get the whole hand going - ad from Billboard magazine listing previous hit singles

Badfinger did an endorsement for Sunn Amps that included photos of them during the "Wish You Were Here" sessions: Sunn Amp ad by Badfinger

"The Force" promotional ad for October 1974 Warner Brothers album releases - Billboard magazine: October 19, 1974


Radio Spot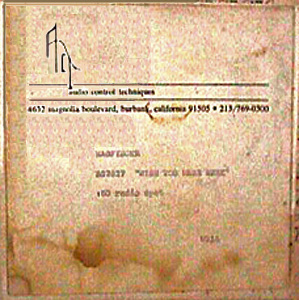 The radio commercial used clips from 7 different songs on the LP.
The one-minute commercial consists of the following:
[intro from In The Meantime]..."Badfinger...[excerpt from In The Meantime]...Badfinger...[excerpt from Just A Chance]...Badfinger...[excerpt from Love Time]...Badfinger...[excerpt from Got To Get Out Of Here]...Wish You Were Here...[excerpt from Know One Knows]...a really great new album...[excerpt from Your So Fine]...on Warner Brothers Records and Tapes...[excerpt from Dennis] (fades out)."

---
CARIBOU RANCH STUDIOS

Photos of Badfinger at Caribou Ranch
Badfinger taking a break at Caribou Studio: April, 1974 (photo by Koh Hasebe/Shinko Music)

History of Caribou Ranch Studios:
Northwest of Nederland, far from the madding crowds of Los Angeles, Jim Guercio built a recording studio that became the object of desire for some of the '70s most famous musicians. He had already established himself as one of the industry's long ball players, with an extensive history of playing and production credits extending back to the Buckinghams in the mid-'60s, including the Beach Boys, Frank Zappa and especially Chicago, whom Guercio managed from their days as an obscure L.A. club band to mega-stardom through the '70s. Although he is rightly regarded in the rock annals as a top flight producer, successful manager and owner of one of the best recording facilities in America during this period, he is still cheerfully remembered in the press as "ex-Beach Boy Jim Guercio," having filled in on a few early-'70s Beach Boy tours.

Funny, sometimes, the things that stick...

Caribou Ranch was as much spa and mountain retreat for rock superstars during the seventies as it was a place to work. Several comfortably attended cabins dotted the grounds around the studio, which Guercio built inside a renovated barn. The relative proximity of the posh guest cabins-as well as the gated privacy-led inevitably to wave after wave of rumored substance-inspired madness.

Guercio brought the creme of rock super-stardom not just to Caribou, but to Nederland and Boulder as well. You could be walking down Pearl Street one day and pass Mick Jagger or Don Henley or Joni Mitchell or Bernie Taupin, and that was only because Caribou was just up the hill.

The lasting legacy of Caribou, of course, is some of the best-recorded work from some of the best rock players in the '70s. Chicago cut several of its biggest early hits there. Stephan Stills recorded his timeless and still-fresh first solo album at Caribou, and Elton John recorded three massive-selling albums there. When you hear Joe Walsh's immortal "Rocky Mountain Way," guess what his view was.

Lesser known artists also worked there, like George Duke, the German prog outfit Lake, Jan Hammer and Supertramp - who's arguably best LP "Even In The Quietest Moments" features a picture of a snow-draped piano outside Caribou. Lead singer Roger Hodgson, in search of that perfect vocal take, actually recorded part of one song in a freight elevator.

Rumor has it that Caribou had more platinum albums hanging on its walls than any other studio in America. When the studio, along with many irreplaceable master tapes, burned in March of 1985, a piece of rock history danced skyward on its fading embers. Caribou, the Legend had passed into history as one of rock and roll's greatest places, surrounded by one of the greatest places on earth.
thanks to Paul Nyman

back to The Iveys & Badfinger releases
---
© Copyright 1998-2017 Tom Brennan's Badfinger Library. All Rights Reserved.
Reproduction in whole or in part in any form or medium without permission is prohibited.
All trademarks used are the property of their respective owners.