George Harrison Library
by Tom Brennan
last updated: February 25, 2004

Capitol Records' official George Harrison site
www.georgeharrison.com

HARRISON DARK HORSE RECORDS REISSUES
The following CDs were released on February 24, 2004:

Thirty-Three And A Third [bonus track: Tears Of The World]
George Harrison [bonus track: Here Comes The Moon (demo)]
Somewhere In England [bonus track: Save The World (demo)]
Gone Troppo [bonus track: Mystical One (demo)]
Cloud Nine [bonus tracks: Shanghai Surprise, Zig Zag]
Live In Japan [bonus track: none]

What a major disappointment this is! $19 list price to get one demo per disc? Give me a break! Where's the motivation for people to buy these CDs again? Where are all the other missing tracks like "Mo", "Lay His Head", Sat Singing", etc.? And what's going to happen to the 3 odd tracks from "Best of Dark Horse: 1976-1989"? "Tears Of The World" belongs with "Somewhere In England". What is it doing on "33 1/3" CD? If "Tears Of The World" wasn't here, I would think that the Harrisons were trying to avoid using tracks from the bonus CDs included with the limited edition "Songs By George Harrison", but that's out of print. So, why not make all those great songs available to everyone? They've all be bootlegged umpteen times anyway. Why not make them legit?

Here's what I would have done:
Thirty-Three And A Third [bonus track: This Song (single edit)]
George Harrison [bonus tracks: Mo, Flying Hour, Here Comes The Moon (demo)]
Somewhere In England [bonus tracks: Sat Singing, Lay His Head, Tears Of The World, Life Itself (demo), Save The World (demo), Save The World (Greenpeace version)]
Gone Troppo [bonus tracks: Dream Away (film version), Mystical One (demo), Abandoned Love, I Don't Want To Do It]
Cloud Nine [possible bonus tracks: Shanghai Surprise, Zig Zag, Hottest Gong In Town, Someplace Else (film version), Breath Away From Heaven (film version), Ride Rajbun, Poor Little Girl, Cockamamie Business, Cheer Down]

Dark Horse Years 1976-1992 Box set:
Box set includes six CDs: Thirty Three & 1/3, George Harrison, Somewhere In England, Gone Troppo, Cloud Nine, and Live In Japan (SACD). Also includes The Dark Horse Years exclusive DVD, available only as part of this set. Includes 24 page booklet.
DVD running time: 89 minutes, includes Dark Horse Feature, promo videos, previously unreleased live footage, and selections from the movie "Shanghai Surprise."
Sound: Stereo except four concert pieces which are in 5.1 surround sound, in both Dolby Digital and DTS formats.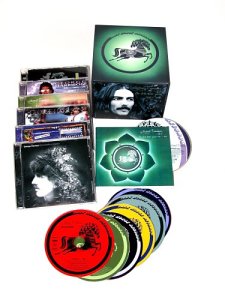 DVD TRACK LISTINGS:
1. Dark Horse Records feature
2. This Song
3. Crackerbox Palace
4. Faster
5. Got My Mind Set On You - Version I (arcade)
6. Got My Mind Set On You - Version II (library)
7. When We Was Fab
8. This Is Love
9. Cheer Down (from Live In Japan)
10. Devil's Radio (from Live In Japan)
11. Cloud 9 (from Live In Japan)
12. Taxman (from Live In Japan)
13. Shanghai Surprise
14. Someplace Else
15. Hottest Gong In Town

The Dark Horse Records feature is a major dissapointment. The editing is poor, and the storyline seems really disjointed. Most of the footage is from the "Cloud Nine" era. It seems like there wasn't enough material to compile a complete story of Harrison's record label. It would have been nice if Olivia would have been interviewed on camera to fill-in some of the gaps. After watching it for the first time, I came away from it pretty confused.
Most of Harrison's promo films have been nicely preserved for the DVD format... but what happened to "Blow Away" and "True Love" promo films? "Blow Away" was a bigger hit than "Faster"! "All Those Years Ago" is also absent even though it was all older footage edited together.
The concert footage is really excellent. Clips of "Give Me Love" and "Got My Mind Set On You" were used in the Dark Horse Records feature, which leads me to believe that a DVD of the entire concert set might be in the works for sometime in the near future with 5.1 surround sound.
The Shanghai Surprise material is the most interesting. The music video for the title track is really well done, with George dueting with Vicki Brown among film highlights of Madonna & Sean Penn. The other 2 songs are incomplete and contain behind-the-scenes footage from the filming with clips of George singing. These are real gems because of their rarity.

best prices at:
fye.com: $99.99
amazon.com: $106.49
deepdiscountcd.com: $111.68
bestbuy.com: $119.99


---
CONCERT FOR GEORGE
DVD review forthcoming...


---
BRAINWASHED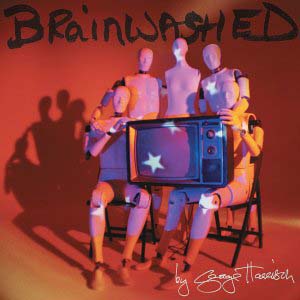 Review by Tom Brennan

Track Listing:
01. Any Road
02. P2 Vatican Blues (Last Saturday Night)
03. Pisces Fish
04. Looking For My Life
05. Rising Sun
06. Marwa Blues
07. Stuck Inside A Cloud
08. Run So Far [given to Eric Clapton in 1989 for his "Journeyman" album]
09. Never Get Over You
10. Between The Devil And The Deep Blue Sea [previously performed on British TV, recorded in 1991]
11. Rocking Chair In Hawaii [song started during "All Things Must Pass" sessions]
12. Brainwashed

LOS ANGELES (AP) - The album George Harrison was working on until two months before his death will be released in November. Produced by Harrison, his son, Dhani, and Jeff Lynne, the Dark Horse-Capitol Records album Brainwashed features 11 new Harrison compositions. It's the first release of new Harrison material since 1987's Cloud Nine.

"Before we started working on the album, George and Dhani had collaborated extensively on preproduction," Lynne said. "George would come 'round my house and he'd always have a new song with him. He would strum them on a guitar or ukulele. The songs just knocked me out."

The former Beatle died Nov. 29, 2001, after a battle with cancer. He was 58. Dhani Harrison and Lynne spent much of this year completing work on the album. "George constantly talked about how he wanted the album to sound, and there was always that spiritual energy that went into the lyrics as well as the music," Lynne said. Brainwashed will be released on Nov. 19, 2002.

HARRISON TRIBUTE CONCERT WITH PAUL & RINGO
The two surviving former Beatles will join a number of artists for a concert honoring George Harrison. Paul McCartney and Ringo Starr will participate in the November 29 show at London's Royal Albert Hall to commemorate the first anniversary of Harrison's death. Eric Clapton will oversee the entertainment content for the concert, which will also feature Tom Petty and Jeff Lynne, who played with Harrison in the Traveling Wilburys; pianist and band leader Jools Holland; drummer Jim Keltner; conductor Michael Kamen; guitarist/singer Joe Brown; sitar master Ravi Shankar; and Monty Python alumni Eric Idle and Michael Palin. More artists may be added to the lineup.
Proceeds from the show will go to support cancer research.

WHILE MY GUITAR GENTLY WEEPS-The Music Of George Harrison
by Simon Leng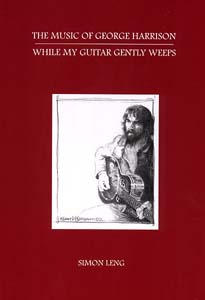 [click on book for larger image]

Features cover illustration by Beatle's collaborator and designer of the Revolver album sleeve, Klaus Voorman, commissioned especially for this edition. Often seen as "serious", Harrison was far from being without humour, as exemplified by his involvement with Monty Python. He was also generous with his musical gifts - both in terms of songwriting and adding his unique guitar playing to many recordings. It was a generosity that gained him huge respect with other musicians. The Music of George Harrison delves into his complex and highly personal relationship with two other avatars of 60s culture - Bob Dylan and Eric Clapton - and a friendship with Ravi Shankar that spanned four decades.

Drawing on new interviews with many of George's musical collaborators, including Klaus Voorman, Doris Troy and Delaney Bramlett, this book was originally planned as a celebration of Harrison's music. Sadly it is a commemoration too, as Beatles fans the world-over mourned the passing of the "quiet Beatle". Ultimately what emerges is a portrait of George Harrison as a songwriter and musician who retained both dignity and vision.

This book was released on January 18, 2003 by SAF Pub. Ltd. in the U.K.

HARRISON TRIBUTE ALBUM
George Harrison Tribute Album To Feature Dave Davies, Roger McGuinn, Julian Lennon & Others

A tribute album to the late George Harrison will be released on February 25, 2003 which would have been his 60th birthday. Koch Records is assembling the record under the banner Songs From The Material World, and it will feature cover versions of Harrison and Beatles songs by artists including Kinks lead guitarist Dave Davies, Byrds leader Roger McGuinn, Mountain singer-guitarist Leslie West, and Fleetwood Mac co-founder and guitarist Peter Green.

LAUNCH has learned that McGuinn will record the Rubber Soul track "If I Needed Someone," and that "While My Guitar Gently Weeps" will be an all-star affair, although no names were available at press time. Others scheduled to take part in the project include Julian Lennon, Todd Rundgren, Bonnie Bramlett, Al Kooper, former Black Crowes lead guitarist Marc Ford, former Thin Lizzy and Ultravox guitarist Midge Ure, the MC5's Wayne Kramer, Simon Townshend, Donovan, ex-Wilco member Jay Bennett, and the groups Masters Of Reality, the Smithereens, and They Might Be Giants.

A portion of the album's proceeds will go to the T.J. Martell Foundation, the music-industry charity that raises money for the fight against cancer, leukemia, and AIDS.

ROCKABILLY SESSION WITH CARL PERKINS ON DVD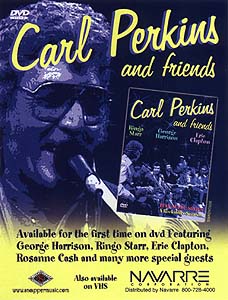 TRIBUTE TO GEORGE HARRISON
"Take the dawn of the day and give it away to someone who can fill the part of the dream we once held, now it's got to be shelved..."
George Harrison, from "So Sad" (1973)
"...I hope to see much clearer after living in the material world...from the spiritual sky, such sweet memories have I...how I pray, yes I pray that I won't get lost or go astray."
George Harrison, from "Living In The Material World" (1973)
"Isn't it a pity. Isn't it a shame how we break each other's hearts and cause each other pain."
George Harrison, from "Isn't It A Pity" (1970)
"When I think of the life I'm living, pray God, help me, give me your light so I can love you and understand this repetition that keeps me here feeling deep blue. You know I'm deep blue."
George Harrison, from "Deep Blue" (1971)
"...and all the time you thought it would last. Your life, your friends would always be..."
George Harrison, from "The Writing's On The Wall" (1980)
"We gotta save the world. Someone else may want to use it."
George Harrison, from "Save The World" (1980)
"The past, it is gone. The future may not be at all. Present, improve the Flying Hour."
George Harrison, from "The Flying Hour" (1978)

"I can't even begin to tell you how much George Harrison has affected my life. Aside from always being my favorite Beatle, favorite singer, favorite guitarist, and favorite songwriter of all-time, his philosophy, kindness, love and sense of humor has affected me very deeply throughout my life. He also got me to listen to different types of music like Indian (Ravi Shankar) and Rockabilly. His music was always there for me or his inspiring words were there to lift me up whenever I felt down. Anytime I see him appear on TV or hear him sing on the radio, it always gives me a tremendous boost emotionally. I feel very sad not ever having the chance to see him in-person. His work will always touch my heart for the rest of my life. I hope his family will continue his legacy by releasing previously unheard songs and will continue his plans to reissue his solo catalog of brilliant music so future generations can also be touched by his beautiful gift of songwriting, love, wit, charity and sense of spirituality. I'll really miss you, George, as will millions of others, I'm sure."
Tom Brennan, December 1, 2001

Radio London's tribute to George Harrison

THE SECRET LAST ALBUM
According to a report in the U.K. Sunday Times, George Harrison was trying to complete a new album for October 2001 release for the Christmas season but wasn't able to complete it because he became ill from lung cancer. Hopefully, Harrison's family will release the CD as a tribute to George's courage.
The songs on his new CD do not make reference to his illness. One track, "Rising Sun", is about his interest in Indian philosophy and a reference to his son Dhani growing up to be a guitarist just like his dad. Harrison was completing 25 unreleased tracks in his F.P.S.H.O.T. studio at home. A few tracks date back to the 1980s and some are new. One even refers to the stabbing attempt made on his life in December 1999. The tracks were part of an effort made by Harrison to put his musical legacy in order before he passed away. Jim Keltner and Eric Clapton are among the musicians known to have added parts to some of the tracks.

GEORGE HARRISON DEAD AT AGE 58
George passed away from lung cancer at a friend's home in Los Angeles (Gavin de Becker's) at 1:30 PM on Thursday, November 29, 2001. He was surrounded by family and friends and was at peace. Treatments received at a Staten Island, New York clinic in November were unsuccessful. In the final days before his death, besides his family, he was visited by Paul McCartney, Ringo Starr, and Ravi Shankar & his wife. Paul said he was still cracking jokes even in his final days.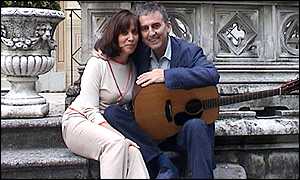 Ringo Starr made the following statement:
"George was a best friend of mine. I loved him very much and I will miss him greatly. Both Barbara and I send our love and light to Olivia and Dhani. We will miss George for his sense of music and his sense of laughter."

Paul McCartney also made a video statement: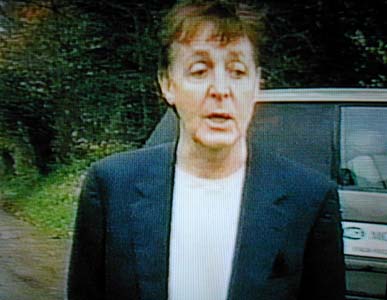 "I'm very sad -- devastated. We've known he's been ill for a long time and just very sad to hear that he's passed on. I've spoken to Olivia. She's being very strong and I'd like to ask people maybe to be very kind to her and Dhani at this time (George's son). He's a lovely man I love him dearly. I grew up with him and I'd like to remember all the great times we had together in Liverpool and with The Beatles and ever since really."

Message From Paul (12/07/01)
"Salutations
Driving type people from London, where the weather is clear and bright.
First of all, thank you for you beautiful thoughts and condolences about my dear mate George, we had all known he was ill for sometime but were hoping for a miracle that would bring us good news, unfortunately this was not to be and we all send our deepest sympathy to Olivia, Dhani and all George's relatives and friends.
I myself am very saddened to lose such a great man who was so important to my life and always will be. He was my mate before either of us joined The Beatles and was like a brother to me.
I will always remember the beautiful times we had together and will always carry the warmest memories of my dear mate George.
Here in London, we are back to work and sending you all our best hoping that things are well with you and that you are enjoying Driving Rain.
Thanks for the thousands of questions you have sent in, many of which are posted on the website as promised, we have just posted some text and a video message announcing the winner of our Driving Rain swag give-away competition (click here to see if it's you) http://www.paulmccartney.com
I hope whoever you are that you will be the lucky one.
Stay positive, enjoy your life and as George said Love One Another"

All The Best, Paul

George Harrison's last recording: "Horse To The Water" written by himself and his son, Dhani, released on Jools Holland's new CD "Small World Big Band" on November 19, 2001 in the U.K. The song was recorded October 1, 2001 at Harrison's villa in Switzerland with singer Sam Brown who appeared on "My Sweet Lord (2000)" remake. The song's publishing credit dispalyed Harrison's never failing sense of humor, "RIP Ltd. 2001".
The U.S. version was released in January 2002 with the same tracks as the U.K. version except with the title "Jools Holland's Big Band Rhythm & Blues".
George Harrison's last public appearance: performing "Your True Love" on January 23, 1998 at the funeral of his close friend and idol, Carl Perkins, who also died of cancer on January 19, 1998.
Harrison highlights of the past decade:
1997, May 14: last TV appearance on VH1 with Ravi Shankar & his wife Sukanya promoting "Chants Of India". George performed: "Any Road" and "If You Belonged to Me" [see photo below] on acoustic guitar (not aired until November 30, 2001), and "All Things Must Pass" and Prabhujee (with Ravi and Sukanya).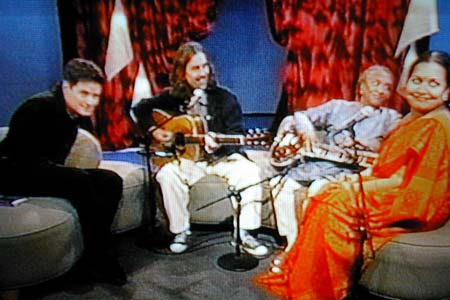 1996, June 18-22: George records "Distance Makes No Difference With Love" with Carl Perkins and Jim Capaldi for Carl's "Go Cat Go!" CD.
1993-1995: filming and recording "Free As A Bird" and "Real Love" for the "Beatles Anthology"
1994, June: recording contract with Warner Brothers Records expires
1993, September 30: George appears (in voice only) on The Simpsons animated TV show on Fox-TV.
1992, October 16: George performs live at Madison Square Garden as part of a 30th anniversary celebration for Bob Dylan, performing "If Not For You", "Absolutely Sweet Marie", and "My Back Pages", as well as "Knockin' On Heaven's Door" with the other participants.
1992, April 6: benefit concert for the Natural Law Party (Maharishi Mahesh Yogi) at the Royal Albert Hall in London with Eric Clapton's band.
1991, December: Japanese tour with Eric Clapton's band

information thanks to Chip Madinger & Mark Easter's book, "Eight Arms To Hold You"

GEORGE HARRISON AND BADFINGER
Just auctioned at eBay recently, an autograph obtained in person at Abbey Road Studios on June 3, 1971, the day that "Day After Day" was being recorded by Badfinger & produced by George Harrison. Ringo Starr was also present but did not participate in any recording...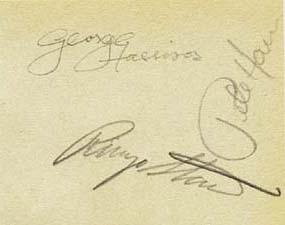 ---

CONCERT FOR BANGLADESH TO BE REISSUED
Beatlefan reports that plans are being made to reissue The Concert For Bangladesh on CD including two bonus tracks from the afternoon performance that were not performed at the evening performance: George's "Hear Me Lord" and Dylan's "Love Minus Zero/No Limit". There are also plans for a DVD release, however these bonus songs won't be included because of the technical problems that occurred during the filming of the first performance. This is no release date at the moment.
posted, August 26, 2001, updated January 1, 2003

HARRISON REVEALS FUTURE CD REISSUE PLANS DURING FIRST ON-LINE CHAT!!!
George Harrison participated in his first chat on Yahoo on February 15, 2001.
Harrison said he was planning to release his first new CD in over a decade in November 2001. George estimated that he had about 35 songs in various stages of completion.
He also repeated his plans to remaster his entire solo catalog and include bonus tracks on each disc, also mentioning his intention to get out on CD for the first time the Dark Horse Records catalog, including acts like Splinter, Ravi Shankar and Jiva. The next solo album he intends to remaster is "Living In The Material World". Harrison said he had to take a look at his tape library for alternate versions of songs to use as bonus tracks.
There was also mention of the box set of demos and outtakes he talked about in an interview he did awhile ago for Billboard. George estimated that would take at least another 18 months to complete or longer (80 months!).

YOUR PLANET IS DOOMED, VOLUME 1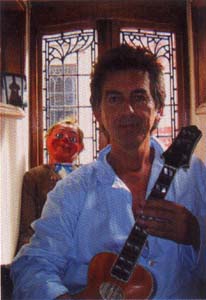 Former Beatle George Harrison is so concerned about the state of the world that he's jokingly thinking of calling his next album "Your Planet is Doomed, Volume One." "The world is just going mental as far as I'm concerned," Harrison told Reuters Wednesday. "It's speeding up with the whole technology and everything that's happening." Having survived both a home invasion by a knife-wielding maniac last Dec. 30 and a throat cancer scare in 1997 -- incidents he declined to discuss -- 57-year-old Harrison could be forgiven for seeing life in shades of black. To remind himself of the bright side of things, Harrison has re-recorded his ode to peace, love and Hare Krishna, "My Sweet Lord," which topped the American and British charts in 1971. It will appear -- along with the original -- on a 30th anniversary re-issue of his ALL THINGS MUST PASS triple album, set for release on Jan. 23 via Capitol Records. "I just like the idea and the opportunity to freshen it up, because the point of My Sweet Lord is just to try and remind myself basically that there's more to life than the material world," Harrison said. "Basically I think the planet is doomed,'' he said with a laugh. "And it's my attempt to try to put a bit of a spin on the spiritual side, a reminder for myself and for anybody who's interested." Harrison added that while pessimistic about the environment, he is positive about "my place in creation ... and I don't have any worries whatsoever about that." ALL THINGS MUST PASS, originally released in December 1970 as the Beatles were breaking up, served as a much-needed creative outlet for Harrison, whose songwriting efforts were overshadowed by John Lennon and Paul McCartney. Musicians on the sessions included Beatles drummer Ringo Starr, keyboardist Billy Preston, guitarist Dave Mason and an uncredited Eric Clapton. Besides the original album's 23 songs, the reissue also contains an unused song from the sessions, I Live For You, different versions of the tracks Beware of Darkness and Let It Down, and a horns-heavy instrumental version of the single What Is Life. Harrison produced the album with Phil Spector, whose "Wall of Sound" technique, in which songs were given lush orchestral treatments, sounds outdated today, he now claims, but it worked well at the time. ALL THINGS MUST PASS ended up selling about three million copies worldwide. Harrison was later dragged into court when it was claimed that My Sweet Lord sounded a lot like the Chiffons' He's So Fine. He was judged to have unknowingly plagiarized the earlier song. Harrison's son, Dhani, a 22-year-old university student, plays acoustic guitar on the updated version, and is also helping his dad a little for an album of new material, Harrison's first since 1987's CLOUD NINE. Harrison said it would possibly come out next October or November (2001). He plays most of the instruments, with session drummer Jim Keltner, and has produced it himself so far, though may bring in an outsider for some finishing touches. A free agent, he has talked to a number of labels about distribution. Needless to say, the album will be computer-free. "My music doesn't seem to belong to any particular period," Harrison said. "I just make it the same way as we made it back in the sixties, which is analog tapes, microphones and guitars, bass, drums, pianos."
by Dean Goodman LOS ANGELES (Reuters), December 21, 2000

GEORGE & RINGO HELP JEFF LYNNE
George and Ringo appear on a new ELO album, titled "Zoom" which was released in April 2001.

ALL THINGS MUST PASS REMASTERED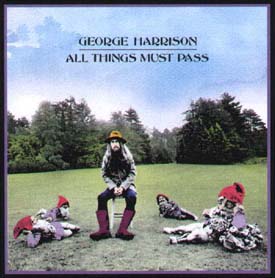 George Harrison's ALL THINGS MUST PASS has been restored with 4 previously unreleased bonus tracks added.
Harrison oversees re-mixing and writes liner notes to commemorate the 30th anniversary of his masterwork, containing the first #1 single ("My Sweet Lord") by a solo Beatle. "My Sweet Lord" reached #1 for the first time at Christmas of 1970. The album also reached #1 but was not the first one (MCCARTNEY was the first solo Beatles LP to reach the top spot).
The new reissue, a double-CD edition with Ringo Starr, Eric Clapton, Billy Preston, uncredited Phil Collins and others, is set for a January 23rd in-store date.

Sure to pique the curiosity of long time fans are the previously unreleased tracks, presented at the end of Disc 1:
"I Live For You," an out-take from the sessions that was not used which features Pete Drake on pedal steel guitar;
"Beware of Darkness," an alternate version of the song, "still missing a few lyrics," different from the take which was eventually included on the album;
"Let It Down," described as "the original guitar and vocal from the same tape as "Beware of Darkness" with a little overdubbing circa 2000";
"What Is Life," a rough mix of the backing track whose existence George had forgotten;
"My Sweet Lord (2000)," is an updated version which Harrison produced "to create something extra for the Anniversary issue."
Also evident in the track listing below, the "Original Jam" has been resequenced to follow the actual order of the original recordings. The original release was sequenced based on time limitations of the LPs.

ALL THINGS MUST PASS was produced by George Harrison and Phil Spector, was engineered by Ken Scott and Phil McDonald, and featured orchestral
arrangements by John Barham. Originally released as a triple-LP boxed-set in November 1970 on Apple Records, it was a monumental work that attracted some legendary players to the sessions that officially began on May 26th. Beatles drummer Ringo Starr was George's only former bandmate to attend, along with Apple artist Billy Preston on organ; long-time Beatles collaborator Klaus Voorman on bass; and Apple group Badfinger.
In the wake of Eric Clapton's 1969 busman's holiday U.S. tour with the Delaney and Bonnie Bramlett band (briefly attended by Harrison), the rhythm section of keyboardist Bobby Whitlock, bassist Carl Radle and drummer Jim Gordon had come to England to "hang out" (in George's words) with Clapton. Soon to re-emerge together in mid-1970 as Derek & The Dominos, all four joined the sessions for ALL THINGS MUST PASS. Although Clapton's work went uncredited on U.K. editions of the boxed-set for contractual reasons, his name did appear on the U.S. version and is rightfully restored worldwide on this anniversary edition.
Likewise uncredited at the time was a 19-year old Phil Collins, who would unofficially join the band Genesis in September 1970. A former child actor ("Oliver") who was in the TV show scene in the Beatles' 1964 film "A Hard Day's Night," Collins was at the sessions allegedly playing congas on "The Art Of Dying," according to Harrison's recollections thirty years later.
Among the other musicians on-board were Dave Mason (formerly of Traffic) on guitar, who had played one fateful benefit gig in June as an almost-member of The Dominos; veteran Nashville session ace Pete Drake, whose pedal steel guitar was the lynchpin of Bob Dylan's JOHN WESLEY HARDING album of 1967; tenor saxophonist Bobby Keys and trumpeter Jim Price, Delaney & Bonnie refugees and veteran sidemen better known for their near-30 year association with the Rolling Stones; Plastic Ono Band drummer Alan White, who went on to replace Bill Bruford in Yes in 1972; keyboardist Gary Brooker of Procol Harum; and New Jersey-born keyboardist Gary Wright, of Spooky Tooth and later "Dream Weaver" renown. Unfortunately, guitarist Peter Frampton is still uncredited for all his acoustic guitar work, which includes most of the tracks, especially the country-flavored tunes. Frampton was interviewed in a recent issue of Beatlefan regarding his session work on the album and talks about how he got involved working with Harrison.
ALL THINGS MUST PASS was also the first major indication of George Harrison's relationship with Bob Dylan. The album's opening track, "I'd Have You Anytime," was co-written by Harrison and Dylan. The album's sixth track, "If Not For You," was given to Harrison by Dylan, who recorded it on his own NEW MORNING album, released just a few weeks before Harrison's.
ALL THINGS MUST PASS is also unique for the all-star "Apple Jam" that occupied both sides of the third LP in the boxed-set. Consisting of five tracks that were recorded during the course of the album sessions, they were sequenced to accommodate the time-lengths of the vinyl sides. Once again, aficionados will appreciate that Harrison has restored them to their true sequence, so that the 11-minute "Out Of the Blue" - featuring Harrison, Clapton, his Dominos, plus Keys, Price, Wright, and visiting New York rock journalist Al Aronowitz - is now the fifth and closing track instead of the first.

ALL THINGS MUST PASS debuted on the Billboard Top LPs chart on December 19th. It hit the #1 spot on January 2, 1971. To date, the album is certified RIAA double-platinum in the U.S. and has sold more than three million copies worldwide.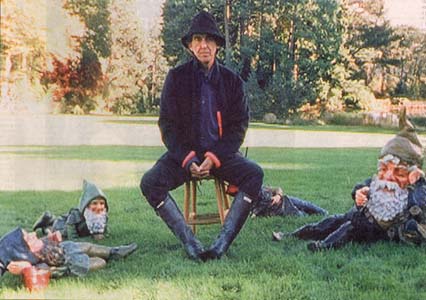 ALL THINGS MUST PASS
(Capitol 72435-30475-2-8)
Disc 1
01. I'd Have You Anytime (2:57)
02. My Sweet Lord (4:37)
03. Wah-Wah (5:35)
04. Isn't It a Pity (7:08)
05. What Is Life (4:22)
06. If Not For You (3:29)
07. Behind That Locked Door (3:05)
08. Let It Down (4:57)
09. Run of The Mill (2:51)
Additional tracks (previously unreleased):
10. I Live For You (3:36)
11. Beware of Darkness (3:20)
12. Let It Down (3:55)
13. What Is Life (4:22)
14. My Sweet Lord 2000 (4:58)
Disc 2
01. Beware of Darkness (3:48)
02. Apple Scruffs (3:04)
03. Ballad of Sir Frankie Crisp (Let It Roll) (3:46)
04. Awaiting On You All (2:45)
05. All Things Must Pass (3:44)
06. I Dig Love (4:54)
07. Art of Dying (3:37)
08. Isn't It A Pity (version two) (4:45)
09. Hear Me Lord (5:48)
Original Jam (resequenced):
10. It's Johnny's Birthday (0:49)
11. Plug Me In (3:18)
12. I Remember Jeep (8:05)
13. Thanks For the Pepperoni (5:32)
14. Out Of the Blue (11:13)
news from the official press release and Launch.com, December 8, 2000

For the 30th anniversary of "All Things Must Pass", the album has been remastered and will contain 5 bonus tracks: the outtake "I Live For You" [which sounds like a different take than the one appearing on various bootlegs] and alternate versions of "My Sweet Lord", What Is Life", "Beware Of Darkness" and "Let It Down". This will be released as a 2-CD set on January 23, 2001. The package will contain a 20 page booklet with notes written by Harrison himself, including why he chose these 5 bonus tracks, musicians who hadn't been credited previously (except Peter Frampton), and an essay about the making of the album.
news from ICE and Matt Hurwitz, updated November 16, 2000

JIM KELTNER ADDING DRUMS TO UNFINISHED HARRISON SONGS
Launch.com recently spoke to drummer Jim Keltner about recent session work he's been doing for George Harrison. He hasn't been inactive, as most people would think. Keltner told LAUNCH that during the past couple of years, he's gone over to England to help Harrison record a wealth of tunes that have been written for awhile but never recorded. "He started bringing stuff out of the vaults he wanted to actually finish," Keltner says. "There's a tremendous amount of stuff he hadn't finished, and I put drums on a tremendous amount of that stuff. Some of the songs I played on were absolutely wonderful, brilliant. I can't wait to see what he does with them. I don't know whether he'll have somebody help him produce or what, but I'm sure he'll come out with something cool." Harrison currently has no releases slated for the near future. As for the long-rumored Traveling Wilburys reunion, Keltner--who plays drums for that group as well--says, "I hear the same rumors you're probably hearing," but he adds that Harrison seems to be the member of the supergroup least interested in doing it at this point: "I think it really all comes down to George. When I talk to the other guys, Tom (Petty), Jeff (Lynne), and Bob (Dylan), they all sound like they're into it. George wants to sometimes, and other times he gets busy on other things."
story by Gary Graff, Detroit, posted September 1, 2000

GEORGE AND OLIVIA HARRISON VISIT IRELAND
Former Beatle George Harrison and his wife Olivia, pose Saturday, Jan. 15, 2000, while on vacation in Ireland. In his first statement, given exclusively to the Associated Press since being stabbed by an intruder, Harrison said, "Olivia and I are overwhelmed by the concern expressed by so many people. We thank everyone for their prayers and kindness."

GEORGE TO RELEASE NEW ALBUM IN 2001!
George Harrison is currently considering recording deals from major labels because he is in the final stages of recording a new solo album and is compiling a boxed set of his solo demos, outtakes, and previously unreleased recordings. Songs include "Valentine," "Pisces Fish," and "Brainwashed."
Meanwhile, ownership of Harrison's entire 1976-92 Dark Horse/Warner Bros. catalog has reverted back to him, including the two Traveling Wilburys albums he made with Bob Dylan, Jeff Lynne, Roy Orbison, and Tom Petty. Harrison is contemplating recirculating those mostly out-of-print recordings, with possible bonus tracks.
news courtesy of Billboard

NEW GEORGE HARRISON ALBUM TRACK PREVIEWED?
Arrow 93 FM reports that on December 2, 1998, George Harrison attended a show at New York's Bottom Line club by former Traffic members Jim Capaldi and Dave Mason. Even more significant, though, is that Mason and Capaldi performed a song called, "You Got A Hold On Me" which they said to be for Harrison's next solo album. "This is something special for someone in the audience tonight," Capaldi said. "I want him to hear it live so I could get his reaction. He is one of the greatest influences of my life. This is for you, George." The report said there was no word on Harrison's reaction.

Billboard interview with George Harrison (June 1999)

GEORGE BACK IN HOSPITAL FOR MORE TREATMENT
Details are sketchy, but an inside source indicates that George is back in the hospital in Rochester, Minn. (May 12, 1999) for more cancer treatment.

HARRISON PAYS TRIBUTE TO BRAZILIAN RACE CAR DRIVER
George's little help for a friend (2/19/99)
Unlike most of the news we print, this actually occurred in 1996, but it's something that we think hasn't been too widely known. So here it is, thanks to João Paulo Petersen in Brazil (thanks again, João):

In a rare TV appearance on October 31st, 1996, George Harrison sang! It happened on the now extinct Brazilian TV program on SBT TV, "Gente Que Brilha," ("People Who Shine"). The progam was about victorious career of the Brazilian race car driver Emerson Fittipaldi. Fittipaldi conquered Formula 1 championship twice and Formula Indy once. George and Emerson have been very good friends since 1973. In 1996, Fittipaldi suffered a serious accident on the race track. So Harrison did a video recording to this special program where he did a homage to his friend. George Harrison opened the doors of his castle in Oxfordshire, England. Sat down peacefully on a chair in his garden, holding a guitar he changed "Here Comes The Sun" words and sang and played:

"Hello Emmo,
You've been trough a difficult time.
In these last couple of months.

Hello Emmo,
So good to see you're again.
So let's go to the beach.
And drink 20 caipirinhas each.
It's alright.
Emerson, Emerson, Emerson, Emerson Fittipaldi.

Here comes the sun.
Here comes Emerson.
And I say.
We love you.
Emerson, Emerson, Emerson, Emerson Fittipaldi.

On the video recording George Harrison transmitted a final message to his friend Emerson: "Hello, Emerson. So nice to know you're well... and I look forward to seeing you. I'm sorry. I'm not in Brazil. The next time we go on holiday, we're gonna have a nice good time. Ok? Well, God bless you. Everybody in England loves you. All your friends. Olivia and Dhani are joining me to say congatulations on a wonderful recovery, a great life and more to come. We miss you."

João Paulo Petersen

GEORGE HARRISON MAKES RARE APPEARANCE IN P.S.A.
George made a rare U.S. TV appearance this month on a PSA, in which he urged viewers to "help keep music alive in our schools" by calling a toll-free number, 877-MR-HOLLAND.' "George is an icon. It's just a natural connection when you have someone whose music has influenced so many people," says the foundation's executive director Felice Mancini, the daughter of composer Henry Mancini.
George Harrison will be featured in a public service announcement to be seen at the end of the U.S. airing of "Mr. Holland's Opus," which airs on ABC Feb. 21 (7 p.m. ET/PT). The PSA, as they're known in the industry, is for the "Mr. Holland's Opus Foundation," which provides musical instruments and music instructors to schools. It was, according to the original report, recorded "very very" recently in Los Angeles. By the way, don't tune in for just the PSA. The movie is outstanding, and includes music by John Lennon.
[story from U.S.A. Today]

GEORGE VISITS VINTAGE GUITAR SHOP IN MINNESOTA
George bought 20 vintage instruments on October 20, 1998 at "Pete's Guitar" shop in St. Paul, MN. Among them were a ukulele, a Fender Telecaster and an amp.

GEORGE IS OKAY
George got a clean bill of health from his doctors in Rochester, Minn. in May 1998. The lump removed from his neck was not returning.

GEORGE HELPS BEATLES WIN STAR CLUB TAPES COURT CASE
George testified in court (May 6, 1998) on behalf of the Beatles and won the case vs. Ted "Kingsize" Taylor to stop any more releases and ban the sale of any discs of the Star Club tapes.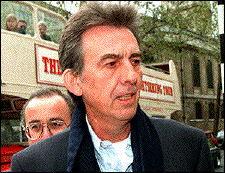 GUEST APPEARANCE ON RINGO'S VERTICAL MAN
George overdubbed slide guitar solos on "King Of Broken Hearts" and "I'll Be Fine Anywhere" on Ringo's new CD, Vertical Man, out since June 16, 1998.

TRIBUTE TO CARL PERKINS
George performed Your True Love at Carl Perkins' funeral on January 23, 1998, which lifted everyone's spirits.


---
Send any contributions or feedback
© Copyright 1998-2004 Tom Brennan's Important Beatles News (TBIBN). All Rights Reserved.
If you copy something, please credit this page and put a link.
All trademarks used on TBIBN are the property of their respective owners.