© Copyright 1997 Mike Gibbins, ASCAP
© Copyright 1997 Richard Cranium Music, BMI
Forbidden Records FOR1962

Remastered version:
© Copyright 2001 Exile Music, Exivey Publishing, ASCAP
Exile Music (CDR)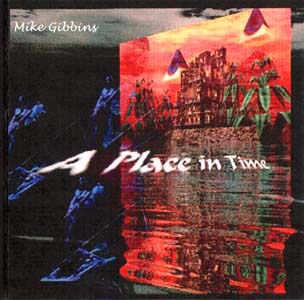 Remastered 2001 edition (Total time = 54:44):
Note: "Rocking The Boat" has been dropped, and 2 previously unreleased songs, "Believe Me" (not the "No Dice" song) and Bahamas" have been added.

The tracks:
Overdue (4:58)
Sue Me (3:38) Key of E flat
Believe Me (2:24)
Bahamas (2:16)
Bad Boy Blues (2:37) Key of E
Picture Of You (3:23)
Layaway (4:36) Key of D
Please Please (3:23) Key of A
Day After Night (7:23)
Warcloud (3:01)
Egg (4:09)
Time In (4:20)
A Place In Time (8:29)


Original 1997 issue: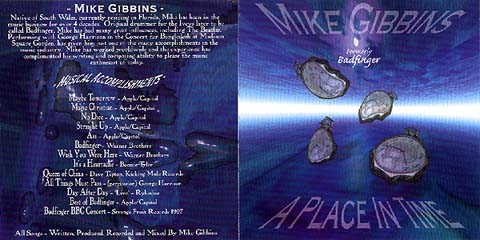 A Place In Time press release
A Place In Time marketing points
A PLACE IN TIME
(original issue) CD review by Tom Brennan

Mike Gibbins' first solo album, one and a half years in the making, was recorded at Exile Studio in Oveido, Florida on a digital 8-track recorder which Mike loaned from August Fritsch. Mike wrote, produced, recorded and engineered the album himself. Mike sings, plays drums & percussion, and plays all the keyboard parts. He is helped out on bass, guitars and backing vocals by Rick Warsing, who Mike discovered playing in a country band. Mike was impressed by his guitar playing and asked him if he was interested in listening to some demos he had recorded, intended for other artists to cover. Rick was impressed and he and Mike's styles worked well together. The thing that Mike likes best about Rick's guitar playing is that he's very accurate and he doesn't jam or improvise too much. Indeed, Rick is excellent. Being a Badfinger fan, Rick plays in that style very well. Mike himself is an excellent drummer & percussionist and an underrated Rock 'N' Roll piano player. Mike says that after a lot of tracks were recorded, it started to sound like an album, so he decided to put it out himself. A Place In Time is the result, Mike's first solo album ever, and it has a lot of catchy tracks. It's just too bad that Mike had to wait 23 years to put one out. Let's go through the songs one-by-one...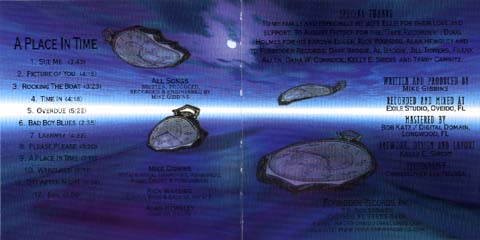 The tracks:
Sue Me (3:43) Key of E flat
This upbeat, angry, opening track starts off with a drum fill from Mike. It was written by Mike as a result of Joey threatening to sue the other members of Badfinger (or their estates) over the Day After Day, live in Cleveland, Ryko CD. The track features Rick's guitar playing and Mike's drumming, containing a lot of musical changes, but is weak lyrically. This song songs like it evolved out of the instrumental track Warcloud, which appears later on the CD.

Picture Of You (4:15)
This tearjerking ballad features Mike on piano. Mike puts in a very impressive vocal performance here. At times, he sounds like Bob Dylan. This is my favorite track. It's an excellent song that could be a hit if recorded by another artist. It's just too bad that it's lacking a third verse and a bridge section. The piano introduction by Mike is excellent.

Rocking The Boat (3:23)
Another upbeat, bouncy track that has hit potential. This features Mike on piano.

Time In (4:18)
This is one of the weaker tracks, although the lyrics are pretty good. A medium tempo ballad featuring Mike on piano and Rick on guitar. This track features the only guest musician, Alan Hewgley, on Mouth Harp.

Overdue (5:22)
This rocker by Mike is probably the best track on the disc, although that designation could go to Layaway as well. It features wailing guitar by Rick Warsing and solid drumming by Mike. The guitar riff in this song is very catchy and the lyrics are excellent.

Bad Boy Blues (2:35) Key of E
This 12-bar blues, featuring Rick on slide guitar, is a song Mike says has been around for a couple of years, a self-indulgent track that he finally got around to recording. This style seems to suit Mike pretty well.

Layaway (4:32) Key of D
This upbeat, catchy song by Mike is most fans' favorite track from this disc. It comes crashing in with heavy drums & guitar and delivers excellent lyrics, including Mike's message to Pete Ham including song title references. Mike's singing is excellent, as is every other aspect of this song. If you have to play one track from this disc to someone as a sample, this is the track. This is a remake of a song Mike released in 1996 on a compilation CD called Young Savage Florida.where the lyrics were somewhat different.

Please Please (3:20) Key of A
Another one of the weaker tracks. It features Rick on bass guitar.

A Place In Time (7:50)
This slow track (the longest on the disc), featuring Mike on piano & percussion, is his look back into his past. It includes a joke reference to Badfinger's former roadie Nicky Bell.

Warcloud (2:58)
This instrumental track started as a drums & guitar jam between Mike and Rick, which Mike later wrote lyrics to and became Sue Me.

Day After Night (7:28)
This track was obviously influenced by Pete Ham's Day After Day. With it's slide guitar part played by Rick, the track succeeds despite all the references to the Badfinger song because of Mike's excellent writing & singing and Warsing's excellent guitar playing. This song turns out to be one of the highlights of the disc.

Egg (4:08)
This track features Mike "rapping" and playing piano and synthesizer. It's too bad this nice instrumental ballad was wasted with such throwaway lyrics, and I'm stretching the definition of lyrics here. This song should have been left as an instrumental or held back for a future CD until some good lyrics could have been added to it.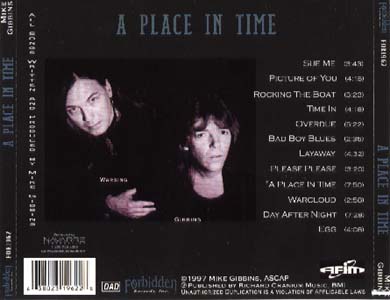 All songs written, produced, recorded & engineered by Mike Gibbins

The band:
Mike Gibbins: vocals, vocal harmonies, keyboards, piano, drums & percussion
Rick Warsing: guitar, bass, & backing vocals
Alan Hewgley: harp on "Time In"

Special thanks:
To my family and especially my wife Ellie for their love and support. To August Fritsch for the "tape recorder", Doug Holmes for his garden edger, Rick Warsing, Alan Hewgley and to Forbidden Records: Dave Brodie, Al Brodie, Jill Towers, Frank Allen, Dana W. Cornock, Kelley E. Sirios and Terry Camnitz.

Recorded & mixed at Exile Studio, Oveido, Florida

Mastered by: Bob Katz/Digital Domain, Longwood, Florida

Artwork, Design and Layout by Kelly E. Sirois

Photography by Christopher Lee Helton
---
© Copyright 1998-2015 Tom Brennan's Badfinger Library. All Rights Reserved.
Reproduction in whole or in part in any form or medium without permission is prohibited.
All trademarks used are the property of their respective owners.