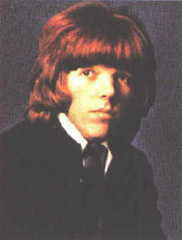 compiled by Tom Brennan
last updated: March 08, 2015

Michael George Gibbins of Swansea, Wales was born on March 12, 1949. His father bought him his first drum kit at age 14, a "Gigster". His first bands were The Club Four (an instrumental group) and The Misfits (a Rock 'N' Roll band). A local beatnik businessman called "Schmoo" told The Iveys that Mike would be available as The Misfits were breaking up, so he gave Mike's address to Ron Griffiths. Mike or "Micky" auditioned and joined The Iveys at age 16, in the Spring of 1965, replacing Terry Gleason. The Iveys became Badfinger in November of 1969 and the rest is history. Mike passed away unexpectedly of a brain aneurysm in his sleep on October 4, 2005.
biography information from the unfinished autobiography of Mike Gibbins

Mike Gibbins & family news & features | concert performances | session work for others | producing others

official web site for Mike Gibbins: MikeGibbins.com

Mike Gibbins and sons CDs are available from CDBaby.com
---
Mike Gibbins solo recordings & CD releases
Solo sessions (1972)

[unreleased]

Dream Harder

charity CD single
---
Iveys-era demo song titles by Mike Gibbins are from Dan Matovina's biography, Without You-The Tragic Story of Badfinger
---
other solo Badfinger pages:
Pete Ham Tom Evans Joey Molland Bob Jackson Ron Griffiths Dave Jenkins

© Copyright 1998-2015 Tom Brennan's Badfinger Library. All Rights Reserved.
Reproduction in whole or in part in any form or medium without permission is prohibited.
All trademarks used are the property of their respective owners.