Mike Gibbins & family
news & features
last updated: October 19, 2014

tOCK: reverbnation.com/tockusa
The Seven Sisters: myspace.com/thesevensisters | Dan Matovina interviews
Carnevil: myspace.com/wearecarnevil
David Gibbins (big gib): myspace.com/big_gib
News:
tOCK
The tOCK album, "I Don't Care" was released in 2013 and is available from CDBaby.com.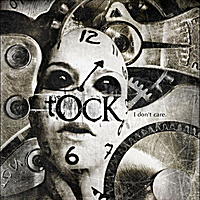 Here is the track listing:
01. I Don't Care
02. Cold Comfort
03. Sleep With One Eye Open
04. I've Seen
05. Wood Field
06. Outwardly
07. Clarity
08. Could This Be The Day
09. Signal Sender
10. Loneliness The Sage
11. Riot Of The Sane
12. Swan Song
13. Headbutt The Sun

Album notes:
tOCK pushes riff based anthems with singalong choruses, drifting from rock to thrash and everything in between.

The new band is a 3-piece Metal band consisting of all 3 Gibbins brothers:
Owen Gibbins: vocals, guitar
David Gibbins: bass guitar
Adam Gibbins: drums

Their debut song & music video, "I Don't Care" is on YouTube.

Comments from Owen (March 21, 2011):
My project is called tOCK and it's just a one man thing.

Comments from Owen (April 27, 2011):
"We shot the video for this track over the weekend. Even though I write all the music, my 2 brothers are on bass and drums for live situations. I had access to a high speed camera. The end results were really interesting. Seeing a cymbal hit at a 1000 frames per second in HD is beautiful. The whole thing flexes like a living thing, and you can see the wood chips flying off the sticks. We got pretty savage with it. Ended up cracking the cymbal and breaking sticks. All on film of course...haha."
posted May 28, 2011, updated October 6, 2013


SEVEN SISTERS UPDATE
The latest line-up for 2009 for The Seven Sisters is:
Danny Johansson: vocals, vox, keyboards, harmonica
Adam Gibbins: drums
Sandy Cruz: bass guitar
Matt Von Grass: guitar

They also have a new song on their MySpace page called "Academia Nut."


THE SEVEN SISTERS
Mike Gibbins' three sons are in a Rock group called, The Seven Sisters. Their new CD is called "Falling" (released in 2006) and is available on CDBaby.com. They also have a myspace page, http://myspace.com/thesevensisters.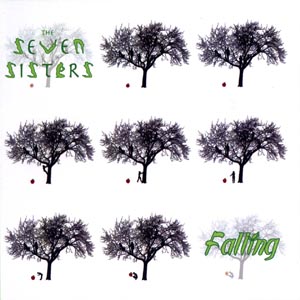 CD details:
01. Sure
02. Pillows
03. Where
04. Windy Days
05. Climber
06. Jackie O My God
07. Eternal Summer
08. Rest Now Roman Soldier
09. Faith Saves
10. Honey
11. 50 Milligrams
12. Sienna

The Seven Sisters are (on the CD):
Danny Johansson – vocals, keyboards, harmonica
Adam Gibbins – drums
David Gibbins – bass
Owen Gibbins – lead & rhythm guitar
All songs written by Danny Johansson – mixed by Owen Gibbins – recorded at Mike Gibbins studio in Florida.
"This album is dedicated in Loving Memory of Mike Gibbins – drummer of Badfinger. Without his continued support and confidence in all of us as musicians this project may not be what it is today. We Miss You….Dad and Mentor."


MIKE GIBBINS PASSES AWAY IN HIS SLEEP
It is with shock and deep sorrow that I have to announce the sudden passing of Iveys/Badfinger drummer Mike Gibbins. He died in his sleep on the morning of October 4, 2005.

His son Owen: "I needed to post my thoughts the day after the passing of my dad. I am still in deep shock from him leaving me so early and so suddenly. He was and is my hero and he was a constant source of laughter, support and love. He was talented, a complete original and someone who is irreplaceable. Luckily, he does leave me with Ellie, my step mother and my two younger brothers who I love every bit as much as I loved my dad. And in my brothers I see a big part of him, both in their eyes and in their actions, so he will always live on both through his music and through them. I love and miss him too much."

Bob Purvis (of the Dark Horse Records duo, Splinter): "I worked with Mike for about a month in 1972. Mal Evans was my manager and Splinter did not exist yet. Marilyn (my wife) and I hung out with him. We wrote a couple of songs. One was 'I Need Some Help To Get Along', which I wrote most of, but Mike played piano on it. Pete was quite impressed with that one and, 'Hey Cowboy', which was more of Mike's. He recorded them in a studio in Wilsden and I remember getting my first session fee for singing on 'Hey Cowboy'. There was another two tunes we were working on but nothing ever came of them; Splinter took off and we never kept in touch. We both have fond memories of Mike, Golders Green, and his new Rover car that he was driving without passing his test! Our sympathies to all of his family. He was a very sweet guy."

As a tribute to Mike, here is the personal fact sheet he filled-out for "16" magazine
and a radio interview he did for WXEN radio on December 1, 1970
Dan Matovina's tribute to Mike


MIKE GIBBINS SIGNS WITH DREAMSCAPE RECORDS
Dreamscape is pleased to announce the signing of Mike Gibbins, the former drummer for the group Badfinger. Mike's first CD for Dreamscape will be a double CD set to be called "Come And Get It." Keep on checking back for the CD's release date.
thanks to W. Christian Treiber, October 13, 2003


IN THE MEANTIME
Mike Gibbins has re-recorded his classic Badfinger song "In the Meantime" for his new CD as well as a remake of "Come And Get It", released on May 15, 2003. See below for details.


ARCHEOLOGY
The third solo release from Gibbins has just been released in May 2002. It's called Archeology and features the same musicians Mike has worked with before like Rick Warsing and Ron Griffiths, but this time has the addition of an electric violin player, Rick Weidley which adds a new dimension to Mike's sound.
As always, it can be purchased online from Exile Music at www.mikegibbins.com.
posted May 26, 2002


A NEW PLACE
Mike Gibbins' first solo CD, "A Place In Time" has been re-released on CDR on his own Exile Music label. The sound is greatly improved over the original Forbidden Records release. Not only is it remastered, it sounds like additional overdubs may have been added in some places ("Sue Me" backing vocals for example), and some tracks have been drastically remixed (for the better) with an overall improvement in production quality. Also, some tracks have been either shortened or lengthened as a result. One track, "Rocking The Boat" has been dropped from the original issue, but two additional tracks, "Believe Me" and "Bahamas" have been added. For more details, follow the "A Place In Time " link towards the bottom of this page. To order the CD, go to MikeGibbins.com.


DREAM HARDER
Mike Gibbins: "This song was written with the memory of a historical war which won America's freedom. I now feel that it is appropriate to release this single as America's freedoms are being threatened. I dedicate this song to the people of America."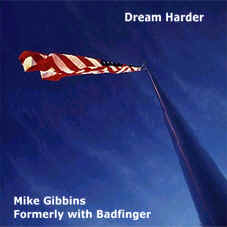 Following the tragic events in the US over recent weeks, Mike Gibbins has decided to put his efforts into releasing a CD single: "Dream Harder", a new version of the song he released in 1996. All profits from the sale of this CD will be donated to the American Red Cross. Recorded in Exile Music's new premises, Mike again is joined by Rick Warsing on his first release for almost a year. Paul Chapman plays lead guitars, Rick Warsing is on bass guitar and acoustic guitar and Mike Gibbins is on piano, drums and vocals. Although the time printed on the label says 6:46, the song is actually only 3:57. The disc time is actually 4:38 with the balance of the time being blank space. Please purchase this CD for $7 (plus shipping and handling) to help the American Red Cross help America. Order here: http://www.mikegibbins.com/
posted September 25, 2001, updated October 6, 2001


BRAND NEW INTERVIEWS WITH MIKE GIBBINS AND RICK WARSING
Dan Matovina's webpage has brand new interviews with Mike Gibbins and guitarist Rick Warsing conducted by Dan himself.
posted August 20, 2001


MIKE GIBBINS AT BEATLEFEST IN NEW JERSEY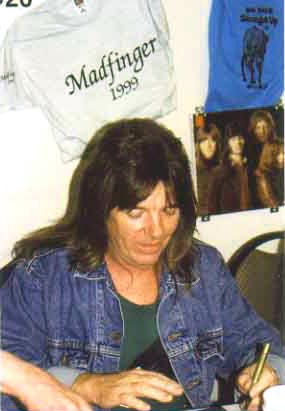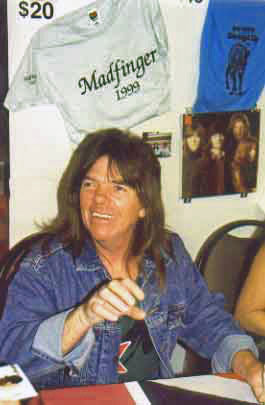 Mike Gibbins appeared all weekend (March 16-18, 2001) at Beatlefest in New Jersey. Mike and Ellie Gibbins were there to sell Mike's new CD, "More Annoying Songs". They also had a new suprise. A new t-shirt was for sale with the "Ass" on the front, with the phrase, "No Dice, Straight Up yer Ass" [see above photo in upper right corner], which were Tommy Evans' album titles for Badfinger's Apple albums all put together! Mike was willing to autograph the t-shirt as well as his CD. He was very generous signing any memorabilia that fans brought.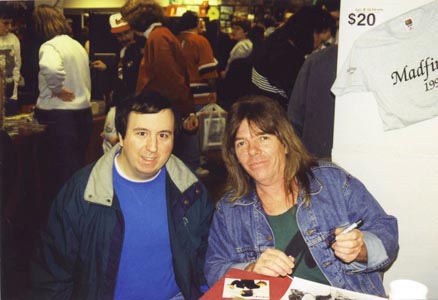 Tom Brennan and Mike Gibbins

I noticed a continuous flow of fans coming to talk to Mike, buy his CD, get his autograph, and listen to him tell Badfinger stories, including some fans from Japan. I asked him what the song "Dirty Old Bugger" was about from his new CD. He said it was just a joke song about going out on the town and getting drunk and having a good time. He said he wrote it as a spoof and sang it in a Cockney British accent. Mike wanted to jam on stage, but couldn't due to the fact he's a left-handed playing drummer and the kit was set-up right-handed.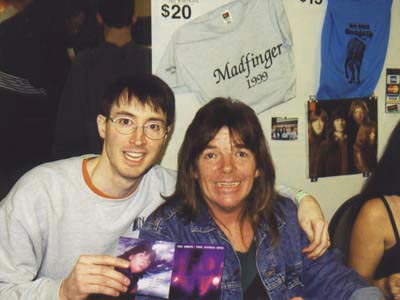 Paul Nyman and Mike Gibbins

Mike's wife Ellie was very charming as well and a pleasure to talk to. She told us about how they were disappointed about VH1 pulling off the Badfinger special after only a week, which hurt sales of the Very Best of Badfinger. She didn't really understand why the show hasn't been repeated. She also told us about her conversation with Todd Rundgren, and how he was really upset that he wasn't given the full credit he deserved on songs from Straight Up that were credited to George Harrison. This discouraged him from participating with VH1's Behind The Music and with Badfinger projects in general.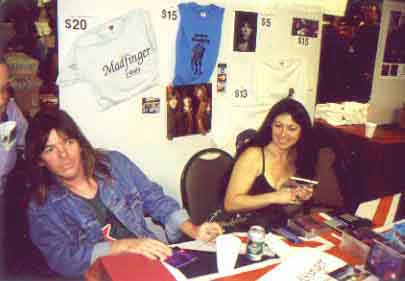 Mike and Ellie will be appearing at the next Beatlefest in Chicago in August 2001. Be sure to visit the Exile Music table and get his new CD if you haven't already.
posted, April 2, 2001, updated January 24, 2010


NEW CD PROJECT COMING FROM MIKE GIBBINS
Mike Gibbins is already planning his follow-up CD to "More Annoying Songs", which will be his 3rd solo release. He plans to record with Ron Griffiths again (who is due to come over in April, 2001), and also Bob Jackson who will contribute to the sessions when he has a break in touring with The Fortunes. Mike has also mentioned that he plans to release a CD of demos he recorded back in the '70s when he briefly quit Badfinger from June-September of 1972, as well as some of his other demos.
last updated: April, 2001


MIKEGIBBINS.COM
On September 27, 2000, mikegibbins.com went on-line, although the site is still incomplete. His second solo album, called "More Annoying Songs" which features Iveys member Ron Griffiths will be available starting October 31, as well as lots more including autographed t-shirts and a CD EP of songs he recorded with his son Owen. The website will feature excerpts from Mike's incomplete autobiography (with rare photos) as well as a forum to answer 5 questions a month at random from the fans. Owen is also the webmaster. The site was officially launched on October 10, 2000.
updated, October 11, 2000


MIKE PLAYS ON PAUL CHAPMAN SESSION
Mike plays drums on a new (and so far) unreleased track by guitarist Paul Chapman, called "The Bells of Berlin, Part II" (Chapman).


MIKE GIBBINS & SON (OWEN) RECORD TOGETHER
4:50 PM, Tuesday, October 12, 1999
Hey guys.
I'm Mike's eldest son, and recently stayed with him in Orlando, leaving Swansea, where it all began. I stayed for 7 months, and during that time he and I did 6 tracks in his studio together. I played guitar and bass and sung while he sat in on drums for me. It started off as a mess about, but then his last record label (Forbidden who released one of his solo CDs) offered to sign me. (I love nepotism) It all went to pot, as I had to sod off back to the U.K. as my VISA expired, so I could not work in the US. Just thought you might be interested in my band "Bedroom Boy" and if you want a CD, give us a mail. I'd like to test the waters before I send them off to record companies. Oh yeah, our sound is quite heavy and dark but still retains the classic Brit/Badfinger tinge, as I was brought up loving the stuff! The CD has the old man playing amazing drums, and is busier than anything he has previously done.

Cheers!
Owen Gibbins
thanks to BarbAlan Atkinson's Badfinger Boogie Club.


MADFINGER LIVE!
Mike Gibbins performed as "Madfinger of Badfinger" at a major outdoor festival in Orlando, Florida on April 10th, 1999. Mike performed with an all-star band including Paul Chapman of UFO, Ron Griffiths from The Iveys, Jack West from White Witch, Jill Towers, and others. The outdoor festival was located in Casselberry, Florida which is located in the north outskirts of Orlando. The venue was the Seminole Greyhound Park at the Seminole County Fairgrounds. Mike put on an excellent show and Ron Griffiths was in top form as well! Mike sang "Sue Me" and "Layaway" from his "A Place In Time" CD and Ron sang "Come And Get It". A guest musician sang lead on "No Matter What" and "Day After Day". Joey was glad to hear the show went well and he also thought it was cool that Ron did the reunion, as he thought Ron is a fabulous singer and bassist. Some videos of the show are now posted on YouTube [Two And Two | Oxydynamo | Come And Get It]. "Two And Two" and "Oxydynamo" were previews of his next CD release, "More Annoying Songs".
news thanks to Randy Justesen, updated January 14, 2010
---
Interviews:
INTERVIEWS WITH MIKE GIBBINS AND RICK WARSING
Dan Matovina's webpage has brand new interviews with Mike Gibbins and guitarist Rick Warsing conducted by Dan himself. Also, Dan has moved his Badfinger/Pete Ham website to a new location at:
http://www.mindspring.com/~crimson3
posted August 20, 2001

June 1, 2001 interview by Dan Matovina

Planet Jani interview with Mike (December 2000)

September 26, 1998 interview by Sean Siever
---
back to Mike Gibbins Library

© Copyright 1998-2015 Tom Brennan's Badfinger Library. All Rights Reserved.
Reproduction in whole or in part in any form or medium without permission is prohibited.
All trademarks used are the property of their respective owners.