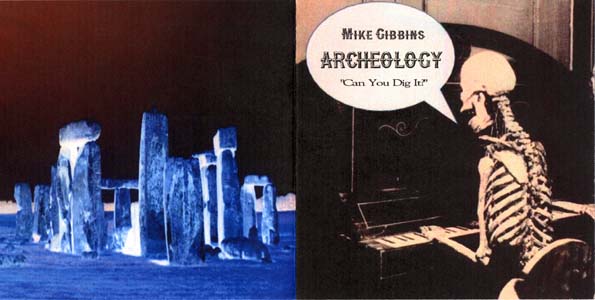 Mike Gibbins' third solo album was released on May, 2002 on Exile Music (no catalog number listed).

The band:
Mike Gibbins: vocals, piano, drums
Rick Warsing: guitars, bass
Ron Griffiths: lead vocal on "Sad The Clown"
Rick Weidley: electric violin on "Heavy Weather" and "Listen To Me"
Paul Chapman: guitar on "Dead Ratz" and "Dream Harder"

Recorded at Exile Music, Orlando, Florida
All songs written and produced by Mike Gibbins, except "Dead Ratz" written by Rick Warsing/Paul Chapman/Mike Gibbins

Track listing (total time is 39:52):
1. Heavy Weather [6:12]
2. To The River [5:55]
3. Listen To Me [6:19]
4. Sad The Clown [4:36], lead vocal by Ron Griffiths
5. Dead Ratz (instrumental featuring Paul Chapman) [2:51]
6. The Golden One [5:53]
7. Dream Harder [remake] [4:05]
(previously released on a charity single after 9-11-01)
8. Love Is Lookin' Over Me [3:55]

The tracks:
Heavy Weather
This track goes on way too long, much like "Wired" from "More Annoying Songs", and there's not much of a melody. The lyrics are irritating with most lines ending in "-er". It does have some interesting bits though, like the variable speed voices and it has a nice violin solo by Rick Weidley.

To The River
This is a solo ballad about rejection by Mike on piano.

Listen To Me
Another piano number. This is one of the highlights of the CD. It also features electric violin. The lyrics are very interesting with titles or lyrics from other songs weaved into the song, like: "Drive My Car" by The Beatles, "American Pie" by Don McLean, and "Money For Nothing" by Dire Straits.

Sad The Clown
This track comes from the session that created "Wired" from the "More Annoying Songs" CD. You can hear that track being reprised during this song with its "moving on the wind" and "higher and higher" lyrics. It has been reported in interviews with Mike that "Wired" was a really long track and this was the latter part of it. Any track featuring Ron Griffiths is always welcome. Another highlight of the CD.

Dead Ratz
This is a really excellent rockin' guitar instrumental which features Paul Chapman, who also played on "Dream Harder".

The Golden One
This is a pretty complex song with two distinct sections. The lyrics give the impression that they are aimed at Joey Molland, but I'm sure that will be the subject of many debates among Badfinger fans.

Dream Harder [remake]
This is the commercial sound of all the songs. This is a remake of a track Mike recorded for a charity in Florida in 1996. It was first released in 2001 as a Red Cross charity single to benefit victims of the 9-11 terrorist attacks. This version is "heavier" and has more instruments than the original version from 1996.

Love Is Lookin' Over Me
This is a another solo ballad by Mike on piano. This song doesn't really work. The lyrics are full of too many clichés, especially in the second half of the song.

Comments:
Overall, this is a good CD but not nearly as strong as its predecessor, "More Annoying Songs". Its title implies that these were leftover tracks "dug up" from the sessions for the previous CD. The track "Sad The Clown" tends to prove this point. The addition of electric violinist Rick Weidley brings a unique sound to some of the tracks which I like and Paul Chapman's excellent guitar playing is also very welcome to have on this CD. This CD is for Mike Gibbins completists only.
---
© Copyright 2003-2015 Tom Brennan's Badfinger Library. All Rights Reserved.
Reproduction in whole or in part in any form or medium without permission is prohibited.
All trademarks used are the property of their respective owners.