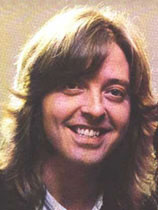 compiled by Tom Brennan
last updated: October 28, 2014

Joseph Charles Molland of Liverpool, England was born on June 21, 1947. He taught himself piano at age 7 and picked up his first guitar at age 11. His first group as a teenager was called The Assassins. In the early 1960's, he played in a Chuck Berry cover group called The Profiles. In 1964, he joined The Masterminds, making his first record in 1965. In 1966, he was recruited for a group called The Fruit Eating Bears, backing The Merseys on tour. In 1967, he moved on to The Crying Shames for a short time, then he successfully auditioned and joined Gary Walker & The Rain, who became very popular in Japan by 1968. After they broke up in May 1969, Joey joined Badfinger in November of 1969 (as they were in the process of changing their name from The Iveys), replacing Ron Griffiths, eventually quitting the group in November of 1974 over business differences. He was a member of Natural Gas from 1975-1976, but eventually reunited with Tommy Evans in 1978, but they split again for good by 1981. Joey now records and tours as a solo act and plays occasionally as Joey Molland's Badfinger.

biography information from Dan Matovina's "Without You, The Tragic Story of Badfinger"

official site: www.badfingersite.com
myspace page: Badfinger (Joey Molland)
---
Joey's solo albums:

After The Pearl [1983] reissued: November 24, 2014 [sample recording of Mean Jemima]

The Pilgrim [1992] reissued: October 20, 2014 [sample recording of Vampire Wedding]

Timeless (EP) [1996] [sample recording of Mirrors]

Basil (Joey Molland: Demos Old And New) [1998] reissued: May 5, 2014 [sample recording of What You're Doin']

This Way Up [2001] reissued: January 27, 2014 [sample recording of Another Honeymoon]

Return To Memphis [2013] released: February 5, 2014 [sample recording of Build A Ship To Mars]

Joey Molland song listings with lyrics
---
Joey Molland News:
ALL OF JOEY'S SOLO ALBUMS REISSUED BY GONZO
In 2014, all of Joey Molland's solo albums have become available on CD, released by Gonzo Multimedia in the U.K. On January 27, 2014, the 2001 album, This Way Up was reissued. On May 5, 2014, the 1998 release originally title Basil, but renamed as Joey Molland: Demos Old And New was reissued. On October 20, 2014, the 1992 album originally released by Ryko, The Pilgrim, was reissued. On November 24, 2014, Joey's first solo album, After The Pearl, from 1983 was reissued and released for the first time ever on CD.


RETURN TO MEMPHIS RELEASED IN 2013
On December 2, 2013, Joey Molland released his 4th solo album, "Return To Memphis" on UK's Gonzo Multimedia, although it actually didn't become available until February 5, 2014. The new CD features ten Molland compositions recorded at Royal Studios in Memphis, Tennessee, and was produced by Carl Wise. Says Joey: "There are no real Badfinger power chords or anything like that. No real jamming guitars...well...maybe a little bit, and I do play some slide on it... Carl had four girls come in to sing 'oohs' and 'aahs' and harmonies which was great, and I played with a three-piece Memphis rhythm section. So it's a really simple sounding record." Some of the new songs originate from the demo recordings that were done back in 2007.


NEW MOLLAND RECORDINGS FOR 2007
On http://www.myspace.com/badfingerjoeymolland (as of January 26, 2011), Joey Molland & The Echo Boys have 6 new original songs posted, called "Still I Love You", "Hero", "Nothing's Forever", "This Time", "Walk Out In The Rain", and "Yesterday". You can play the full recordings online.
updated January 26, 2011
As of October 26, 2014, only four songs remain on the myspace page: "Rain" (5:29), "Hero" (4:01) and "Yesterday" (4:08) by Joey Molland & The Echo Boys, and a demo of "All I Ever Dreamed" (4:33).
updated October 26, 2014


NEW CHRISTMAS CD COMPILATION INCLUDES JOEY MOLLAND SONG
Not Lame Recording Company has released a Christmas CD compilation called, "Hi-Fi Christmas Volume 2". It includes the Joey Molland Christmas song, King Of Kings, that was produced by the Mollands in 2004 and previewed on their website.
The CD is selling for $10. Proceeds from the label that released this go to support research for Von Willibrand`s disease, a rare bleeding disorder that is poorly funded. Additionally, Not Lame will donate $3 on each sale of this release to this cause.
Artists appearing are; Sketch Middle, The Elvis Brothers, The Grip Weeds, The Bradburys, Joey Molland, Lisa Mychols & Wondermints, Rob Paravonian, Jeremy, Ed James, Husky Team, The Spongetones, Gary Pig Gold, Dipsomaniacs, October Elsewhere, Mari Pavelich, The Brothers Figaro Orchestra & Marti Jones.
thanks to Dan Pavelich, posted December 7, 2006


NEW CHRISTMAS SONG FROM JOEY
Joey has recorded a new Christmas song, available for mp3 download from www.joeymolland.com starting in December 2004. The title is "The King Of Kings".


NEW VIDEOS FROM JOEY
Joey's video for "Isn't That A Dream" has been completed and the next one will be for the excellent track "A Way To Be".
posted April 14, 2002


THIS WAY UP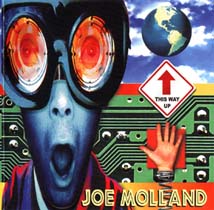 His first solo CD since 1992. This Way Up was released on July 17, 2001.
The track listing is as follows:
01. Mirrors
02. Happy
03. A Way To Be
04. The Bust
05. This Must Be Love
06. Moonlight
07. Another Honeymoon
08. When I Was A Boy
09. Angels Like Us
10. What Else (Nothing)
11. Tell Me
12. Three Minute Warning
13. Isn't That A Dream?

older THIS WAY UP news:
The still untitled 3rd solo album is making good progress in the studio as final tracks and fine tuning are being done with the songs that were recorded with the Echo Boys over the past 1-2 years. Work is being completed at Badfinger bassist Mark Healey's Aurora Borealis Studios. Mark is engineering and helping to produce the final tracks in his state of the art studio in Minneapolis, Minnesota. Songs worked on during November 26, 1999: "Mirrors", "Angels Like Us", and "The Way To Be".
story courtesy of Randy Justesen, updated November 29, 1999

There are over 16 songs recorded for Joey's new CD project. With the current touring winding down, Joey plans on going in to the studio to do the finishing touches on the basic tracks which have all been completed. Mark Healy, Badfinger's bass player and owner of Aurora Borealis Studios will be engineering and assisting with the final stages of this project. Word is that the intention now is to have this completed and out by Christmas this year. Joey has decided not to close on any current offers from prospective record labels and will release this CD through his own label Independent Artists. This is excellent news, as delays caused from waiting for interested labels to get off the fence are no longer an obstacle. The music is incredible and is definitely some of the best Joey has ever written. As we get closer to a firm release date, I will post more details on the songs.
story courtesy of Randy Justesen, updated October 23, 1999

Joey previewed a new song at the San Diego Beatlefair in July 1998 from his upcoming solo CD of all new material. He performed It's A Bust on acoustic guitar. Other new songs completed so far: This Must Be Love, Love Can't Hide, 3 Minute Warning, When I Was A Boy, and Nothing. Two songs just recently recorded (Spring 1999) are: The Way To Be and Tell Me. A total of 14 songs have been completed by Joey, and he is awaiting a decision by the record company.
news courtesy of Randy Justesen, Spring 1999


JOEY'S BADFINGER ROCKS NEW HAMPSHIRE
Joey Molland's Badfinger played the Hopkinton State Fair in Contoocook, New Hampshire on August 31, 2001, although the show almost didn't happen, click here for the full story...


NEW INTERVIEW WITH JOEY
Planet Jani interview
posted April 14, 2000


JOEY MOLLAND'S BADFINGER, 1999 SUMMER U.S. TOUR
Joey Molland's Badfinger (Joey Molland, Mark Healey and John Richardson) played two 45 minute sets at the Cinedrome Niteclub in the Grand Cedar Hotel at Foxwood's Casino in Ledyard, CT on July 24, 1999. Here is the set list from the first performance that lasted from 10:30 PM to 11:15 PM. Because of the shorter set times, Joey wasn't able to play any new songs or as many solo songs, and relied heavily on classic Badfinger songs. More details and photos below...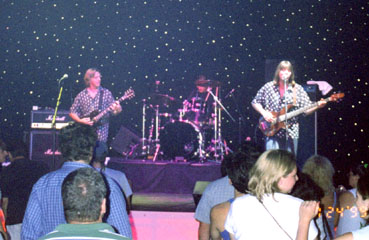 1st set (10:30-11:15 PM):
Come And Get It (except for ending)
I Don't Mind
Great harmonies between Joey and Mark on this.
Suitcase
Joey introduced this as: "a song about being on the road."
Baby Blue
Joey mentioned Pete Ham as the writer.
Midnight Sun [Mark Healey on lead vocal, Joey on backing vocal (see small photo above)] [large photo]
Joey asked the audience if they ever heard of The Magic Christian album before this song. Joey messed-up the solo on this otherwise good performance.
The Dreamer
Very nice version of this track from Airwaves.
Moolah Rey
This really rocked.
Day After Day [small photo] [large photo]
Joey mentioned (the late great) Pete Ham as the writer again. Joey's voice can never handle this song very well.
Happy [small photo] [large photo]
Joey described this as "a new song, but it's not really new." He also called it a political love song and joked about how the fat ladies in the casino can't stop playing the one-armed bandits (slots) and so they have to have the stool removed from their butts because they're sitting down too long. This song really rocked also.
No Matter What
No More [small photo] [large photo]
Joey commented that he "learned this song in Miami 50 years ago", referring to the Say No More sessions in Florida in 1980.
Come And Get It (ending only) [small photo] [large photo]

2nd set (12:00-12:45 AM) [incomplete listing, not necessarily in this order-thanks to Lew Bundles]:
Vampire Wedding
Long, Long Way Back Home
Andy Norris
Joey accidentally introduced this as a song off the Ass LP (instead of the first Warners LP).
Name Of The Game [acoustic version]
Sweet Tuesday Morning
Money/Flying
No Matter What
Baby Blue


SWEET BASIL TOUR
Joey Molland's Badfinger (Joey Molland, Mark Healey and John Richardson) completed their "Sweet Basil" tour of Japan in March of 1999. A live CD may be released in the future from these shows.


BASIL CD
The CD features demos he made for Badfinger from 1972-1973 as well as other recent previously unreleased recordings. Note that this CD was not mastered. It was copied directly to CD from the original demo tapes, so the quality varies greatly from track to track.


MERRY CHRISTMAS REISSUED
The compilation Missing Children Minnesota including Joey's Merry Christmas (Follow Your Star) has been reissued on CD.