Gary Walker & The Rain

Library
compiled by Tom Brennan
last updated: December 11, 2007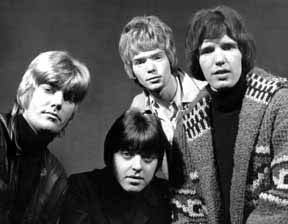 left to right: John Lawson, Joey Molland, Paul "Charlie" Crane, Gary Leeds (Walker)
photo thanks to Chris Walter
thanks to Bryan Waller and Dan Matovina for image scans
Gary Walker & The Rain (Autumn 1967-Early 1969)
Gary Leeds (Walker): drums, vocals
Paul "Charlie" Crane: rhythm guitar, piano, lead vocals (Dec. 1967-1969)
Joey Molland: lead guitar, vocals
John Lawson: bass guitar
Mike Williams: rhythm guitar (Autumn-Dec. 1967)
Gary Walker's official website | Gary Walker's myspace page
singles discography | Album No. 1 | live appearances | photo gallery
---
NEWS
Stefan Granados, author of "Those Were The Days, an unofficial history of The Beatles Apple organization 1967-2002", and producer of two Apple Publishing demo CDs on the British RPM Records label, has written a 6000 word feature cover story on Gary Walker & The Rain for the January/February 2008 issue of the U.K. music magazine "Shindig!" (http://blog.shindig-magazine.com/news.php?flash=1). It includes new interviews with Gary Leeds and Joey Molland plus some new information from John Lawson. There are also many previously unseen pictures from Gary Walker & The Rain's 1968 Japanese tour.
Gary Walker & The Rain's one and only album will be seeing its first official U.K. CD release on Bob Stanley's Eclipse label in January or February of 2008.
---
BIOGRAPHY
The first published research of Joey Molland's background with the group, Gary Walker & The Rain, came to light through the publication of the book, "Without You: The Tragic Story Of Badfinger", written by Dan Matovina. I requested some info on the group from Dan and he gave me permission to present this complete book excerpt of his coverage. Dan added some other outtakes of his research at the end.
FROM THE BOOK, "Without You: The Tragic Story Of Badfinger":

Joey received a call from a friend who told him that Gary Leeds of The Walker Brothers was looking to form a band. Leeds wanted to audition him. Joey: "I told the guys I had to see what this was all about. I took my guitar out of the van and walked all the way to his house, from Marble Arch, through Shepherds Bush, to Chelsea. It was quite a walk. I didn't have any money. I got there and he said, 'well, look at you,' and I said, 'yeah, look at me, man.' He said, 'can you play guitar?' I said, 'yeah.' He said, 'can you play guitar like Eric Clapton?' I said, 'yeah.' I lied through my teeth. I told him, 'I'd like to do it. I can sing. I'm a great singer and everything else. Give me the job. I want it. I need it.' So he gave me the job and a £20 note. It was amazing. Gary always had these fresh £20 notes in his pocket."

Gary Leeds, also known as Gary Walker, had been a member of The Walker Brothers, achieving great fame in Britain. His new group featured himself on drums, Joey on lead guitar, ex-Universals, John Lawson on bass, and ex-Crying Shame, Charlie Crane, on rhythm guitar. They had an instant record deal and were soon situated in actor Peter Finch's old house in Knightsbridge.

After a few weeks of rehearsals, the band did a British tour in support of The Kinks, The Herd, and several other acts. At one point, they recorded a single, Spooky, which was soon to be a big American hit for the Classics IV. "That was given to us by Roy Orbison's dad," said Gary Walker, "I knew Roy from touring with the Walker Brothers."


Disc & Music Echo
February 24, 1968

Joey: "We (recorded) it at Pye studios. Scott Walker produced it. He was known as a fabulous musician who had perfect pitch. When I did the solo on Spooky, Scott said, 'That was a really great flatted ninth, Joey.' It was a real crack-up."

The song came out on Polydor Records. On February 17, 1968, Melody Maker's Chris Welch reviewed the single: "It's Gary Walker's cover of the American thing. I don't really react to it. I don't see why it was such a hit in the States. A certain amount of atmosphere, but its success is inexplicable... might be a hit because of Gary's name."

It was a hit, but not in Britain. The Japanese, big-time supporters of The Walker Brothers, pushed Spooky to number three in their national charts. "They wanted us to tour right away," said Gary Walker. "We only had three weeks to write & record an album."

The band's rhythm guitarist, Charlie Crane (then called Paul Crane) remembers the studio sessions, which were produced by Fritz Fryer of The Four Pennies: "It was very much Beatles-influenced. The psychedelia period was influential." Joey added: "We were doing things like sticking screwdrivers in the tape machine and moving the head about to get sounds."




For example, on the song Magazine Woman, whistling phased distortion coats the entire track, and a cover of Leiber & Stoller's If You Don't Come Back has a wild flanging sequence, plus a lengthy stretch of squealing guitar feedback.

Crane especially enjoyed the light-hearted song Market Tavern (which he claims he and Joey wrote together). "That was where we used to rehearse," he said. "All of the people we talk about in the song actually were in the pub, 144 York Way, just like it says. We used to play bar billiards with them. Maude was the landlady. She'd drink gin constantly; day in, day out. We gave them an acetate to play in their jukebox and they loved it. Simple townies, now megastars in London!"

The band was pleased with the results, but there was barely time to think. At completion, the group was immediately flown to Tokyo, Japan, with their new road manager, Brian Slater. The ex-Mastermind had previously helped Joey by giving him places to stay whenever he was in Liverpool. Joey turned him on to the road gig as a favor.

When the group arrived, hundreds of fans were waiting at the airport. The band members were flabbergasted, except for Gary Walker, who had dealt with this before. Said Crane: "We didn't realize how big we were until we got there. They showered us with gifts. We wanted to go to the zoo and they closed the zoo down for us. We wanted to go to a discotheque, so they opened one up, and hired in a crowd!" At one gig, Joey ripped his jeans. "You wouldn't believe it," he said, "within minutes, a woman was sent to sew it up. It was all very organized."

The album, Gary Walker & The Rain Album #1, had been rushed out. It eventually became a big hit in Japan, as did a couple of singles from the LP. The group triumphantly returned home. "We came back and the album still hadn't been released in Britain," says Crane, "That was a big letdown."

The band continued with more U.K. gigs, and it was at De Montfort Hall in Leicester that a tragedy nearly struck. "It was a soundcheck," remembered Crane, "and Joey leaned forward and grabbed the mic. His guitar strings touched the stand. He went purple! You could see he was getting a shock," said road manager Slater. "He started to shudder across the stage. I ran to the main power box and ripped all the wires out of the wall." Added Crane, "Brian Slater saved his life. I thought Joey was a goner. His hands were badly burned."

Joey shook it off and continued to play. Dead skin had to be constantly trimmed, but nothing could keep him down. It was Crane who took blame for eventually stopping the band's progress. "It was probably my fault," he says. "I grew tired of staying up till four-in-the-morning. I quite liked daylight. I fell in love and my one thought became my girlfriend."
The group did release one more single in Britain, Come In, You'll Get Pneumonia, a cover of an Easybeats song. Gary Leeds admits: "It was a bit over the top. We used Joe Cocker's back-up singers, Sunny and Sue. The '1812 Overture' is in there. We had no luck with it at all." Melody Maker reviewed it on January 11, 1969, indicating, "This complicated arrangement won't help their popularity problem in Britain." By May, the group had broken up.

BONUS interview with Charlie (formerly Paul) Crane conducted by Dan Matovina:

"What Ever Happened To Happy was introduced to us by our producer (Fritz Fryer). We didn't write that song but we loved it. If we were going to do a cover, that was it."

"Francis was written by Joey and me in Liverpool. We took the song to the other guys and we all elaborated on it. The songs got so much better after the band put their stamp on them. The guitar was amazingly raucous on that. Joey played a Gibson guitar with a Vox amp."

"I think Joey was playing some other song in the studio and John started jamming. We started singing, If You Don't Come Back. It was happening, so we quickly recorded it. John Lawson sang the vocal. We added and added and it made it onto the album."

" I Promise To Love You was about a girl I ended up marrying."

"Spooky and our other two singles went top three in Japan. Originally, we were supposed to go over there as support for Scott Walker on a tour. Scott got ill and the promoter was obligated to return tickets, but we were so popular we went and only 15% had asked for a refund. It was total sell-outs."
---
Joey Molland Library
other solo Badfinger pages:
Pete Ham | Tom Evans | Mike Gibbins | Bob Jackson | Ron Griffiths | The Dodgers
please e-mail any contributions or corrections
© Copyright 1998-2015 Tom Brennan's Badfinger Library. All Rights Reserved.
Reproduction in whole or in part in any form or medium without permission is prohibited.
All trademarks used are the property of their respective owners.