The Masterminds Library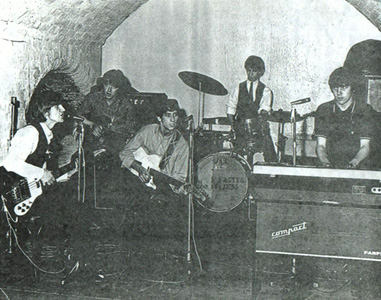 compiled by Tom Brennan
last updated: May 31, 2007

The Masterminds (1964-1966)
Joey Molland: guitar, vocals
Doug Meakin: guitar, vocals
George Cassidy: bass guitar, vocals
Chris Finley: piano
John Rathbone: drums, percussion
---
The first published research of Joey Molland's background with the group, The Masterminds, came to light through the publication of the book, "Without You: The Tragic Story Of Badfinger", written by Dan Matovina. I requested some info on the group from Dan and he gave me permission to present this complete book excerpt of his coverage.

FROM THE BOOK, "Without You: The Tragic Story Of Badfinger":

By 1964, the Liverpool scene had exploded and The Profiles were just one of three or four hundred other bands in town. "We were playing at night and I'd started working in the garage with my dad, brushing the forecourt and that. So, I was earning five pounds a week doing that and fifteen pounds a week in the group. The group meant more money for less work, so something inside of me said, 'Right, this is the life' and I went into music full-time."
It was at The Blue Angel club that Joey caught his first career break. "You had to be known at the door to get in. You'd go there after gigs, and people would get up and jam, have a drink and a laugh. I used to get up with them once or twice a week. There was a band there called, The Masterminds. I thought they were great. Brian Slater was the rhythm guitarist. He got a job driving a taxi and I took his place."
The Masterminds played a lot of rhythm 'n' blues and '50s rock, but it was their covers of an upcoming American singer-songwriter that led to their jump-start. Joey explains: "One night after The Stones had played at the Empire, they came down to The Blue Angel with their manager, Andrew Loog Oldham. They caught us doing Bob Dylan songs. We were about the only band in England that did them and that knocked Andrew out."
Oldham brought the star-struck teens into Regent Sound Studios in London to cut an Immediate Records single, "She Belongs To Me," a song written by Bob Dylan. [On the B-side was an original number, "Taken My Love," written by two members of the group, Doug Meakin and George Cassidy.] "London was magic," said Joey, "It was the first place I'd been where you parked under the ground. We checked into the Madison Hotel and they have these rooms with eight beds. We freaked out to hear ourselves on tape. Then we played Ready! Steady! Go! and The Stones showed. It was great."
But the single failed to chart and hard reality struck. Oldham never officially became their manager. The group ended up playing Liverpool clubs for a couple more years, receiving just an occasional out-of-town gig.
---
The Masterminds song listing:
She Belongs To Me (Dylan)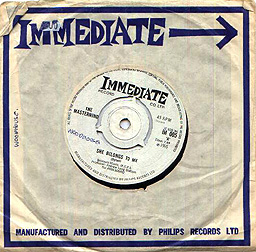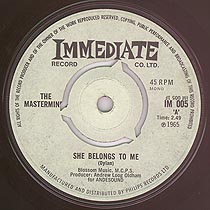 Taken My Love (Meakin/Cassidy)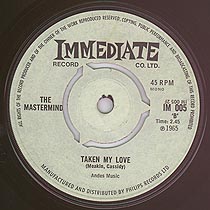 label scans thanks to Dan Matovina


---
Joey Molland Library
other solo Badfinger pages:
Pete Ham
Tom Evans
Mike Gibbins
Bob Jackson
Ron Griffiths
© Copyright 1998-2007 Tom Brennan's Badfinger Library (TBBL). All Rights Reserved.
Reproduction in whole or in part in any form or medium without express written permission is prohibited.
All trademarks used on TBBL are the property of their respective owners.