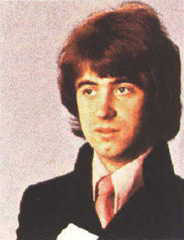 compiled by Tom Brennan
last updated: October 11, 2013

Ronald Llewellyn Griffiths of Swansea, Wales was born on October 2, 1946. He started his first band, The Jaguars, around 1963. After playing at a wedding reception, Pete Ham and Alwyne Jenkins asked him to join their band, The Wild Ones. Ron thought of a new name for the group to go with the new line-up, The Iveys. This was 1964. Ron remained with The Iveys until he was pressured out in October 1969 by Tom Evans and Bill Collins for having a wife and baby living in the same house with the band. Ron regretfully resigned from the music business and got a regular job to support his family. Ron has retired (as of November 28, 2008) from his engineering position at British Telecom of over 37 years. He still plays the bass guitar occasionally.
biography information from Dan Matovina's "Without You, The Tragic Story of Badfinger"

RON REUNITES WITH FORMER IVEYS BANDMATE DAVE JENKINS TO HONOR PETE HAM

On April 27, 2013, a tribute concert for Pete Ham took place in Swansea at The Grand Theatre, where former Badfinger member Bob Jackson fronted a group of former bandmates of Pete Ham and other local musicians. During the show, former Iveys members and close friends of Pete Ham, Ron Griffiths and Dave Jenkins were featured in a set of Iveys & early Badfinger songs. They performed: "I Believe In You, Girl," "Midnight Sun," "Man Without A Heart," "Dear Angie," "Blodwyn," and "Come And Get It." Ron sang lead on all the songs, except "Man Without A Heart," and gave lengthy introductions to each with background history.
posted September 22, 2013
---
SONGS BY RON GRIFFITHS
(click on links for lyrics)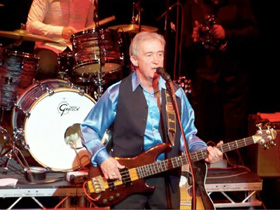 Ron Griffiths is only known by most Badfinger fans because of his Iveys song "Dear Angie" and his solid bass playing, but Ron contributed a lot more to the group than most people realize. He also sang lead on Pete Ham's song "Sali Bloo" and other unreleased Pete Ham compositions. He was also supposed to sing lead on Ham's song "Midnight Sun" but missed the chance because of his illness with the chicken pox. In addition, he contributed greatly to The Iveys' vocal sound, supplying an important part to their 3-part harmonies, as well as being able to sing in many styles with a wide vocal range. He sang harmonies to Tom Evans' lead vocals on the hit songs, "Maybe Tomorrow" and "Come And Get It". Below is a partial list of Ron Griffiths' contribution to The Iveys vocally and from his songwriting.

Ron Griffiths' compositions
Bittersweet Adieu [1968]
Cheated And Lied [1967]
Dan The Tic Tac Man [1967]
Dear Angie [1968]
Drink, Drink, Drink [1966]
Give It A Try [co-written with The Iveys, 1969]
How Much Is The Sky? [verses by Pete Ham, chorus by Ron Griffiths, 1967]
I Believe In You, Girl [late 1966]
Kaleidoscope Eyes [first composition, 1966]
Love Means Happiness [1967]
Mr. Strangeways [1967]
Tube Train [1967]
Turn On Your Loving Mood [first verse written with Bill Collins, 1966]
White Collar Worker
Words With You

Ron Griffiths' lead vocals
Bittersweet Adieu
Cheated And Lied
Dear Angie
Don't Let Me Be Misunderstood
Give It A Try
I Believe In You, Girl
Mr. Strangeways
Nobody [verse 2]
Permissive Paradise
Proud Mary
Sali Bloo
Sausage And Egg [verse 1]
Summer In The City
Surrender Your Love
Turn On Your Loving Mood
Taxi
The Way You Do The Things You Do
You Can All Join In [verse 1]

Iveys songs released by Apple Records that Ron Griffiths performs on
Maybe Tomorrow
And Her Daddy's A Millionaire
Dear Angie
No Escaping Your Love
See-Saw, Grandpa
Beautiful And Blue
Think About The Good Times
Yesterday Ain't Coming Back
Fisherman
Sali Bloo
Angelique
I'm In Love
Knocking Down Our Home
I've Been Waiting
Mrs. Jones
Looking For My Baby [demo - real title: "Hi-Fi Piddly Po"]
Come And Get It
Carry On Till Tomorrow
Walk Out In The Rain
Give It A Try
Storm In A Teacup
Arthur

Iveys songs released by Apple Records that Ron Griffiths DOES NOT perform on
Rock Of All Ages
Crimson Ship
Midnight Sun

Iveys songs released by RPM Records that Ron Griffiths performs on
I'm Too Shy
Tube Train
She Came Out Of The Cold
I've Been There Once Before
Black & White Rainbows
Girl Next Door In The Miniskirt
Tomorrow's Today
Mr. Strangeways
Bittersweet Adieu
How Does It Feel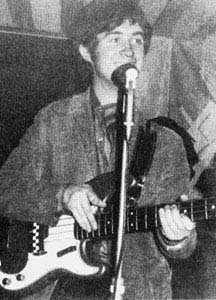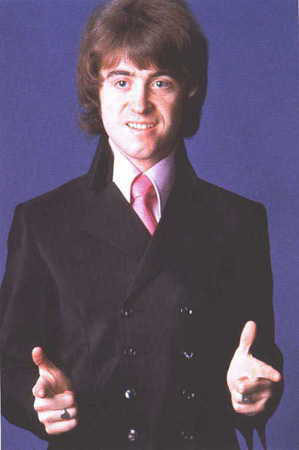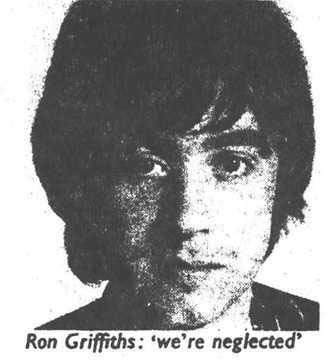 ---
Interviews:

RON INTERVIEWED BY AXEL KORINTH FOR HIS UPCOMING BEATLES BOOK, "RUBBER SOUL" (written in German)

Axel: Ron, the band signed to Apple as The Iveys. Before The Beatles, there were The Kinks being interested in the band. Please tell me a short story about Ray Davies and his attitude towards the Iveys.

Ron: Ray Davies became aware of the band because when we were working with David Garrick (our excuse and reason for turning professional) the agency he worked for was the same as The Kinks at that time.The feller in charge was named Robert Wace; we supported them on a couple of gigs, and got to know them. As a result, Ray became aware of the demos we had been recording at home.He then took us into a small studio in South London where we "cut our teeth" as recording artists.

Axel: After releasing one album as The Iveys, Neil Aspinall came up with the name Badfinger. What was your opinion towards that new name?

Ron: I was never too struck with the name; some names are great, but at the end of the day it is just a label for a marketable product.

Axel: Your first big hit was "Come And Get It", written by Paul McCartney. Did Paul or another Beatle write any other unreleased songs for you?

Ron: To my knowledge, no.

Axel: "Come And Get It", of course, was also the theme for the "Magic Christian" movie. You left the group before the release of the "Magic Christian Music" album. Do you know if it was Ringo who made it possible for you to write and produce the music for the movie?

Ron: Paul McCartney was responsible. The deal was: "You can record 'Come and Get It' provided you do two other songs." You realize I was on "Come And Get It" and "Carry On 'Til Tomorrow"....? The album was released shortly after I went. They tried to market it as a 3-piece band.

Axel: Some people thought that Badfinger was a pseudonym for The Beatles playing "Come And Get It". Was it a compliment for you or not?

Ron: I would have preferred to have not been tagged as under-study Beatles... but a back-handed compliment I suppose!!!

Axel: Please tell me one or more stories about touring with Badfinger. How did the audience accept you?

Ron: Most places audiences were appreciative, bear in mind, I had left the band and was not able to gauge what it felt like to be a hit maker in front of adoring fans.

Axel: You left Badfinger in late 1969. What was the reason? Did you ever regret that decision?

Ron: Tommy Evans made it virtually impossible for me. I was married with a young son. Tom would have his albums on at silly early morning times and wake the baby. This caused friction between Maureen (my then wife) and created a bad atmosphere. He convinced the others I was not one of the boys any longer, and I was ousted.

Axel: How was the climate in the group?

Ron: Until Tom rocked the boat, everything was fine. (ask Mike)

Axel: Did drugs play a role for Badfinger?

Ron: To a minor degree up to my departure. At the end of the day, it was booze which was the killer.

Axel: What, to your opinion, went wrong with Badfinger and finally led to the two suicides?

Ron: Bad management, ridiculous time-scales from Warner Brothers to produce albums "to order". I 'll never understand Pete taking his life, but Tom was a depressive character.

Axel: There was a petition on the internet for the release of a Badfinger outtake boxset. Is there a lot of unreleased material you played on? Are there any unreleased tracks with contributions by a Beatle? Would you like such a boxset to get released?

Ron: The unreleased material is rough demos from the early days, which Dan Matovina is attempting to market as soon as possible. I do not know of any material with input by any of the Fab Four.

Axel: Did you meet a Beatle again after leaving Badfinger?

Ron: No.

Axel: And your old bandmates?

Ron: I have seen Mike several times socially - a couple of times on U.S. soil; did a charity gig in 1999. Bob Jackson is in regular touch. I am hoping to contribute to a solo project he is doing.

Axel: What are you doing now? Do you have any plans of releasing music?

Ron: I have worked as a telephone engineer for 31 years. I have played in a variety of local bands, from Irish C&W to Jazz. I have never done any thing creative since I left the band end of '69. That may change if I ever buy some recording gear. My last claim to fame was one of the local bands I was playing in had a bit part in the 1st wedding in "Four Weddings And A Funeral" marquee scene... don't blink!

"Rubber Soul - The Beatles' Songs And Records" is a profound look at the Beatles as musicians. Every song, every British, every American record release, all the Beatles' guest appearances on other artists' records and solo projects up to the departure will be discussed. Furthermore, "Rubber Soul" will include images of all British and American Beatles records from 1958 to 1970. The book is written in German by Axel Korinth and will be released in the near future.

You can contact Axel at landvogt@tiscali.de


RON INTERVIEWED BY SWEET FLORAL ALBION WEBSITE
SWEET FLORAL ALBION ~ " a switched-on mag for switched-on people " ~ is the world's only e-zine devoted to all the day-glo aspects and technicolored manifestations & machinations of BRITISH PSYCHEDELIA ~ music, literature, fashion, art, & other groovy scenes. It is issued monthly. Subscription available from sweetfloralalbion@hotmail.com ~ is totally FREE baby!
Interview by Mark A. Johnston (from Issue 21)
posted September 5, 2003


---
News:
OPEN LETTER FROM RON GRIFFITHS
Link here for an open letter from Ron Griffiths to all.
posted February 21, 2011


RON'S VOCAL FOR "COME AND GET IT" SURFACES!
On a new Beatles double-CD bootleg release surfacing in January of 2009 called, "Revolution take... your knickers off!", 26 takes of The Iveys recording session with Paul McCartney for "Come And Get It' has come to light. A surprise recording appeared among the numerous attempts at recording a backing track. On take 21, Ron Griffiths was allowed to try singing lead on the song to see how he would sound compared to Tom Evans. This vocal was not recorded onto a finished backing track (it was an overdub onto the best backing track up to that point, take 20), so it was never considered for possible release. This finally verifies at least part of the story that Ron Griffiths has told many times about how Paul McCartney asked three members of The Iveys to each try to sing lead on the song. Check it out. Paul McCartney comments at the conclusion, "We'll let you know Ron, who's better."
posted February 16, 2009, updated March 1, 2009


RON RETIRES FROM BT
On November 28, 2008, Ron retired from his engineering position at British Telecom after 37+ years.


RON SINGS WITH BOB JACKSON AT THE 2006 SWANSEA BADFINGER CONVENTION
At the end of Bob Jackson's solo performance at the 2006 Badfinger Convention in Swansea at The Dragon Hotel, he said that Ron Griffiths should be up here playing. He called Ron out of the audience to perform on "Come And Get It." Unfortunately, he didn't bring a bass guitar and efforts to find him one all day failed. So, without any instrument, Ron introduced the song by telling the story about how Paul McCartney had all the members of The Iveys audition to be the lead singer on "Come And Get It". Tom ended up the winner of course, with Ron being rejected for sounding like Reg Presley of The Troggs! Ron did an excellent job singing with Bob, even playing air-bass at various points during the song! And of course, Ron got the audience to sing along, especially on the "Sonny" parts. After the performance, the audience demanded more but unfortunately there was no more time left on the reservation of the room.[Complete 2006 convention coverage]


SAD THE CLOWN
Another Mike Gibbins song with Ron singing lead has been released. This time on Mike's 3rd solo CD release, titled "Archeology" released in May 2002. This song was leftover from the "More Annoying Songs" sessions for the song "Wired".


RECORDING WITH RAY DAVIES
Ron talked to mikegibbins.com about the Iveys' first recording session with Ray Davies of The Kinks producing.
link posted, October 11, 2000


MORE ANNOYING SONGS
The tracks Ron recorded with Mike Gibbins in 1998 were released on Mike's second solo CD called, "More Annoying Songs" on October 31, 2000. Ron appears on two tracks: singing lead on "Time Will Tell Us" and singing backing vocals on "Oxydynamo"


MADFINGER LIVE!
Mike Gibbins performed as "Madfinger of Badfinger" at a major outdoor festival in Orlando, Florida on April 10th, 1999. Mike performed with an all-star band including Paul Chapman of UFO, Ron Griffiths from The Iveys, Jack West from White Witch, Jill Towers, and others. The outdoor festival was located in Casselberry, Florida which is located in the north outskirts of Orlando. The venue was the Seminole Greyhound Park at the Seminole County Fairgrounds. Mike put on an excellent show and Ron Griffiths was in top form as well! Mike sang "Sue Me" and "Layaway" from his "A Place In Time" CD and Ron sang "Come And Get It". A guest musician sang lead on "No Matter What" and "Day After Day". Joey was glad to hear the show went well and he also thought it was cool that Ron did the reunion, as he thought Ron is a fabulous singer and bassist. Randy has Madfinger photos posted on his page.
news thanks to Randy Justesen

WHAT RON'S BEEN DOING SINCE THE IVEYS
Ron recently (1999) answered e-mails from Iveys/Badfinger fans. Here's what he had to say:
"For those of you who do not know I have been working for B.T.(Britain's main telecommunications company) for the past 28 years. I have continued to do gigs with small bands in small clubs and bars on a semi regular basis.The nearest I have come to stardom was not so long ago-a band I was in at the time (THE WRIGHT BROTHERS) had a small part in what was to become a very successful movie... 'FOUR WEDDINGS AND A FUNERAL.' If you look at the first part of the film we are the band in the first wedding,but don't blink or you'll miss it!!! On the personal front my marriage to Maureen (Angie from the song) sadly broke up. Thanks to her I have a son Jason who is married to Michele and they presented me with a Grandson. I also have a daughter Kirsty, my Grandson thanks to her is Lewis. She lives with her partner Keith. Something which should be mentioned is how completely overcome I am by all this mail and interest you have all shown in the band and myself, I thank each one of you so much for mailing me your greetings and thoughts."

IVEYS MEMBERS REUNITE
Ron has been working on new songs with Mike Gibbins (week of July 20, 1998). He stayed with Mike for 2 weeks and contributed lead vocals on one song, backing vocals on another song, and also bass guitar. In addition, he contributed lyrics to some songs.