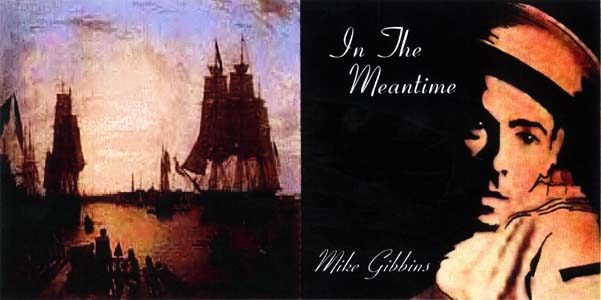 Mike Gibbins' fourth solo album was released on May 15, 2003 on Exile Music (no catalog number listed).

The band:
Mike Gibbins: vocals, keyboards, drums
Rick Warsing: guitars, bass (except "Come And Get It"); backing vocals on "Heaven Knows"
guest musicians:
Owen Gibbins: guitars, bass on "Beat You On The Draw"; guitar solo and the odd shread on "Come And Get It"
Sande Neske: backing vocals on "Come And Get It"
Tim Kelliher: guitar and acoustic bass on "Guillotine)
Marty Groody: penny whistle on "Grace Under Fire"
Rick Weidley: electric violin on "Toadstool"
Paul Chapman (as "Chappedfinger"): lead shredding (guitar) on "Come And Get It"

Recorded at Exile Music, Oviedo, Florida
produced by Mike Gibbins
mastered by Owen Gibbins
photo of Mike on tray and CD label by Paula Hinson
All songs written by Mike Gibbins, except "Come And Get It" written by Paul McCartney

Track listing (total time is 51:15):
01. In The Meantime (remake) [6:37]
02. Band Of Hope [7:35]
03. Guillotine [3:35]
04. Lean On Me [4:31]
05. Tonite [2:10]
06. Toadstool (drum solo) [4:19]
07. Grace Under Fire [9:18]
08. Heaven Knows [4:52]
09. Come And Get It (remake) [4:09]
10. Beat You On The Draw [3:58]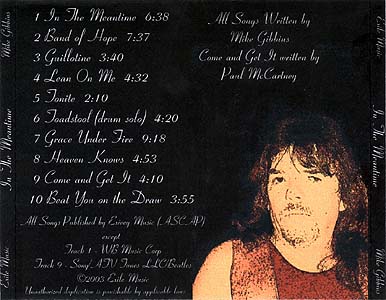 The tracks:

In The Meantime
This is a remake of the classic Badfinger song from the "Wish You Were Here" LP. An instrumental section closes the track in place of "Some Other Time" from the original Badfinger medley. This remake succeeds pretty well for the most part. It only falls short where Mike uses keyboards to replace the original orchestrations. A real piano would have sounded better also rather than an electronic imitation of one. Nevertheless, this is still a very enjoyable remake.

Band Of Hope
One of the stronger songs on the disc. An upbeat song which uses a lot of wordplay, like "Band of" vs. "abandoned". Nice guitar work throughout with different effects.

Guillotine
A typical blues number like "Bad Boy Blues" from A PLACE IN TIME. Nothing spectacular, but not bad either.

Lean On Me
Probably the weakest track on the disc. The lyrics are very simple and repetitive.

Tonite
This is the only ballad on the disc. A romantic song written on piano.

Toadstool
This is a drum solo that (based on Mike's choice of title) seems to be inspired by Ginger Baker of The Cream. Rick Weidley from the ARCHEOLOGY disc is featured here on electric violin.

Grace Under Fire
This is my favorite track on the disc. It's a lot of fun and it features the pennywhistle, which plays the melody of many different traditional songs throughout the track. Mike plays a marching beat on the snare drum during parts of the track.

Heaven Knows
The intro to this song made me think this was another remake of "Layaway". Another forgettable track which goes on way too long.

Come And Get It
A very different arrangement of this classic McCartney/Iveys/Badfinger song. You won't find the trademark piano sound here, only a collection of screaming electric guitar parts. Very enjoyable.

Beat You On The Draw
A very nice mid-tempo song which ends with a crowd cheering. Very tasteful guitar playing throughout the track which reminded me of the 70s.

Comments:
I enjoyed this disc more that the previous one, "Archeology". The CD starts out with a strong tune (being a Badfinger song doesn't hurt!), whereas the previous two CDs started with weaker, long & drawn out songs. Much better track sequencing this time around and a good variety of song styles.
Of his four CDs so far, I would rate this as 2nd best, behind "More Annoying Songs". I would recommend this CD just on its inclusion of the title track alone.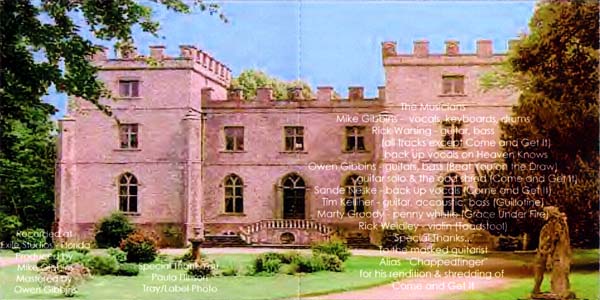 publishing:
track 1: by WB Music Corp.
track 9: by Sony/ATV Tunes LLC/Beatles
tracks 2-8, 10: by Exivey Music
---
© Copyright 2003-2015 Tom Brennan's Badfinger Library. All Rights Reserved.
Reproduction in whole or in part in any form or medium without permission is prohibited.
All trademarks used are the property of their respective owners.