Pete Ham
news & features
last updated: September 22, 2014
NEW PETE HAM MUSIC - KEYHOLE STREET
The first new Pete Ham music since 1999 will be released in April, 2013. It will be a limited edition 50-track 2-CD set of demos from 1966-1967, from the first 2 years that The Iveys lived at 7 Park Avenue in the Golders Green area of London. All fans are urged as soon as possible to make a pledge at www.pledgemusic.com/projects/peteham to support this release. If the goal is not reached, the release will not happen.
At the age of 19 and 20, Pete had recorded all of this set of demos at the band's London home. Recorded on a two-track Sound-On-Sound machine -- of which you could bounce back and forth to layer parts -- you hear in this 50-track collection, elements of classic balladry, Pink-Floydian psychedelia, rock 'n' roll tributes, R&B, Beach Boys type harmonies, interesting instrumental, music hall stereotypes, an Elvis tribute, blues, humorous lyrical content, Beatle-ish tracks, and a horror film soundtrack. Throughout this campaign, you'll also get free access to a 'Pledgers Only' backstage area, where you will have access to loads more content, such as streams of the music included in this release, images and information. Keyhole Street: Demos 1966-67 is a limited edition CD and it will only be available on PledgeMusic. We MUST reach the goal to get all of these items released. If we don't, the funds do not come through, so please encourage anyone you can to support the legacy of Pete Ham.
Pete was a pure artist. He never needed make-up, crazy clothes, studio gimmickry or any theatrical aspects to put his songs and talent across. He also cared deeply about the world and was a generous man that comforted many friends, but there was always a lot he kept inside of himself and some songs in this demo set reflect that. Pete was known as being very giving of his time. One example -- he often visited orphanages on off-time to lift the spirits of children, and he liked to make time for any kids around him. He was very attentive to his niece, Julie, and to Petera's brother, Blair (who was roadie Ian Ferguson and his wife, Anne's son). We've decided we will be contributing a portion in honor of Pete to the wonderful Local Aid Children's Charity of Wales, which is based in Swansea, South Wales.
The limited edition vinyl single A-side being offered, No, Don't Let It Go, is a demo made just before Pete's death. It relates to his inner anguish, as his mental state was crumbling at the time. He first made a demo lyrically citing his own pain, but changed the lyrics in a new version to appear to be himself offering advice to another. Even in dark despair, he couldn't fight against the bouncy beautiful melodies flowing out of him that he was so eager to express to the world. We're lucky to have uncovered some previously lost gems. This original vocal/guitar demo is augmented with drums/bass/organ; approached similarly to some of the 7 Park Avenue CD demos -- enhanced, but not losing the integrity. The B-side of the vinyl single is another overdubbed majestic ballad from 1972, You're Such A Good Woman. A number of musicians were enlisted to help with these two tracks (and others that are in the can for later release), including: Probyn Gregory/Nelson Bragg of The Beach Boys touring band; Jonathan Lea of Jigsaw Seen; solo artists Chris von Sneidern & Pete Fox; plus the extraordinarily-talented Mike Romanowski. Note that the Keyhole Street: Demos 1966-67 has no overdubs added after the fact.
The beauty of PledgeMusic is that no money is taken from your accounts until we reach the goal, but you must pledge to make this happen. Your credit card number or a PayPal account I.D. is taken initially. This campaign is available around the world. Please tell your friends of Pete Ham and why it is important to support this campaign. Thanks again for all your support over the years.

Update - This was released in April, 2013 as a limited edition 56-track 2-CD set.


PETE HAM MEMORIAL UNVEILING
On the morning of April 28, 2013, a new granite monument for Pete Ham will be unveiled at the Morriston Cemetery in Swansea. Fans and admirers are invited to pray for Pete's soul and come to pay their respects.

BLUE PLAQUE CEREMONY & TRIBUTE CONCERT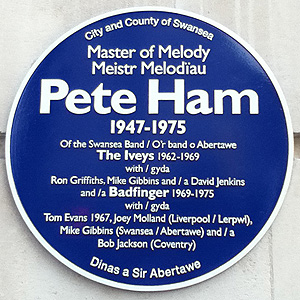 On April 27, 2013 at 1:00 PM, a Heritage Blue Plaque will be unveiled at the Swansea Railway Station on Ivey Place commemorating Pete Ham and his bands, The Iveys & Badfinger. There will be ceremony booths and festivities at the event outside the Swansea Railway Station. After the plaque ceremony at 4:30PM, a Pete Ham tribute concert will take place at The Swansea Grand Theatre. The concert, organized by ex-Badfinger member Bob Jackson, will include ex-Iveys singer & bass guitarist Ron Griffiths, ex-Iveys rhythm guitarist David Jenkins, and other special guests.

PETE HAM & SPLINTER
In 1973, Pete Ham played guitar on a Splinter session for the demo version of "Lonely Man" (known as "Another Chance That I Let Go"). This was being done for the soundtrack of the film "Little Malcolm And His Struggle Against The Eunuchs" that George Harrison was financing. This recording has never been available, but luckily copies of the recording session photos taken at Apple Studios have become available from the collection of Splinter songwriter Bob Purvis.

PETE HAM CELEBRATION
Dan Matovina has taken time out from his hectic schedule to get some comments from those friends and relatives of Pete Ham who attending the opening of the Pete Ham Exhibition in Swansea Central Library. Included here are comments and feelings from former Iveys members Ron Griffiths and David Jenkins. Jesper has comments from John Ham, Gaynor Gibbins, Bob Jackson and Bev (Ellis) Tucker on his Badfinger News page. There was an official photographer at the Launch night, but his photographs remain the exclusive property of Swansea Libraries and cannot be copied. Keith James: "I did take some pics myself and will be utilising them in my upcoming special on The Iveys".
updated July 3, 2000

FALLEN HEROES
In the August 2001 issue of GUITAR ONE magazine, Pete Ham is recognized in the article "A Tribute to 65 Fallen Heroes".
posted June 23, 2001

ROLLING STONE MAGAZINE REPORTS PETE HAM'S SUICIDE
Rolling Stone Magazine reported the suicide death of Pete Ham in their June 5, 1975 issue, over a month after the actual event which was early in the morning on April 24. The article lists the date as April 23.

---
Special thanks to Lisa for this article which examines Pete Ham's handwriting...

For the past year or so, I've been studying graphology in my free time. I recommend looking it up the next time you're in the library. It's a very interesting science. Let me warn you first that it can become dangerous. Sure you might start out analyzing your own writing.... but then you catch yourself looking a little too closely at the writing on the Christmas cards you receive. : )

When I first picked up my copy of Dan Matovina's "Without You: The Tragic Story of Badfinger" I began skimming through the intriguing collection of photographs. I came across Pete's handwritten lyrics for "Without You"(98) and "I Miss You"(229). Of course I jumped at the opportunity. At that point my knowledge of Badfinger only included little more than the knowledge of the band, their names and their music. I had yet to become acquainted with them as people. So I put the analysis findings aside... several were to be expected from a musician ("poetic" and "sensitive"), but as for the rest I could not prove or disprove any of them. I'd come back to it once I found time to start reading more of the book.

Now I've finally decided to start reading again and as I proceed I am continually shocked at how accurate graphology can be. Here is a copy of what I came up with, using terminology from the graphology reference book I was studying.

(in no particular order)
~Idealism
~Ethical principles are important
~Ambition, in more than two instances. One characteristic of his writing showed that he was "a person consumed by ambition, cannot be stopped".
~Optimism
~Ardor
~Enthusiasm
~Energy
~Vigor
~Resolution
~Boldness
~Caution
~Secretiveness
~Poetic
~Sensitive
~Signs of depression
~Lack of mental orderliness

(One confusing find was that his writing displayed "Identification with male role and denial of mother", while another showed a "return to mother figure".)

I have yet to find evidence for all the characteristics predicted by the analysis...but it is strangely accurate for the most part.
Comments?

Love is All You Need....
Lisa

---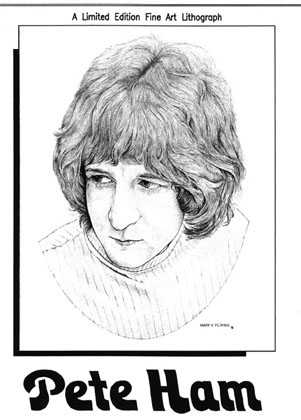 The Pete Ham & Tom Evans limited edition lithographs were drawn by Mark Perkins, out of his appreciation of The Iveys and Badfinger. It was his idea to help raise much-needed production money for potential Badfinger-related projects, to help with the further release of more Pete Ham demos, a Tom Evans demos CD, and an Iveys demos/live CD. 250 Tom Evans lithographs have been created. The lithographs are large, 17 1/2 by 24 inches, and are shipped out in a large tube. They easily flattens out. There are 1000 numbered Pete lithos - each with a certificate of authenticity. Another 100 artist proofs were created.

Every cent of profit is going toward creating future CD projects.

Please strongly consider buying these lithographs, which are amazing in their detail, much larger and even better quality than the representations shown here. The lithographs are collectors items that will greatly increase in value.

E-mail Mark Perkins for more info. For more information about other projects, visit Dan Matovina's page.
---
back to Pete Ham Library


© Copyright 1998-2015 Tom Brennan's Badfinger Library. All Rights Reserved.
Reproduction in whole or in part in any form or medium without permission is prohibited.
All trademarks used are the property of their respective owners.