TWO MAN BAND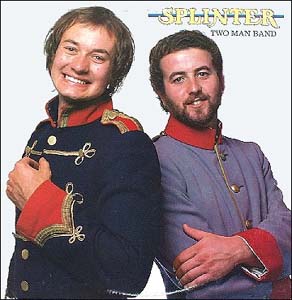 This is the 3rd released Splinter album and the first distributed by Warner Brothers Records. The cover photo with Bob and Bill in band uniforms was shot in London.
George Harrison hired songwriter Parker McGee (who'd written some hits for England Dan & John Ford Coley) to write some hits for Splinter on this album, but the singles ("Round & Round" and "Motions Of Love") still went nowhere in the charts. Despite this, "Round & Round" is still one of their best singles. Bob Purvis remembers a great song he had called "Rush Of Daily Life" that had to be sacrified from the LP due to the Parker McGee songs being included.

Catalog #: Dark Horse DH3073, released October 3, 1977 (U.S.) [ back cover | label side 1 | label side 2 ]
Catalog #: Dark Horse K56403, released October 7, 1977 (U.K.)
Catalog#: Dark Horse DH 56 403, released October 10, 1977 (West Germany)

YouTube lyric videos for Two Man Band LP

SIDE 1:
1. Little Girl [William Elliott & Robert J. Purvis] (3:15)
vocals: Bob Purvis & Bill Elliott
Bob Purvis: "Billy had the verses written to his tune. I wrote the middle tune (bridge) and lyrics with him and modulated the end."
2. Round & Round [Parker McGee] (3:12)
lead vocal: Bill Elliott
harmony vocal: Bob Purvis
slide guitar solo: George Harrison
synthesizer: Rod Argent
piano: David Briggs
3. Baby Love [Robert J. Purvis] (3:31)
lead vocal: Bill Elliott
harmony vocal: Bob Purvis
4. I Apologize [Robert J. Purvis] (4:35)
vocals: Bob Purvis & Bill Elliott
5. Black Friday [Robert J. Purvis] (2:58)
lead vocal: Bill Elliott
harmony vocal: Bob Purvis
Bob Purvis: "This was supposed to be done like a Tamla-Motown real ballsy groove."

SIDE 2:
1. New York City (Who Am I?) [Robert J. Purvis] (3:50)
lead vocal: Bill Elliott
harmony vocal: Bob Purvis
Bob Purvis: "It was written in New York in the San Moritz Hotel over Central Park."
2. I Need Your Love [Robert J. Purvis] (2:59)
vocals: Bob Purvis & Bill Elliott
Bob Purvis: "(The original title) Empty Cans And Everything was changed to I Need Your Love."
3. Motions Of Love [Parker McGee] (3:25)
lead vocal: Bill Elliott
harmony vocal: Bob Purvis
4. Silver [Robert J. Purvis] (3:16)
lead vocal: Bob Purvis
harmony & backing vocal: Bill Elliott
5. Love Is Not Enough (To Stay Alive) [version 2] [Robert J. Purvis] (4:01)
vocals: Bill Elliott & Bob Purvis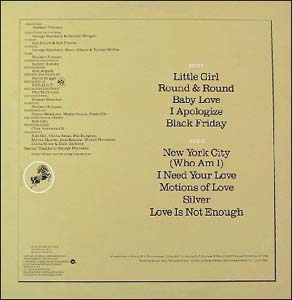 VOCALS: Bill Elliott & Bob Purvis
GUITARS: Steve Gibson, Parker McGee, and George Harrison
BASS: Norbert Putnam
SYNTHESIZER: Rod Argent
KEYBOARDS: David Briggs
DRUMS & PERCUSSION: Kenny Buttrey
STRINGS ARRANGED BY: David Briggs
SAXOPHONE & HORNS: Memphis Horns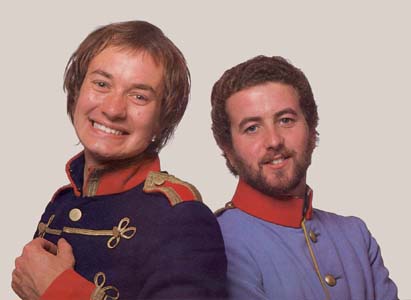 Produced by: Norbert Putnam
Executive Producers: George Harrison & Dennis Morgan
Recorded at F.P.S.H.O.T.
Recording engineer: Phil McDonald
2nd engineer: Kumar Shankar
Remix by: Norbert Putnam
Mastered by: Glenn Meadows at Masterfonics, Nashville TN
Art Direction & Design: Bob Cato

Parker McGee appears courtesy of Big Tree Records

Thanks to: Rob Hill, Olivia Arias, Pat Burgess, Myrna Harris, Ann Keaner, Muriel Housman, Linda Roles & Elsie Jackson
Special Thanks to: George Harrison


Dark Horse Records bio: [page 1 | pages 2-3]

Promo photos:
portrait (from September 1977 press kit)

other items:
album ad from New Musical Express promoting tour with Cher & Gregg Allman (November 19, 1977) thanks to Philippe Colinge

8-track tape (U.S.A.)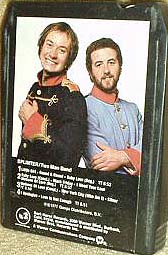 "We've had our share of problems," say Bob Purvis and Bill Elliott but modestly forgot to mention that they completed a 6 week tour with Cher and Gregg Allman for which they received rave reviews.
---
© Copyright 2002-2017 Tom Brennan's Splinter Library. All Rights Reserved.
Reproduction in whole or in part in any form or medium without permission is prohibited.
All trademarks used are the property of their respective owners.