Henry McCullough
on Dark Horse Records
by Tom Brennan
created 05/08/04
last updated: 04/17/2010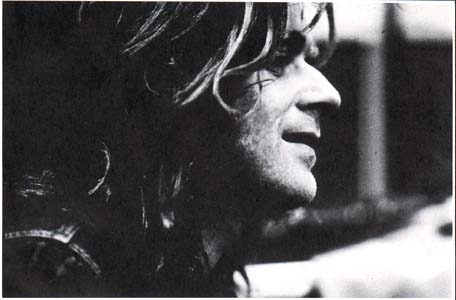 Henry McCullough was in Joe Cocker's Grease Band and Paul McCartney's Wings prior to his solo release on Dark Horse Records. For more information about Henry, please visit...
official web site: www.henrymccullough.com

DARK HORSE RECORDS
Mind Your Own Business
Catalog #: Dark Horse SP 22005, released October 20, 1975 (U.S.) [side 1 label | side 2 label]
Catalog #: Dark Horse AMLH 22005, released October 24, 1975 (U.K.)
Catalog #: Dark Horse L 35 754, released 1975 (Australia)
Catalog #: Dark Horse GP-271, released December, 1975 (Japan)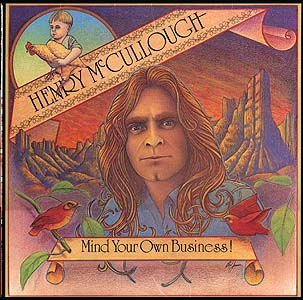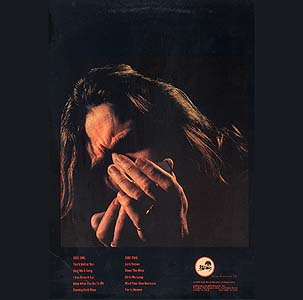 SIDE 1:
1. You'd Better Run [Henry McCullough] (4:13)

2. Sing Me A Song [Henry McCullough] (3:25)

3. I Can Drive A Car [Henry McCullough] (4:37)

4. Baby What You Do To Me [Henry McCullough] (5:33)
trumpet: Herschel Holden
saxophones: Lloyd Smith, Lionel Kingham

5. Country Irish Rose [Henry McCullough] (3:17)


SIDE 2:
1. Lord Knows [Henry McCullough] (4:08)

2. Down The Mine [Henry McCullough] (6:06)
background vocals: Sweedies

3. Oil In My Lamp [Henry McCullough] (2:20)

4. Mind Your Own Business [Hank Williams] (3:55)

5. I'm In Heaven [Henry McCullough] (1:28)
2nd vocal: Frankie Miller


Highlights on his only Dark Horse album are: "You'd Better Run", "I Can Drive A Car", "Lord Knows", "Oil In My Lamp". McCullough's album is a mixture of different musical styles: rock, pop, blues, reggae, and country.

musicians for "Mind Your Own Business" LP:
Henry McCullough: guitar, vocals
Alan Spenner: bass
Neil Hubbard: guitar
Bruce Rowlands: drums
Steve Chapman: drums
Charlie Harrison: bass
Jim Leverton: bass
Mick Weaver: piano, organ, clavinet
Tim Hinkley: piano, organ
Joe O'Donnell: electric violins
John Halsey: drums
see track listing details for addition musicians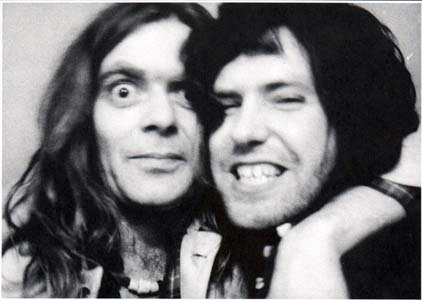 Henry McCullough, Frankie Miller
Produced by Henry McCullough & John Jansen for Samarrah Ray Productions

Recorded at Ramport Studios, London, England [The Who's studio]
Engineer: John Jansen
Tapes and Assistance: Will Reid Dick
Art Direction and Front Cover Drawing: Paul Jansen
Inside Sleeve and Back Cover Photograph: Keith Morris
Additional Photographs: Gered Mankowitz, Lisa Fromer
Inside Sleeve Layout: J. Edward Barker
Special Thanks to: Jeremy Salmon, Alexis Korner, Steve Marriott and Hurley McGulp

Copyright ©1975 Panache Music Ltd. (BMI), except "Sing Me A Song" published by Carbert Music Inc. (BMI)
"Mind Your Own Business" published by Fred Rose Music Inc. (BMI)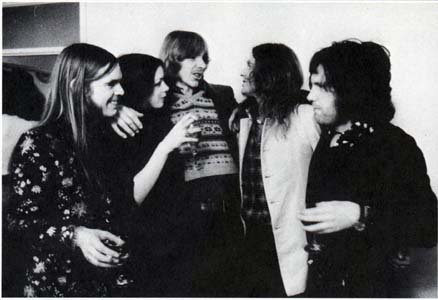 SINGLES

none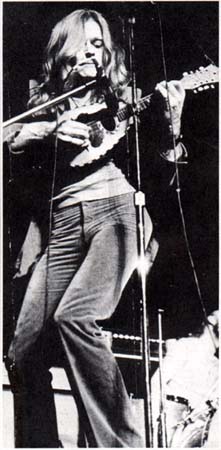 ---
PREVIOUS HISTORY WITH PAUL MCCARTNEY & WINGS

Wings line-up with Henry:
Paul McCartney: lead & backing vocals, guitar, bass, keyboards
Linda McCartney: lead & backing vocals, keyboards
Henry McCullough: lead & backing vocals, guitars
Denny Laine: lead & backing vocals, guitars
Denny Seiwell: backing vocals, drums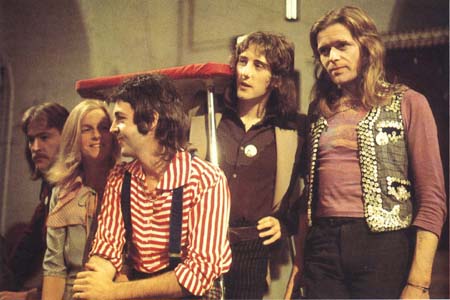 Denny Seiwell, Linda McCartney, Paul McCartney, Denny Laine, Henry McCullough

Henry was recommended to Paul McCartney as lead guitarist for Wings by Denny Laine (or by one of the Wings' roadies, depending on which story you want to believe). He joined the group in January of 1972 as the new band rehearsed material for a new LP and their first tour. Henry played on such Wings classics as "Give Ireland Back To The Irish", "Mary Had A Little Lamb", "Hi Hi Hi", "C Moon", "Live And Let Die", and "The Mess". He also wrote the brilliant guitar solo for the hit song "My Love". On the 1972 tours he played with Wings, Henry usually sang lead on a blues improvisation, sometimes referred to under the title of "Henry's Blue". Henry appeared on the Paul McCartney & Wings LP, "Red Rose Speedway". He also appeared on the 1973 TV special "James Paul McCartney". His last live gig with Wings was on July 10, 1973 in Newcastle, England. In early August, 1973 during rehearsals in Scotland for the "Band On The Run" LP, Henry quit Wings because of an argument with Paul about whether a guitar line for a Denny Laine song could be played or not.
---
Please e-mail any corrections or contributions

Tom Brennan's Badfinger Library
Tom Brennan's Splinter Library

© Copyright 2004-2010 Tom Brennan's Dark Horse Library (TBDHL). All Rights Reserved.
Reproduction in whole or in part in any form or medium without express written permission is prohibited.
All trademarks used on TBDHL are the property of their respective owners.