Jeff Alan Ross
telephone interview conducted on January 3, 2009 with Dan Matovina
transcribed by Tom Brennan, edited by Jeff Alan Ross
posted March 3, 2009

introduction | Early History | Badfinger | The '90s and on | Lock My Feelings In A Jar - the new CD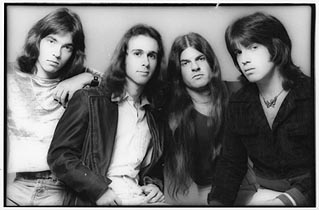 The Word in 1976 (Jeff Alan Ross is the 2nd member from left to right)
Early History

DAN: Give people some background on your musical development up to the point where you first integrated it to anything that was Badfinger related.

JEFF: Before Badfinger, for the most part, there is nothing that anybody would know about. It was the mid to late '70s, being out in Los Angeles trying to get a record deal. I had a band called "The Word." We got the name of the band from The Beatles' song. The music was sort of poppy, just regular poppy Rock songs. That was during the time that the whole New Wave thing started to happen, so we kind of got caught right when that started to happen…

DAN: You didn't move into the skinny-tie phase just to sink in?

JEFF: No, I didn't. The irony of the whole thing is that Doug Fieger of The Knack is a good friend of mine, and he did really well off of that. I just never moved in that direction.

DAN: Let's get some context where you grew up. Where did your music start with?

JEFF: I was born in New Haven, Connecticut, and lived there until I was about 9 years old, and then moved to Madison, Wisconsin. That's where the music happened, because at that point it was '62 -'63, when The Beatles came out, and that's when I got interested in Pop music. I had started taking piano lessons when I was 5. When we moved to Wisconsin, I decided to take up the violin, so I was classically-trained for quite awhile, and had a lot of interest in that. Then, of course, The Beatles came out, and at that point I started to learn how to play guitar.

DAN: What was your earliest jamming with people?

JEFF: I must have started a band when I was 12 or 13, I think, which would have been 1966? I think that was the first time I actually started a band, started trying to write songs. Of course, they weren't very good.

DAN: You were inspired by the British Invasion?

JEFF: Absolutely! The British Invasion and Motown were the two things that influenced me the most. The whole thing with The Beatles is when it became alive for me. Of course, it was also Gerry & The Pacemakers and Peter & Gordon. All these guys that I actually play with now were my big influences.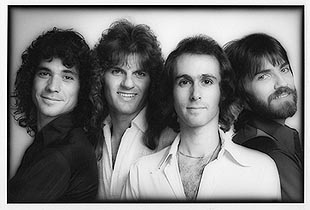 The Word in 1978 (Jeff Alan Ross is the 3rd member from left to right)

part 2: Badfinger
---
© Copyright 2009 Tom Brennan's Badfinger Library (TBBL). All Rights Reserved.
Reproduction in whole or in part in any form or medium without express written permission is prohibited.
All trademarks used on TBBL are the property of their respective owners.