Jeff Alan Ross
telephone interview conducted on January 3, 2009 with Dan Matovina
transcribed by Tom Brennan, edited by Jeff Alan Ross
posted March 7, 2009

introduction | Early History | Badfinger | The '90s and on | Lock My Feelings In A Jar - the new CD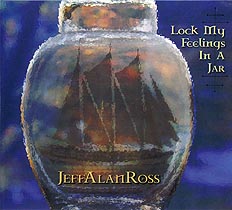 Lock My Feelings In A Jar by Jeff Alan Ross
Lock My Feelings In a Jar - the new CD

DAN: Let's talk about the cover version of Name Of The Game and how you chose to do it.

JEFF: During the John Jorgenson Electric Band gigs that we had been playing in England since 2000, we often did Baby Blue. John always gives me one slot to sing one song during a show, and we started doing Baby Blue, 'cause it was kind of a rocker and seemed like a good thing to do. At some point, a few years in, a good friend of mine Cary Park, who plays a lot of the guitar parts on my album, and who is one of my favorite guitar players in the world, a really elegant, wonderful guitar player, and a big Badfinger fan... in fact, Cary and I do a lot of acoustic duos together... anyway, we might have been talking and he just goes, "Oh, Name Of The Game is like my favorite Badfinger song", and I go, "Well, I know that one." It was just one of those things where we started playing it. Instead of doing Baby Blue that I'd do with John, we started doing Name Of The Game.

Over a few years of developing my way of doing it... There was one night in particular, I should say one afternoon in particular, we were playing in New Brighton, which is in the Wirral, across the Mersey from Liverpool. It was an outdoor show and I remember vividly, it had been raining all day, and we started our set and the sun started coming through, the clouds kind of broke up... at that point we were actually playing Name Of The Game. And also, as I was singing it, there was this woman standing up front with her kids, and when we got to the line about, "...take your babies to your breast, though we never...", all of a sudden, it was like, I mean, I started choking up. It was almost like I understood the song, even though I'd been singing it for a while, the song started becoming very personal for me. It's one of those songs that, as you sing it, as a singer... I'm sure every singer finds a song that just kind of vibrates your body. You're in sync with the song. I have two or three songs that are like that. Name Of The Game is certainly one of them.

A few years ago, when I just started getting back into recording, and now doing digital recording, I decided to try recording it just to see what would happen. During the course of three years, we replaced the drums four times, and thanks to you, I replaced the vocal at the last minute [laughs], right before mixing it, because I'm a little OCD when it comes to wanting things to be right. Having sung that wrong word, I thought "I gotta change it." And it ended up being an even better vocal.

So, it was just one of those things... and Cary Park, who was the guy that convinced me I should do the song in the first place... he does all those electric guitar parts, which I just absolutely love...

DAN: I love all the different soloing at the end.

JEFF: Yeah, Cary did three solos, and they all work in concert with each other, 'cause there's some things that, actually between all three of them, it creates a fourth melody that doesn't exist with one or the other. It's sort of "Layla-ish", you know, sort of a Derek & The Dominos, where there's all this stuff going on. I just loved it. It's just one of those songs that is such a great song.

DAN: Now, you named this album through a lyric from Name Of The Game. Is there any story to choosing that?
JEFF: I don't remember when it happened, but it's also kind of a play on the fact that my initials are J.A.R., which always bothered me as a kid, but now I'm actually enjoying it for the first time in my life, which is kind of funny... It's such a great line, and such an unusual line that it stuck out. You know, "That's a good name for an album." I think, that's usually what happens. You have sort of have a joke with a couple of friends, where you'll hear a phrase or a couple of words and you'll go, "That's a good name for a band", or "That's a good name for an album." I think, that's probably what happened with "Lock My Feelings In A Jar." I went, "You know, that's a good name for an album!"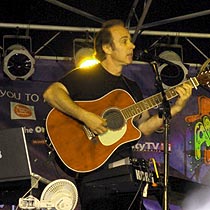 DAN: Let's talk about how this album came together. When did you start it? What prompted you to finally say, "I'm gonna finish this and put this package together?"

JEFF: I started it, probably, three and a half years ago. I think it started with recording Name Of The Game, where I bought some software and wanted to get into some digital recording. I went up to Chris Ralles' house, who's Pat Benatar's drummer, and cut some drums. It started then... I had songs that I wanted to record and I just kept recording songs over three years, at a very, very slow rate.

At some point this past year I'd been threatening to actually finish a record and go over to the U.K. and play some solo shows. The opportunity presented itself back in the Spring, so looking forward to December, I just went, "Well, I have to have an album done by the time I go over to England in December," so I just did whatever I needed to do to try to get it done. That meant taking tracks and re-cutting drums on it, even three or four times, and re-doing vocals, and just doing whatever I could to try to get this thing done. After the summertime of doing the Peter & Gordon and Gerry Marsden gigs, I had a couple of months to do nothing but that, so that's what I did.

DAN: You did some solo gigs on this last trip over?

JEFF: I actually ended up doing a solo show in Liverpool about three weeks ago. I was supposed to do something up in Scotland, but the place that I was going to be doing it at was having problems with selling tickets for anybody that was on their bill. So, that show got cancelled, but I did a show in Liverpool, which went well.

DAN: Who did you use for your backing musicians?

JEFF: I literally did it solo. I went and played acoustic six and twelve-string, and piano... just played solo.

DAN: Drum machine at any point?

JEFF: I used a backing track on two songs. There's one song on the album called, Love That's Lost Inside Of Me, which is a seven and a half minute piece of music, which I never wrote to want to play it live, but it turns out that even at seven and a half minutes I've had a lot of comments from people that it's one of their favorite songs on the record.

So, I actually sang to the track on that one. I did a little playing along with it, of course. And then a song called, Love Is Raining Down, which is the first song on the album. John Jorgenson did such a great lead guitar track on it that I thought it would be fun to have that there, so I played with that track too.

DAN: He did the acoustic that's picking throughout it?

JEFF: Yes, he did the lead that starts it out. All the guitars on it are acoustic. Wherever there's the lead parts and the little motifs, he did all that.

DAN: The playing on the album is sensational. It's just highly professional.

JEFF: Yeah, John plays on that song. Cary Park, who plays most of the lead guitars on a lot of the songs, he was in a country band called, Boy Howdy, and he plays with all sorts of people; he's a studio musician here. All the drum tracks are my friend, Chris Ralles, who's Pat Benatar's drummer; he's played with Kenny Loggins, amongst others. Bill Cinque played bass on most of the record, who is my Peter & Gordon bass player. I also have Pat Benatar's bass player, Mick Mahan, on a song. Another bassist, Alexis Sklarevski, he used to be with Crosby, Stills, Nash & Young. One of the songs is actually Bob Birch and John Mahon from Elton John's band. That's Carrier Of The Dream. Everybody that plays on it is... they're all professional musicians [laughs].

DAN: The real standout of the album is your songwriting. The varied styles... it's just solid, excellent songwriting. Songs that are arranged well, and the bridges are good. A lot of people write a good verse and then it just falls apart. You seem to have all three parts: verses, choruses and bridges, instrumental breaks. I'm very impressed on that end. Your singing is very good.

Let's talk about the songs. Let's talk about Love Is Raining Down. That seems to be kind of the hit single that would grab people and pull one in. Very catchy. Let's talk about that and the fact that you reprise it acoustically at the end. What motivated that?

JEFF: What motivated throwing it on there as sort of an extra track at the end… my wife likes the acoustic version and so I put that on there 'cause I knew she would enjoy that. What's great about it is it works acoustically as well as the whole band. Originally, I wasn't going to start the album with that. I was in mixing and I had yet to get the lead guitar part from John (Jorgenson), so I didn't really know what was gonna happen with his part, 'cause I sent him the track and just said, "Just do whatever it is that you do." He's played on so many hit records and a lot of country albums, and he's just one of those guys that you just trust will do the right thing. So, when his part came back and I heard it, it just took the song to a whole other level, and I thought, "Well, this feels good." It's a great way to start a record, because it'll make people feel good. That's why I put it there, because I thought, you know, it's always good to start a record and make people feel good.

DAN: Yeah. That was a great start, and then you went into a waltz kind of sailor's shanty. A lot of people write those kind of things and they're kind of clichéd, but I think you transcended it further.

JEFF: A Sailor's Shanty was a song that, it's a story... I believe in past lives. The short story is, it's the story of a past life of mine, that I made right. Basically, I had drowned in a situation serving on a ship, and so I wrote this song to sort of make it all better. Being saved instead of dying in that particular situation. It's also part of my feeling about England and some of those things that happened. It's the English connection of that whole thing. I did a lot of research on the song to use phrases and try to paint pictures, 'cause I like when songs paint pictures, and poetically you can actually see what's going on. That sort of prompted the whole middle section with the orchestra, 'cause it becomes very cinematic, and yet it comes back to being more of a regular sea shanty at the end, and then I bring the sailors in and everybody sings.

DAN: Grace Under Pressure is next. It reminds me of '80s Pop songs, but good ones, solid ones.

JEFF: I actually wrote that song in 1987. I wrote it fashioned after Badfinger songs. That's actually how I wrote it. Specifically, the song gets into a two-part vocal thing, which was kind of a take-off on Pete & Tommy singing together. The slide guitar and all that sort of thing. I think it's a pretty good bridge. Three minutes and twenty some odd seconds and no crap, just kind of straightforward and right there, which was the idea [laughs].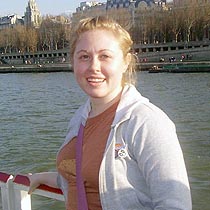 Harmony Ross
DAN: Then we have Harmony's Song. Now, you have a string arrangement on that. Your classical background served you well over the years. You can arrange strings, 'cause that's a very nice arrangement? That's a keyboard string arrangement, sampled, right?

JEFF: It's real string samples, but yeah, it's all me playing it. I have a real affinity for a string quartet and orchestras and that whole thing. So, that was a lot of fun to do it that way. That was a song I wrote for my daughter whose name is Harmony, and it's a "coming of age" song.
DAN: The next tune is, It Was Always You. Again, I hear an '80s and a Huey Lewis and maybe even a Wilburys Pop song. Again, same as Grace Under Pressure, solid catchy sections.

JEFF: Yeah. My daughter (Melodey) had worked on the film, "Made Of Honor", which came out last year. It was a song that I was hoping to get in that film, that was basically about the plot of that film. It didn't make it. Cary Park and I wrote that song. It was kind of sitting there. Originally, it wasn't going to be on the album at all, but it just came out so good that I just went, "Well, you know, doesn't hurt to have a nice little Pop tune on there on the record."

DAN: Then we have Walk Into The Fire. It's kind of a dramatic, Phil Collins almost like thing.

JEFF: That song is about making choices and taking risks.

DAN: It shows you have a lot of taste in music. This is a turn-away of the pop rock.

JEFF: Yeah. It's a different thing. Every song is a different song to me. I don't always try to write a certain way. I just try to write however it comes to me. That's how the song came to me, so that's how I wrote it.

DAN: You put a lot into that vocal. That must have really taxed your...

JEFF: [laughs] I have to be really careful. When I do a show, I have to make sure that I put it at a point in the show where afterwards, I can still sing something. It was one of those things... little bit, not quite to the extent, but a little bit like the whole thing that McCartney would talk about with Oh! Darling where he wanted it to sound like the vocal was a guy that had been singing at a club, that barely had a voice left, where you just shred your voice. I thought that was kind of the same sort of thing.

DAN: Is that a vocal where you did it quick, in one take, or you tried it a few times?

JEFF: You know. I don't remember, 'cause that was a few years ago that I did the vocal. I'm sure it didn't take very many times [laughs]. I'm pretty sure.

DAN: The next one, this Love That's Lost Inside Of Me. I almost heard something on a Broadway show or an Andrew Lloyd Webber thing. It's very dramatic and I could see that audience.

JEFF: Yeah. It's dramatic. It's sort of got the Beach Boy-ish kind of background vocals to it. It's a song I'm proud of 'cause even though there's three verses that tell a story, basically of... It's about the class structure in England around the 1700's. It's a story about a poet who had an affair with a young girl from a higher class than he was in, and how they knew that it just wasn't going to work. This stems again from one of my past life experiences that I had of going back to Lancashire. The first time I went to England, that's where we were, and this whole story started opening up to me.

I'm very proud of it because, the three verses where it tells the story, in and of itself, and in as few words as possible, tells a complete story, so in twelve lines, it tells this really, wonderful story. Again, I'm proud of that, because it was finding the exact language to use, like doing a crossword puzzle. You know, you find the exact word to use for something that tells the story in such a full detail. I thought people were going to be turned off a little bit by the fact that it was seven and a half minutes long, but like I said before, I've gotten so many comments from people, and even Peter Asher, who I thought, well, you know, he's gonna think it's just too long, and he goes, "No, it's my favorite song on the record."

DAN: Yeah. You should be really proud. This whole project is like your career coming in culmination of what you learned.

JEFF: It kind of is. Yeah.

DAN: The next song is The Gift. That's sort of a ballad, kind of a Christmas-like intro.

JEFF: Well, it is. It very much is that. Exactly, Christmas ten years ago in 1998, I wrote that song for my wife for Christmas, 'cause times were a little lean at that point, and that was my big gift to her, so I wrote her a song called, The Gift. That's what it was. I had an original version of it that a woman whom Diane works with heard, and just went nuts over. While I was working on other tracks on this record, that kind of convinced me that maybe I should redo it, and do a new version of it. So, I did and there it is. I decided to put it on there, just because it's a beautiful song. It expresses a sentiment for anybody that has someone in their life. I've been married for 34 years, but it expresses something that money can't buy.

DAN: The next one is Carrier Of The Dream. It kind of reminded me of Christopher Cross in the '70s, but one of his better ones, in that vein. Again, kind of more adult-oriented.

JEFF: Yeah. Carrier Of The Dream is a Native American themed song. Something that I wrote in the early '90s, and I was looking for a definitive version of the song. Probably, three or four years ago, I went over to Bob Birch's house and we cut it. And then John Mahon put all the great percussion on it. On his percussion, it's all played. It's not fixed. It's just the way he plays, which we're proud of. It has that Native American thing going for it.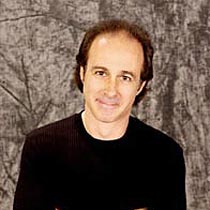 DAN: The next tune is Angels In Disguise. A kind of McCartney-esque ballad.

JEFF: Yeah. It's a song that's about people who have affected my life, that have passed away. I actually wrote it because a good friend of mine had passed away, and then shortly after that, Charles Schulz, the creator of "Peanuts," passed away. There was the final strip of "Peanuts" that really, really touched me, and I realized that you don't have to know somebody well to have them touch your life. It's one of those songs that talks about how almost everyone you come in contact to affects you in some way or another. That's what that's about.

DAN: The next song is Sun Ain't Gonna Shine Today. Again, back to your Pop-Rock leans.

JEFF: Yeah. Byrds-y. It was a Byrds-y thing. I bought a 12-string a few years back, an electric 12-string, and that was the song that came out of that. The song is actually about my dad dying. It's the story of it all. I was in the U.K. when it happened. I was on a ferry from Liverpool to Dublin at the time and it's just a poetic way of talking about that in a different context. But that's actually what the song is about. Another thing I'm proud of in that song is I did all the guitars on it. The Roger McGuinn Byrds-y kind of solo, I got to do, and I think it came out very cool. It's another one of those under three-minute songs where there's just no crap, it's like an old '60s Pop hit.

DAN: Yeah. This is great. A nice culmination of your career. I hope that some good things come out of it. Hopefully, you make some money out of the downloads. If people really get into it, you might get a hot track. Did you ever think about doing YouTube? Some visuals can really draw attention fast.

JEFF: Yeah. That's probably in the cards at some point here, because my daughter (Melodey) is actually in the film production business, and she's the one that's helping me with planning my marketing concepts. We will be shooting a few videos very shortly.

DAN: How is your new album currently available?

JEFF: It's available on CD Baby, digstation, iTunes, Amazon, Rhapsody and a few others. The easiest thing is, if somebody wants hard copies of the album, is just go to www.jeffalanross.com where you can purchase it with a credit card or PayPal. If they want digital downloads, iTunes, CD Baby, digstation, Amazon, etc., has digital downloads. CD Baby is the only other one that has actually has physical copies too.

DAN: Talk about Pete Ham, what's your impression of him?

JEFF: Well, a lot of what I know about Pete is what Mike has told me. I remember, on several occasions, conversations with Mike about just how much he loved Pete. They were like brothers. Sometimes, the most genius people are the most troubled people. That was a time, the way that people were back in the '70s in bands, that everybody sort of had their own things going on, and while they were trying to be a band, there was also the drinking and the drugs, and all that sort of thing.

The songwriting and the depth of his voice, the way that he sang, shows the kind of person that he was, and the way those songs came out. He is just one of those guys that was really... I mean, there's nobody else that sounds like him or writes songs like him. He had something that was unique, and again, we know how tragic it is that he couldn't have moved past that point of being able to deal with things. Richie Wise is a good friend of mine, he and Kenny Kerner produced that last Badfinger record (Head First). I remember Richie telling me that they were in the studio one day, and Pete was trying to tune this Martin D-35. He said Pete probably spent an hour trying to tune this guitar, and eventually ended up smashing it because it was so frustrating. I think that that's kind of indicative of what was going on with him. He wanted things to be so right and he couldn't make them right. He didn't have the facility to make them right. Obviously, it's very sad.

DAN: Do you think, as a solo artist, Pete would have broken out with the proper support?

JEFF: Oh, I'm sure of it. He knew how to write a great song. And his voice! Being able to write great songs and having a great voice means that... it's all conjecture of course... but he certainly had as good of a shot to do a solo career as anybody else.

DAN: What about Pete's guitar playing?

JEFF: Well, certainly his guitar playing. He had a big fan in George Harrison. I mean, I'm sure if he had gone out on his own, he probably would have been in the Traveling Wilburys! He would have been one of those guys. It's really possible!

DAN: The other thing that's tragic about Pete is that not a lot of people knew him real closely, except for a few of a close-knit group. When he was around, like at the Bangladesh event in New York, he would tend to be quiet amongst musical peers. I talked to Billy Preston, who jammed with him a number of times. He said, "Yeah, that cat was great!" I said, "What's your impression?", but he couldn't really say much, 'cause Pete didn't say much. He was quiet. You can almost hear that in his music, that he would be a humble personality. Would you agree with that?

JEFF: Absolutely... James Taylor would also be somebody that is a shy personality. There's a lot of really talented people that most people would think, because they're in the spotlight, they would want the spotlight. But they really don't want to be so much in the spotlight. They're just being creative. I know that Peter (Asher) told me, he didn't know any of the guys in Badfinger. He remembers that they had meetings about them at Apple, but it was because Mal (Evans) had brought the band in. He really had very little contact with any of those guys.

DAN: What did you think of Tom Evans' contributions to Badfinger? Maybe Tomorrow, which Tom wrote, and Carry On Till Tomorrow, plus he wrote the chorus for Without You?

JEFF: Right. Carry On Till Tomorrow is probably my favorite thing that Tom had anything to do with, and Without You, of course. You can't deny what a classic that is. But there's just something different with Pete's songs that doesn't happen with anybody else.

DAN: What would be your favorites of Joey's?

JEFF: Actually, my favorite songs of Joey's are the newer things that he's writing. And, of course, Suitcase is a lot of fun to play.
DAN: You did perform In The Meantime/Some Other Time at some point, I believe that's what it was?

JEFF: That was okay.

DAN: That album it's from, "Wish You Were Here"... Are you not as familiar with the album, but you learned that track for the live gig?

JEFF: I have listened to that album, probably even more than say "Ass" or the first Warners album, but of the things off of "Wish You Were Here," I always go to Dennis, because Dennis is just so incredible. I really like that and Know One Knows, which I think is another gem. It's just most people don't know about it.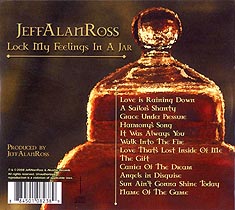 Lock My Feelings In A Jar by Jeff Alan Ross (back cover)

CD review by Tom Brennan

for more information and to hear & buy his music:
jeffalanross.com [to order CDs, order music downloads, or play music samples]
MySpace [to play full-length versions of some of his new songs, including "Name Of The Game"]
BBC interview with live music, December, 2008 [Jeff performs "Baby Blue" live and 2 songs from his new CD]
---
© Copyright 2009 Tom Brennan's Badfinger Library (TBBL). All Rights Reserved.
Reproduction in whole or in part in any form or medium without express written permission is prohibited.
All trademarks used on TBBL are the property of their respective owners.