Jeff Alan Ross
telephone interview conducted on January 3, 2009 with Dan Matovina
transcribed by Tom Brennan, edited by Jeff Alan Ross
posted March 3, 2009

introduction | Early History | Badfinger | The '90s and on | Lock My Feelings In A Jar - the new CD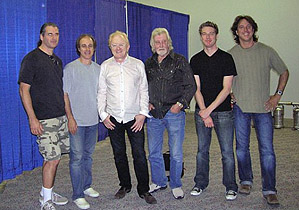 The Peter & Gordon band
(from l-to-r: Bill Cinque, Jeff Alan Ross, Peter Asher, Gordon Waller, Steve Aho, Brian Pothier)
The '90s and on

DAN: Let's go through your career into the '90s. How did you end up as musical director with Peter & Gordon, the Classic Rock Liverpudlians and so on?

JEFF: Well, the quick timeline is, my friend who had been my manager, who had worked at this TV station where I recorded the "View From A Leaf" album... that was when the Fox network was just starting and they had become one of the Fox affiliates. The short story is, he put together the business plan for a project for Fox and he ended up going to work for Fox, where he hired me. So, I became a TV executive. I didn't completely stop playing music, but I had a regular executive job, and I moved back to Los Angeles and worked for Fox broadcasting for seven years.

During that time, on weekends, I would go play some gigs with different friends. I live in Woodland Hills and around the corner from me, I mean, literally two minutes from my house, was a club that on weekends had an outdoor stage. The guy that ran the place was a friend of mine, and so he would call me when people needed keyboard players or other guys to come, "Hey, so & so's coming in. We need to find a drummer or a keyboard player." It must have been around '95 or '96.

I went over and he hired me to come over Sunday afternoon to play with this guy, and the bass player was Bob Birch, who happens to be Elton John's bass player and still is to this day. Bob and I hit it off immediately. We became good friends, and then after I quit working for Fox, I decided to go back and do music. Bob is the one that introduced me to John Jorgenson in '99. John was still playing with Elton John at the time and had just released a solo album, and he wanted to go do a couple of shows to promote it. He needed somebody that could play second guitar, second keyboard, and sing harmonies for him, and Bob recommended me. That's how I met John (Jorgenson).

So, when I walked into that rehearsal room, it was John from Elton John's band, and at the time it was Charlie Morgan on drums, who had just finished playing with Elton, I believe, and Bob, who was in Elton's band, and a guy named Jim Cox, who is one of these great musicians from Orange County who has basically played with almost everybody. I think now he works for Mark Knopfler from Dire Straits.

So, I did these shows with John. I still work with John to this day whenever John does electric gigs. John does a lot of Gypsy jazz, Django Reinhardt style, which is a different band, but whenever he does electric shows, I still play with John. John's become a very good friend of mine. Through that relationship of that band, Charlie Morgan recommended me for a Mick Taylor tour, which I did in 2000, 'cause Max Middleton couldn't go on tour with Mick. So, I did a sub for Max to do the Mick Taylor thing, which I might be doing again this coming summer, too.

DAN: Mick's still plugging along, huh?

JEFF: He still is. I just saw him in London and he's actually doing great. He's playing great. He's physically doing much better, and is a great friend, so he's coming back over to do some stuff. I met Mick, and then, through John Jorgensen... John had a band called The Hellecasters, which were three really great guitarists, it's like the three tenors of guitar, basically. Their manager, who I became friends with, was good friends with a guy in Northern California. His name is Keith Putney. Keith was booking a lot of these old British Invasion acts and all these things. I don't remember the first time Keith and I talked about something, but at one point he asked me to put together a band for Gordon Waller (of Peter & Gordon fame), who wanted to do a show by himself. So, I put together that band.

That didn't turn out so well, but what eventually happened was, a few years later, when Mike Smith (of Dave Clark 5 fame) had his accident and became paralyzed, Paul Shaffer put together a benefit in New York for him. And Paul actually got Peter & Gordon back together. As a result of that particular show, which they enjoyed doing so much, Keith booked them some shows and he asked me if I'd put together the band for Peter & Gordon, and I said, "Yes," because I wanted the opportunity to work with Peter Asher.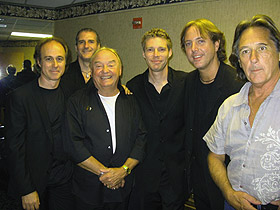 Gerry & The Pacemakers (American line-up)
(from l-to-r: Jeff Alan Ross, Bill Cinque, Gerry Marsden, Steve Aho, Brian Pothier, plus Chip Hawkes of The Tremeloes)
From that, Keith also had booked, a couple of summers ago, a tour for Gerry Marsden (of Gerry & The Pacemakers fame), so the best way to make the tour happen was... even though Gerry has a band in England but to bring everybody over was not cost effective... to put together an American Pacemakers band, which is the Peter & Gordon band now. Some of those same guys even did a gig with Joey at one point. We also did a show with Denny Laine. And we've also been playing with Terry Sylvester of The Hollies and The Swinging Blue Jeans.
DAN: It amazes me that Peter & Gordon are both in their 60s and they're still hungry to go out and do gigs. Do they still seem to enjoy it thoroughly? It's not a chore at this point?

JEFF: Well, Peter does, and he's got a lot of stuff going on, but he wants to go out and play. And Gordon, when he's warmed up to where he should be, can sound phenomenal. The magic is still there.

DAN: I was amazed when they came back, because nobody would have thought Peter Asher would come back and sing again. He blew everybody away.

JEFF: I know. I don't think he even thought he would do it. It was really difficult for him, to say the least, but like I say, he really enjoys doing it now.

DAN: It must be a thrill for you. I mean, this is the music that inspired you.

JEFF: Well, yeah. It's never lost on me that in 2006, I actually got to play, other than Beatles songs which don't count, my three favorite records of 1965 with the original artists. I got to do Go Now with Denny Laine, I Go To Pieces with Peter & Gordon, and Ferry 'Cross The Mersey with Gerry.

DAN: Wow!

JEFF: You know I say to myself, "Yeah, that's pretty cool." You go back in time and you're thinking, okay, when I was twelve years old, did I ever think in a million years that something like that would ever have happened? It was inconceivable, but nonetheless...

[Peter & Gordon with Jeff Alan Ross on K-EARTH 101-FM, Los Angeles, August 11, 2008,
performing "I Go To Pieces" and "A World Without Love"]

DAN: Do you know these people that are on the Hippiefest tour backing up all these musicians, like Joey?

JEFF: I don't know any of them. That's a whole different set of people, but I know OF it, of course.

DAN: Are you familiar with Bob Jackson who played with Badfinger?

JEFF: I became friends with Bob, although I haven't talked to him in a year, but after I left Badfinger... I had contacted Bob and we just started talking and sort of became friends on the phone. He sent me some of his songs, and I sent him some of mine. I do know Bob.

DAN: Have you heard some of his stuff here and there?

JEFF: Well, back in the late '80s and early '90s , I thought he was just a wonderful writer. A few years ago, I had contacted him when there was that Badfinger Convention in 2006. Right around that time, I was back in touch with him. I just always thought he was a really nice man, and extremely talented, and at some point, would like to know him even better.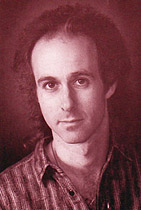 Jeff Alan Ross (as Elliot Joffrey) in 1989

part 4 (conclusion): Lock My Feelings In A Jar - the new CD
---
© Copyright 2009 Tom Brennan's Badfinger Library (TBBL). All Rights Reserved.
Reproduction in whole or in part in any form or medium without express written permission is prohibited.
All trademarks used on TBBL are the property of their respective owners.