Keyhole Street:
Demos 1966-67
compiled by Tom Brennan
last updated: May 21, 2015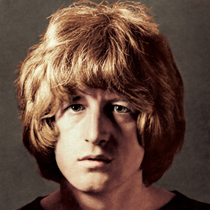 2014 Review by Jerre Trout
Label: Without You Music, WYM-A
Released: April 18, 2013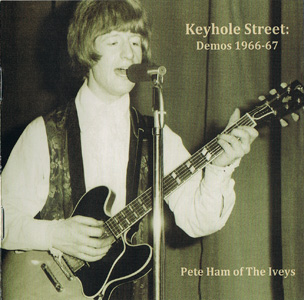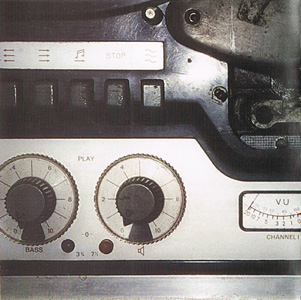 Liner notes:
All through the second half of 1966 and all of 1967, Pete Ham of Swansea, South Wales, then age 19 and 20, could be found toiling away in a small windowless soundproofed room in a quaint house located at 7 Park Avenue, Golders Green, London. Furiously composing and recording his fresh compositions, Pete was excited by the opportunity at hand that, Bill Collins, the new manager of his band, The Iveys, had provided for them. Bill had built the space, supplying it with a Revox two-track sound-on-sound recording deck, a few microphones, some old tapes, headphones and one creaky chair to sit on.

With one small dim light bulb above his head and a little red warning light on the outside, Pete usually entered this dark, dank 8x8x8 foot room late at night where he would write and record his varied musical gems. Pete had a vast background of musical experience growing up in South Wales playing in bands around Swansea, a port city infused by music of all styles. He began playing the mouth harp proficiently by age seven, with guitar becoming his main instrument.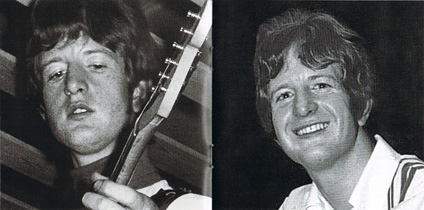 Well-ensconced in Wales early '60s rock 'n' roll scene, Pete had been brought to London to pursue a professional career in July 1966. With his background at hand, Pete was now creating his mini-masterpieces with the burgeoning pop scene of 1966 and 1967 infused by an outpouring of psychedelia and freedom of expression especially hit with The Beatles' Revolver and Sgt. Pepper's LPs. Pete was also gigging with bands such as The Pink Floyd, Move and Tomorrow, as they were making bolder moves with their musical arrangements.

In the earliest demos, Pete showed his American soul, Motown and Merseyside pop influences were down pat and you will hear many snappy little songs in that vein - but he was also clearly being inspired by the psychedelia aspects of the time. He retained his heightened sense of a good tune. When asked, Pete would describe himself as a "writer of melodic songs."

Included in this set, you will hear an amazingly varied collection: catchy, hook-filled pop, '50s rock, music hall pastiches, rocking and gorgeous guitar instrumentals, multiple-harmony exercises, a fun blues tune, an on-the-money Elvis cop, and even one long incredible "Horror film" soundtrack.

Every take, with no punch-ins available, would be recorded on one track with the next take merging in with the previous take, back and forth track-to-track and layering to result in a mono song. Despite these restrictions, he often ended with a complex arrangement. The creativity he displays and the talent is clearly astounding, especially in context of the times. His demos are far beyond and other artist of the era working on similar equipment.

In 2013, as he is about to be honored in his hometown, it is time for more of the world to know, enjoy and understand this "master of melody," a musical genius who went away much too soon. Spread the word on Pete Ham. He deserved better...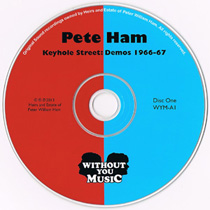 Disc One
Testing [not a song]
I Want You
Come A Bit Closer
Horse With A Green Tail
Come And Join Us
You Didn't Know Each Other Very Well
Never Felt Like This
1988*
I'll See You Tonight
Think Twice
Happened Again
I've Cried*
Blackjack [instrumental]
I'm Only Crying
Dress Myself In Black
Heartburn
Girl Next Door In The Miniskirt*
Grand Prix [not a song]
Can't Stop*
Graham Hill [not a song]
Cavalier Club Rock [instrumental]
Memories*
Free Sample
Loved By You
Punch With Judy
I'm In Love
For My Sympathy
Black And White Rainbows
Keyhole Street*
I'll Kiss You Goodnight
Mrs. Jones*
Little Sue
Knocking Down Our Home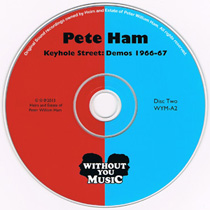 Disc Two
Testing (Grampian) [not a song]
Ostrich
How Much Is The Sky
Do What You Like
Open Your Mind
Down Down Down
Never Been Alone
Tender Embrace*
I've Been There Once Before
Genie
Stink
Beautiful Dream
Another Day
When I'm Asleep
Hurt Too Many Times
Has Someone Really Got Into My Heart
Get Up
Joker
Hampstead Heath [instrumental]
I Need You
I'm Alone
Weep Baby
The Raven: He's A Raven/Meeek/Frank/Gravity/Nightwing/Drifting/Taking Flight/Raven reprise